GM Meetings Day 2: Jays' interest in Cain makes perfect sense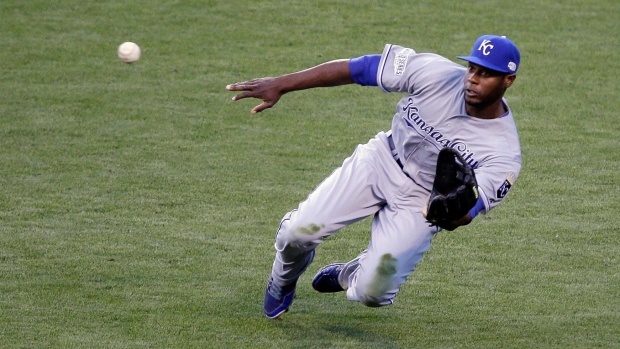 LAKE BUENA VISTA, Fla. — You might call it due diligence.
Some may call it tipping their hand.
Others would call it a smart investment opportunity.
Either way, one year after pursuing athletic outfielder Dexter Fowler, it looks like the Toronto Blue Jays and GM Ross Atkins are at least interested in going down the same road with a similar player, soon-to-be former Kansas City Royals outfielder Lorenzo Cain.
On the second day of the GM Meetings at the Waldorf Astoria Orlando on Tuesday, ESPN's Jerry Crasnick reported the Jays and New York Mets were the first teams to reach out on Cain.
Needing to get younger and more versatile, free agency doesn't provide a whole lot of opportunity to do that.
But Cain represents one of the few players on the market who brings a well-rounded game, featuring speed atop the lineup — something the Jays have been in search of for a while now — on-base ability, and top-notch outfield defence.
Last year, Cain slashed .300/.363/.440 as a 31-year-old for the Royals, the most important of those numbers being his .363 on-base clip.
After finishing 26th in baseball with a .312 on-base percentage, the Jays are in desperate need of a player like Cain, who also stole 26 bases and has averaged 20 swipes a season over the past six years.
Only one player in the Blue Jays lineup had an on-base percentage higher than Cain's last year, and that was former MVP Josh Donaldson checking in at .385 in 113 games.
Justin Smoak was next at .355.
Kevin Pillar led the team in steals with 15.
Speaking of Pillar, while it's obvious where Cain fits in the lineup, defensively it's a bit more of a question, one that has no wrong answer.
All 151 of Cain's starts last season came in centre field, but he started 29 games for the Royals in right field in 2016.
He hasn't dabbled in left field since 2012.
Advanced metrics weren't head over heels in love with Cain's work in centre last season, as he produced 5 DRS (Defensive Runs Saved) and a UZR (Ultimate Zone Rating) of 1.6, but that still puts him in the category of above average.
From 2013-15, however, Cain posted DRS numbers of 17, 14 and 18, which placed him among the game's elite centre fielders, which is exactly where Pillar resides.
Pillar was tied for third in baseball with 15 DRS last season, but that's also the lowest of his three-year tenure as the Blue Jays' starter, down from 21 in 2016 and 22 in 2015.
Cain could easily slide into the right-field hole created by Jose Bautista's one-year-too-late departure and represent an upgrade both offensively and defensively, or the Jays could see what kind of return the soon-to-be 29-year-old Pillar could bring back on the trade market.
Arbitration eligible for the first time this winter, Pillar will be due a significant raise on the $555,000 he made in 2017.
The annual MLB Trade Rumors arbitration projections has pegged Pillar's 2018 salary at an even $4 million.
Of course, it's going to cost much more than that to lure Cain into the fold, especially considering the fact he's one of the few true centre field difference makers on the market.
A starting point would be Fowler, the player Atkins missed out last year by a few million, eventually watching him sign a five-year, $82.5-million deal with the St. Louis Cardinals.
Reports had the Blue Jays going as high as four years and $64 million for Fowler's services.
One drawback, however, is the draft pick they'd have to surrender in exchange for signing Cain, who received a $17.4-million qualifying offer from the Royals.
In this case, the Jays would lose their second-highest selection in 2018 as well as $500,000 from the international bonus pool.
Atkins was able to get Kendrys Morales signed shortly after the GM Meetings came to a close last year in Scottsdale, Ariz., but getting out ahead of the pack isn't some sort of overarching philosophy.
"Every situation is different, every player is different, every team and year is different," Atkins said. "The circumstances as they stand right now are not entirely different, but certainly different than they were a year ago. We don't have a hardline philosophy on executing free agency deals or trades in a certain way, other than being systematic and having a process. Ultimately, that can manifest in different ways."
ANTHOPOULOS ARRIVES
Alex Anthopoulos had some extra bounce in his step when he emerged from his hotel room Tuesday afternoon.
The new Atlanta Braves GM admitted he hadn't gotten much sleep since being introduced Monday in The Peach State, before heading to Orlando later that night.
Anthopoulos said he learned a lot working under Los Angeles Dodgers president of baseball operations Andrew Friedman and general manager Farhan Zaidi the past two years after famously turning down a contract extension to stay in Toronto and work under then-incoming president/CEO Mark Shapiro.
"The longer you're in this game, and in Toronto I felt the same way, I learn more each and every year," Anthopoulos said. "Getting the chance to work in L.A. with Andrew and Farhan was an unbelievable experience. Being around them every day, I definitely got better and I was exposed to a lot of things.
"If you're not getting better and you're not learning in this game, you're probably not really engaged."
Anthopoulos has complete control of baseball ops in Atlanta and spent the morning with president of baseball operations John Hart, who is transitioning into a new role with less power in the wake of an MLB investigation into the team's transgressions on the international free agent market under former GM John Coppolella.
He's joining an organization poised to take the next step in a lengthy rebuild, thanks to a loaded farm system and money to spend.
"I think everything's in place with the ballpark, the resources, ownership, the young talent," Anthopoulos said.
Anthopoulos also noted that the current coaching staff will stay in place and he has no immediate plans to purge the front office, maybe allowing his former employers in both L.A. and Toronto to breathe a little easier knowing he won't be calling for permission to interview people he's familiar with.
That, however, may be inevitable.
AROUND THE DIAMOND
Some had surmised Anthopoulos could take a run at Donaldson, either as a trade target or as a free agent next winter if he gets there, but the new Braves GM did spend a few minutes talking up prospect Austin Riley, a 20-year-old third baseman who's getting rave reviews in the Arizona Fall League. … Shortly after reports emerged Tuesday that Giancarlo Stanton wouldn't approve a trade to the Boston Red Sox, another report indicated Stanton is still open-minded. Welcome to the MLB off-season, where everything is true, until it's not. Notably, the Stanton situation and the Shohei Ohtani waiting game seem to be bogging down other potential negotiations.​