Goal droughts happen to the NHL's very best
Don't be alarmed by the current goal-scoring struggles of Auston Matthews and Connor McDavid, Travis Yost writes. The data shows that even the very best snipers are prone to cold streaks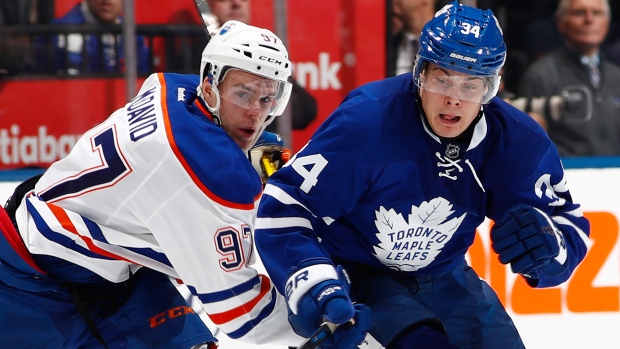 By now, I'm sure that every corner of the hockey world is aware that two of the game's newest stars – Toronto's Auston Matthews and Edmonton's Connor McDavid – are in the middle of lengthy goal-scoring droughts.
Matthews, who scored six goals in his first six games, hasn't scored since an Oct. 25 game against Tampa Bay. McDavid, who scored five goals in his first eight games, hasn't scored since an Oct. 28 game against Vancouver. Through Wednesday, Mathews had gone 10 games without a goal, while McDavid was at nine games.
A lot has been said about how best to get these players going again offensively, but it's worth pointing out that very little has changed from the first two weeks of the season for either player. Matthews, for example, is still generating just under four shots per game. McDavid's actually generating more shots in his goal-scoring drought (2.9 per game versus 2.5 per game previously) and continues to rack up assists.
So, playing the waiting game on both of these players is the prudent thing to do, if only because neither player appears to be playing differently during these droughts.
It's also worth pointing out that going through stretches of the hockey calendar without scoring goals is fairly common in the modern NHL, even for the highest cut of shooting talent.

By way of example, let's consider some of hockey's best goal-scorers over the last four years or so. The top cream of the crop here, in order: Alexander Ovechkin, Joe Pavelski, Tyler Seguin, Jamie Benn, Corey Perry, and Steven Stamkos. Each one of these players is well over the 100-goal mark and you might think they haven't suffered similar droughts.
The data says otherwise. Below is a heat map indicating the frequency in which each player went nine games without scoring a goal (all situations). It happens more than you'd think: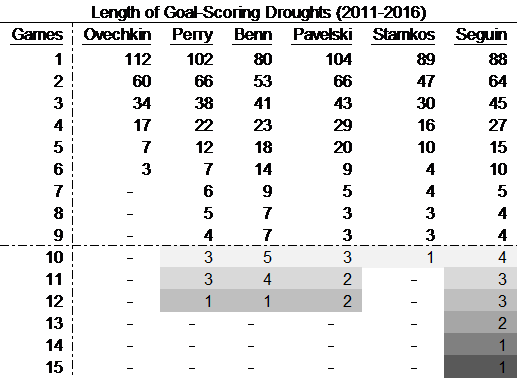 It's kind of amusing that Ovechkin, in the last five years, hasn't gone through a single scoring drought longer than six games. We often remark about how he's a generational talent – an all-time scorer of the highest order.
This is just another chapter in his book, the book that will end with him retiring as maybe the second best shooter in the history of the game.
But, putting Ovechkin aside for a moment – look at the rest of these guys, and notice that every single one of them has had a stretch where they have went at least nine games or longer without scoring a single goal, and just about every one of them has done it on multiple occasions.
Heck, Tyler Seguin had three unique instances in which he went 12 games without scoring a single goal. First, he went goalless mid-April to late-May in 2013, finally scoring a goal after going goalless in 15 games (the majority of which were playoff games, which is a double killer). Then, he carried another goalless streak in May of 2013 with Boston through the early parts of his debut with Dallas in the following season. And then, just six months later, he went 12 straight games without finding the back of the net.
Pavelski also went through a couple of lengthy stretches and can certainly sympathize with Matthews' and McDavid's plight right now – his first 12-game drought coming in January of 2013, and his second 12-game drought coming later that October.
All this to say: we are talking about truly exceptional, all-world goal-scorers and the types of struggles they have experienced at the NHL level. The comparison is supposed to be, at least for the time, unfair to the likes of Matthews and McDavid. And yet, it shows just how difficult it is to consistently score at this level of competition. Everyone, at some point in time, will go through a drought.
Well, everyone except Alexander Ovechkin. But we already know he's not human.