Gobert sidelined with tibia contusion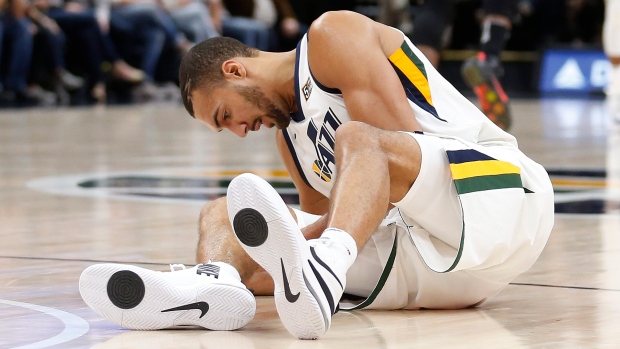 The Utah Jazz will be without the services of centre Rudy Gobert after an MRI revealed the Frenchman incurred a right tibia contusion in Friday night's game with the Miami Heat. The team says Gobert will be reevaluated in four weeks.
He did not appear in Saturday night's contest with the Brooklyn Nets.
The injury occurred when Heat guard Dion Waiters dived for a loose ball and clipped Gobert's leg. Gobert then limped to the dressing room under his own power. The Heat held on for an 84-74 victory.
"Every time I get hurt, the best thing to do is to try to walk right away," Gobert said after the game on Friday. "It's a good sign usually. … When I saw I was able to walk, I felt better."
After seeing a replay of the play in question, Gobert insinuated that Waiters' play was dirty in a tweet.
Waiters vehemently denied the allegation.
"I didn't even know it was him,"
Waiters told The Sun-Sentinel.
"I went for the ball, making a basketball play. He (goes) right to social media. I ain't a social media guy. At the end of the day, that (expletive) don't matter. Tell him to get out of his feelings. We won, they lost. So what."
A native of Saint-Quentin, Gobert has appeared in 12 games for the Jazz this season, averaging 13.9 points, 10.9 rebounds and 1.3 assists in 33.8 minutes a night. His 2.5 blocks a game lead the NBA.