Goins in starting lineup a day after injury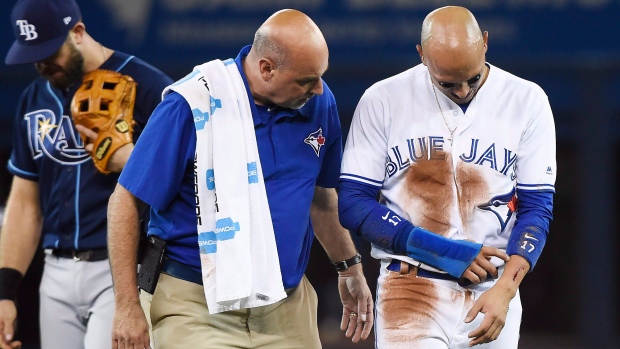 Toronto Blue Jays shortstop Ryan Goins exited Wednesday's game against the Tampa Bay Rays with a nasty-looking arm injury but won't be out for long. In fact, he'll be back the very next game.
Goins is in the starting lineup for Thursday's getaway-day contest with the Rays.
Goins was trying to advance on a pitch in the dirt when the throw took infielder Daniel Robertson into Goins' slide and stepping on his arm.
After the game, Goins went for X-rays and they came back negative, good news for the Blue Jays who are already missing their Opening Day second baseman in Devon Travis.
"It's all good, just a bruise. I'm day to day," said Goins, who didn't have a bandage on the sizeable abrasion on his arm post-game.
Goins was sliding into second base when he was spiked by Rays infielder Daniel Robertson, he was called out on the play.
Darwin Barney moved from second to short and Rob Refsnyder entered the game to play second base.
Blue Jays manager John Gibbons was ejected from the game in the top of the seventh inning for arguing balls and strikes.
Toronto would go on to beat Tampa Bay 3-2.