Golden Knights last ones standing after Wild West shootout
The Vegas Golden Knights outgun the Washington Capitals in the opener of the Stanley Cup Final, and in NHL history the team that takes Game 1 has gone on to claim the prize 78 per cent of the time, Frank Seravalli writes.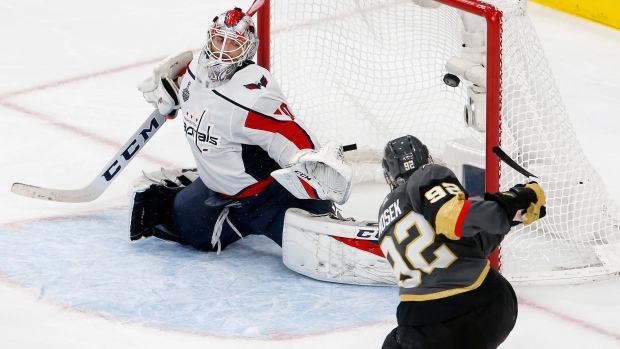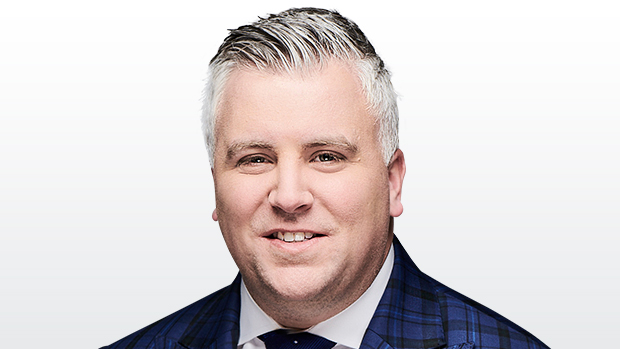 LAS VEGAS — Legendary boxing announcer Michael Buffer stood there at centre ice, flashy white tuxedo and all, and belted out the five words that have made him millions in this town.
"Let's get ready to rumbleeeeeee," Buffer bellowed, his signature call barely audible in a raucous T-Mobile Arena as he introduced the starting lineups to kick off the Stanley Cup Final that was never meant to be.
"That was pretty cool, let me tell you," Golden Knights defenceman Nate Schmidt said of hearing his own name. "I would've thought I had to be in the ring or octagon to hear that."
Except, rumble is exactly what the Vegas Golden Knights and Washington Capitals did in Game 1 in the home of UFC.
There they were, Tom Wilson and Ryan Reaves, trading punches in the third period – on the scoreboard, of all places – in this heavyweight title bout.
"Both teams answering the bell each time the other scored," Schmidt said.
The Golden Knights were the last ones standing on Monday night.
After a mostly drama-free playoff run, many were left wondering whether this Cup Final would have enough on-ice entertainment to match the compelling off-ice storylines. That question was answered quickly with four goals in the first period and 10 total from nine different scorers.
Game 1 marked the first contest in the history of the 104-year history of the Stanley Cup Final to feature four lead changes. That was four more, in one game, than there were in the entire Western Conference final.
This was a game fittingly played in the only hockey arena with an actual rollercoaster in its front yard at the New York, New York Casino.
"Lot of up and down," Schmidt said. "A lot of times you feel like the game is going in one direction and then they score and we score. A lot of emotion. It was a pretty emotional game for everybody."
Undrafted Detroit Red Wings cast-off Tomas Nosek, the same man who scored the franchise's first-ever goal on home ice, delivered the game-winner for the Golden Knights some 342 nights after he was plucked in last June's expansion draft.
Nosek's winner gave Vegas a 6-4 win in an old-school Wild West shootout, the Golden Knights firing the opening salvo in this best-of-seven battle for hockey's crown jewel. Vegas got three goals from its fourth line, all in the third period.
The Golden Knights are three wins from the Stanley Cup and Reaves is on a two-game goal scoring streak. He scored just 31 times in 500 career games before these playoffs.
"I was saving them," Reaves said, tongue planted firmly in cheek. "I don't know if you guys knew, but I told everybody I was going to save them for the playoffs."
The team that takes Game 1 of the Stanley Cup Final has gone on to win the Cup more than 78 per cent of the time (61-17) in NHL history. Washington will look to salvage a split in Game 2 on Wednesday night.
"We didn't play our best game," Alex Ovechkin said. "I think next game is going to be different and all the nervousness, all the bad things [go] away [from] this game. We just have to forget about it and bounce back next one."
It was the type of mistake-filled track meet that costs coaches sleep. Even the winning coach, Gerard Gallant, said it was a game that both he and counterpart Barry Trotz would not be happy watching again.
But boy was it fun to watch live, unless you were Braden Holtby or Marc-Andre Fleury.
"The fans got their money's worth tonight," Schmidt said.
This was the Stanley Cup Final: Vegas Style, with all of the glitz and glamour you'd come to expect from America's adult playground. With tickets ranging from $10,000 for the front row to $675 for the last row, there was boxer Floyd "Money" Mayweather sitting on the glass and rapper Lil Jon entertaining the gold-clad masses outside.
"Oh man, it was crazy," Reaves said. "Even going out for warmups, I kind of got some chills. The atmosphere is just a Vegas atmosphere."
Like any good title fight, there was even a bit of controversy. Referees Wes McCauley and Marc Joannette missed a blatant cross-check by Reaves on John Carlson on the sequence he scored. Trotz said he thought the Capitals were going to the power play.
Then Capitals' agitator Tom Wilson crushed Jonathan Marchessault with a late, blindside hit in the neutral zone well after Marchessault last touched the puck. The hit is not expected to warrant supplemental discipline, since Marchessault head was not the main point of contact, but it was predatory nonetheless from a player who has already been suspended three games in these playoffs.
"It's late and I hope the league does something about it," Reaves said. "But that's just Wilson being Wilson."
At the very least, those hits and the tussles that followed them will only serve to ratchet up the temperature in a Final that already started on fire.
"Both teams want the Cup really bad," Reaves said, "so the bad blood is going to start real quick."
Can hockey nirvana possibly get better? If we're in for six more nights of that: Buckle Up.
Contact Frank Seravalli on Twitter: @frank_seravalli