Golden Knights, Leafs in trade talks as deadline nears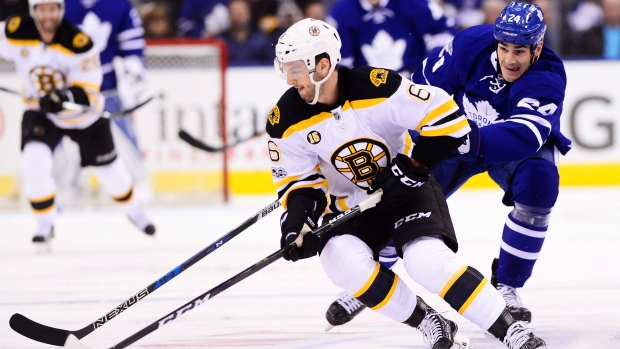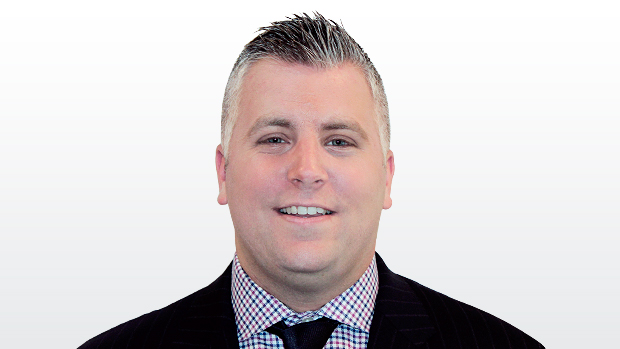 LAS VEGAS - Vegas Golden Knights general manager George McPhee said he has "at least" six trades finalized ahead of Wednesday night's big expansion draft reveal here on the Strip.
There is the possibility for a few more fireworks.
Despite setting an internal Monday midnight deadline to negotiate side deals, McPhee said he will continue the conversation with a few other managers Tuesday before hunkering down to pick his inaugural roster.
One of those teams McPhee said he's still talking trade with is the Toronto Maple Leafs. Lou Lamoriello was bogged down by travel issues on Monday.
Unlike some of the other GMs who are haggling with McPhee to keep certain exposed players in the fold, Lamoriello and the Leafs are likely attempting to pry one of Vegas' 30 picks away once the expansion draft is completed.
The Maple Leafs are believed to be comfortable with whichever player the Golden Knights select from their exposure list, be it Brendan Leipsic, Martin Marincin or Kerby Rychel.
It's no secret that the Leafs have been on the prowl for a top-four defenceman to add to their blueline. The NHL's expansion draft protection scheme – with most teams opting to protect seven forwards, three defencemen and one goaltender – by definition means McPhee will have a bevy to choose from and flip as trade currency.
"We're going to have to move some defencemen," McPhee told reporters Tuesday, "because we're going to claim a bunch."
Among the defencemen exposed, who might pique the Maple Leafs' interest?
The sinister storyline would centre on the Leafs trading for Marc Methot from Battle of Ontario rival Ottawa, a potential deal dripping with bad blood since it was former Leaf captain Dion Phaneuf's decision to not waive his no-move clause that forced the Sens to expose Methot.
At first glance, Methot - who turns 32 on Wednesday - might not fit what the Leafs are building toward in age or salary (two seasons remaining at $4.9 million).
However, two years does not represent much of a risk for a player who proved in the Stanley Cup playoffs he still has plenty of game left, and could provide the same steadying influence for Toronto's still-young defence that he's done for Erik Karlsson.
Plus, the idea of simultaneously dinging a division rival in the process can't be overlooked. The conspiracy theorist might wonder why McPhee would specifically confirm he's in conversation with Lamoriello about a deal, since he's been around long enough to know Lamoriello would despise that type of detail being shared publicly.
Could it possibly be in an attempt to bluff Senators GM Pierre Dorion into ponying up to keep Methot? Multiple reports indicate the Senators are unlikely to strike a deal with Vegas to lay off him.
There are still other intriguing options, aside from Methot.
The Leafs' front office would also be intimately familiar with Bruins defenceman Colin Miller, a right-shot from another division rival who could represent a more inexpensive option and fit in coach Mike Babcock's quest to perfectly balance pairs with left and right-shooting defencemen.
Miller, 24, posted strong possession numbers this season and played his junior hockey in Sault Ste. Marie when Leafs assistant GM Kyle Dubas was the Greyhounds' GM.
The cost would be significant, but Minnesota's Matt Dumba would also be a fit. Dumba, a right-shot defenceman, would seamlessly slide into Toronto's top four with ease alongside Morgan Rielly (left), Jake Gardiner (left) and Nikita Zaitsev (right). He is coming off a career-best 34-point season where his game took enormous strides under the tutelage of then-assistant coach Scott Stevens.
Another obvious option would be Anaheim defenceman Sami Vatanen, the dynamic 26-year-old Finn whom the Ducks didn't have room to protect. Babcock was spotted at a Ducks-Predators playoff game, with many believing he was there to scout Anaheim's potential leftovers on defence, but the belief is the Ducks are one of the six teams with a deal already in place to keep both Vatanen and Josh Manson in place.
The other five teams believed to have side deals worked out are the Islanders, Blackhawks, Lightning, Blue Jackets and Penguins.
For the most part, though, teams have kept expansion-related leaks to a minimum – with the NHL and its owners placing pressure on managers to keep their mouths shut to give Las Vegas a show in return for their $500 million entry fee.
"We have a show to do tomorrow," McPhee told reporters Tuesday, when asked if he could reveal or confirm some of the deals.
McPhee said he would use "every minute" available before hitting send on his first roster. His 30 selections, which he admitted include a few "throwaway picks" from three or four teams, are due to the NHL at 10 a.m. ET on Wednesday. The Golden Knights will be unveiled at 8 p.m. ET.
"It's really hard to believe we are submitting the list tomorrow," McPhee told reporters. "Now we've got a hockey team and one we really like."
Contact Frank Seravalli on Twitter: @frank_seravalli