Golden Knights sign Duke in first transaction
The first player in the Vegas Golden Knights organization is forward Reid Duke. The Golden Knights made their first ever transaction, signing the free agent, currently playing for the Brandon Wheat Kings, to a three-year entry level contract.
Frank Seravalli, TSN Senior Hockey Reporter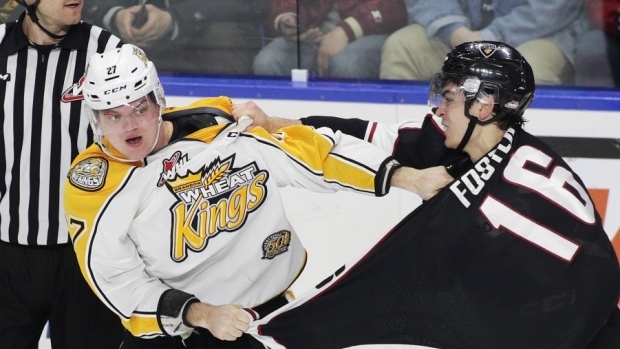 BOCA RATON, Fla. — A Duke is the first Knight.
Six days after receiving the green light from the NHL, the Vegas Golden Knights signed free-agent forward Reid Duke to a three-year entry level contract on Monday, marking the first player transaction in team history.
Duke's deal was announced just hours after Vegas general manager George McPhee officially joined the round table at the NHL's general manager meetings in South Florida as representative of the 31st franchise.
"We're a 31-team league now," Flames GM Brad Treliving said.
It was a long time coming. Despite being hired last June as the first GM in Vegas history, Monday was McPhee's first manager's meeting since being fired by the Washington Capitals in 2014.
The NHL's official welcome on March 1, after the $500 million expansion fee was received in full and all the paperwork was completed, made it feel real, McPhee said.
But sitting as an equal with the other GMs made it even more so. The Golden Knights are seven months away from puck drop.
"I actually had some butterflies," McPhee said. "Even this morning – not butterflies, but a little nervousness coming in. These meetings are important. It's really important for our club, now that we're official, to have a seat at the table and a say in what's going on and where the game is going and to make a contribution."
One he was seated between Los Angeles' Dean Lombardi and Minnesota's Chuck Fletcher, those feelings subsided.
"It feels like running into an old friend, or meeting and old friend, and, within 15 seconds, everything feels the same," McPhee said.
That didn't mean McPhee piped up much during the meeting, particularly during the "blue sky" sessions in which the future of the game were discussed.
"I just thought this first day would be a good day to absorb and listen and then maybe we'll get more involved," McPhee said. "We'll see."
McPhee said he has talked to more than "half a dozen" teams in the last week about their expansion draft concerns and considerations. He just doesn't envision making any such transaction – to either draft a certain player from a team or to agree not to take a specific player from a team – until June.
"We just think it's in our best interest not to do a whole lot until we get there, just to see the whole universe of who's available and who's not," McPhee said. "To do some deals in advance and then get to expansion and say 'Geez, maybe we should have done something else but now we're committed to that,' that's not the right way to go."
McPhee also said he will take his time on hiring his first coach, saying it may require him waiting until a certain coach finishes out his contract this season.
"We'd like to find someone who would be good right now, who will help us through the first couple years that will be tougher than the rest," McPhee said, "and someone who will be there when we're trying to compete for a Cup."
The first step is signing free agents - those undrafted and those who went unsigned. Duke, 21, has racked up 35 goals and 67 points in 54 games as an overage centre with the WHL's Brandon Wheat Kings this season. The 6-foot, 190-pound Calgary native was originally drafted by the Minnesota Wild in the sixth round, 169th overall, of the 2014 NHL draft.
The Wheat Kings are owned by Vegas assistant general manager Kelly McCrimmon. Duke would also be familiar with current teammate and June's potential No. 1 pick, Nolan Patrick.
The Golden Knights will have the same draft lottery odds as the 28th place, calculated by HockeyViz.com as a 10.3 per cent shot at the top selection.
The pitch to get free agents like Duke won't involve a hard sell.
"It's been a fantastic experience," McPhee said. "It's going to be great for the league, great visibility for the league. [Vegas] happens to be a really neat place and we're well setup for it. There's a great game facility we have right on the Strip, a nice practice facility, easy to the airport, easy to get around, great weather, no state tax, no city tax. It's a great setup."
--
Contact Frank Seravalli on Twitter: @frank_seravalli