Golfer makes birdie, proposes to girlfriend
What is your most memorable birdie celebration? It is safe to say that Danish golfer Andreas Harto outdid all of you by calling his girlfriend out of the crowd and purposing to her after making birdie on No. 16 at the Made in Denmark European Tour event.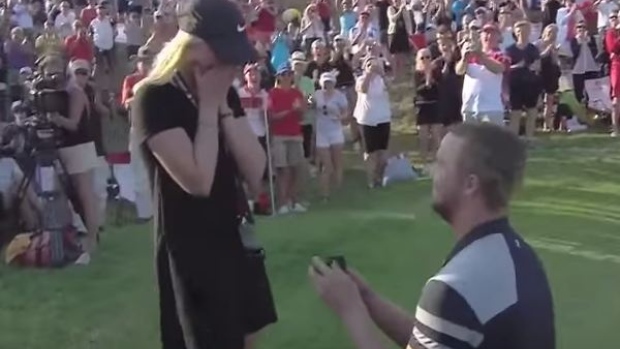 What is your favourite way to celebrate a birdie?
Perhaps by imitating a classic Tiger Woods' fist pump? Or maybe just by keeping it casual with a tip of your cap to your friends and fans?
At the Made in Denmark event on Friday, 27-year old Andreas Harto went 'outside of the box' calling his girlfriend out of the crowd and proposing to her after making a short birdie putt on No. 16.
Needless to say, the crowd at the European Tour event went wild after she accepted.
Despite the impressive performance on 16, the Danish golfer showed some post-proposal jitters as he went on to bogey the next hole finishing the round with three-over par 74. Although he missed the cut, he definitely earned the reputation as a fan favourite amongst the local crowd in Denmark.