'Good Sasky boy' Schwartz carrying Blues in West final
With nine goals this postseason, Jaden Schwartz has singlehandedly accounted for nearly a quarter of the Blues' playoff goals himself, throwing his name into the Conn Smythe Trophy mix and he again acted as the catalyst on Monday night in St. Louis' series-tying, 4-2 victory at the Shark Tank, Frank Seravalli writes.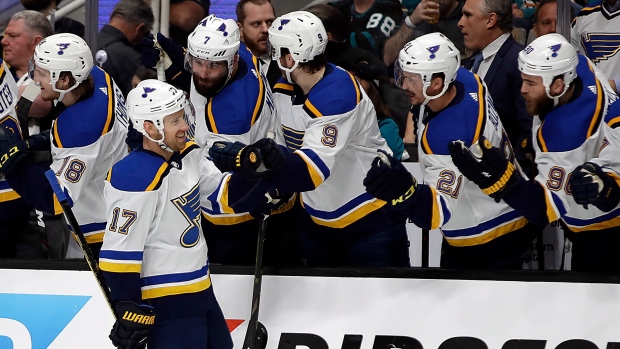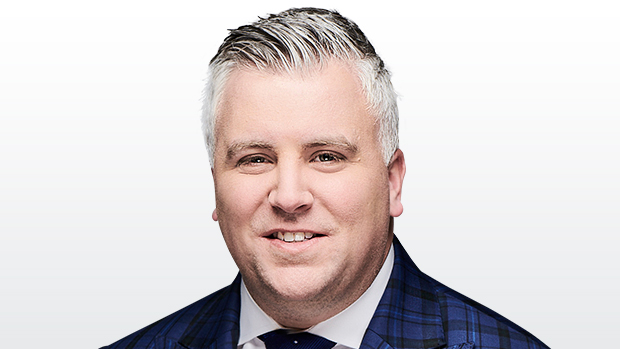 SAN JOSE, Calif. — Jaden Schwartz was in a dark place this season. Hell, the entire St. Louis Blues team was as the calendar flipped to 2019.
But few had struggled as much as Schwartz.
In a season bubbling with big expectations, Schwartz netted just two goals by mid-December. He would vent to teammate and fellow Saskatchewan native Brayden Schenn, who have known each other since they were 10.
"No one was happy," Schenn said. "It was a pretty dark place. Trade rumours. Everyone was on the block. Our GM had spent to the cap. It was an ugly environment and atmosphere to be around."
Schwartz's agents from Newport Sports Group flew to St. Louis for a planned three-day trip to meet with their Blues clients just before the holidays. They turned around and went back home to Toronto after a day and a half, calling it among the most depressed group of players they'd ever been around.
"His shooting percentage was half his career norm," agent Rand Simon said of Schwartz. "We talked about how it would eventually even out. Well, it never did in the regular season. But then came the playoffs."
Somehow, the player who couldn't score into the ocean in the regular season now looks like he's shooting on a soccer net in the Stanley Cup playoffs.
With nine goals this postseason, Schwartz is already two tallies away from matching his 11-goal total from his entire 69-game regular season.
Schwartz has singlehandedly accounted for nearly a quarter of the Blues' playoff goals himself, throwing his name into the Conn Smythe Trophy mix. He again acted as the catalyst on Monday night in St. Louis' series-tying, 4-2 victory at the Shark Tank.
This all-square, best-of-seven Western Conference final shifts to the Gateway to the West for Game 3 on Wednesday night.
Schwartz set the tone with a top-shelf snipe just 2:34 into Game 2, his ninth goal in the last 11 games. The Blues weathered a two-minute, two-goal surge from Logan Couture and Jordan Binnington closed the door with his ninth win in 11 games (9-2-0) following a loss this season. St. Louis has not allowed a third period goal in their six road playoff wins.
And after a brutally tough start to the season, Schwartz is savouring the moment.
"It's definitely the funnest time of the year," Schwartz said. "I had some struggles earlier that I hadn't really had before. Then once the playoffs started, I don't know, I've embraced the games and had fun with it. I don't really try to think too much about it."
Schenn said Schwartz struggled from the start adjusting to a new reality this season. The Blues added Ryan O'Reilly, David Perron and Patrick Maroon in the off-season and that spread around the responsibilities from players like him and Schwartz.
"Last year he was playing 20 minutes a night, started every power play," Schenn said. "We talked a lot. It was a change. It was a little bit of an adjustment for everyone. We were the key guys every night – and we had a good season – but we weren't a good enough team."
When it wasn't going in, Schwartz tried not to panic. With a career average shooting percentage of 12.3, Schwartz typically would've scored 23 goals this season on 183 shots. He ended up with less than half that (11 goals) at six per cent.
"Schwartzy had a tough time putting the puck in the net during the year for the most part," coach Craig Berube said. "The key was he just kept playing and working. He's a worker. If he's not our hardest worker, he's one of them. That's what he kept doing, working, and it's paying off. He's providing goals for us in the playoffs and great play."
That work, and Schwartz's sense of humour, have made him a beloved teammate.
Schenn said Schwartz is "just a good Sasky boy." He hails from Wilcox, Sask., (Pop: 399), which is 40 clicks south of Regina. It's the birthplace of Lightning coach Jon Cooper and home to the famed Athol Murray College of Notre Dame Hounds.
More than 34 NHL players, including Rod Brind'Amour, Curtis Joseph, Vincent Lecavalier, Brad Richards, Jordan Eberle, Morgan Rielly, Schwartz and Islanders coach Barry Trotz attended school there.
"He's a glue guy in our locker room. He's so important," Schenn said. "If you could be a fly on the wall in our locker room, he's such a fun guy, everyone laughs with him."
Schwartz, 26, is in-demand in the summer. Teammates and former teammates invite him to fly around the country to play golf and hang out.
"Everyone wants to be around him," Schenn said. "In the summer, he'll be in Kelowna, Saskatchewan, Minnesota, Denver. You name it. Players call and he comes. He likes to have fun. He's an unbelievable guy."
Schenn said everyone, including Schwartz, settled down after the Blues' leadership core met with GM Doug Armstrong in December. After weeks of trade speculation, Armstrong informed the core that he was "doubling down" on the roster he assembled.
"Then once 'Chief' [Berube] came in, he just kind of put everyone back together," Schenn said. "He made everyone feel important. It's been a hell of a place to play since January 1st."
Contact Frank Seravalli on Twitter: @frank_seravalli​