Gostisbehere: Down year 'takes a toll on you'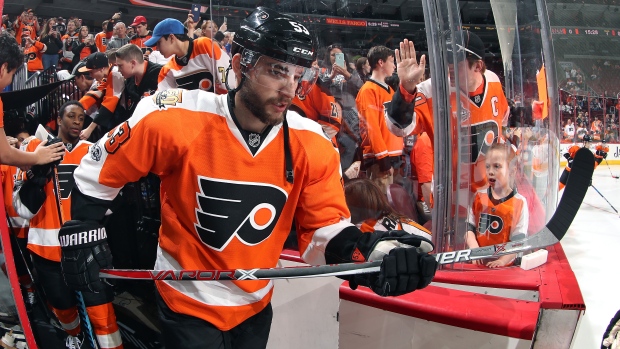 Shayne Gostisbehere found immediate success on the NHL stage as rookie in 2015-16 and even entered the Calder race after a historic point streak.
Last season, however, Gostisbehere's numbers dipped and he even served time as a healthy scratch for the Philadelphia Flyers.
He told The Philadelphia Inquirer on Tuesday it was tough to battle through an apparent sophomore slump after excelling in his first year.
"Last season, it obviously didn't go like my first season," Gostisbehere said. "You don't get the bounces, per se, and it takes a toll on you mentally - and then you start looking for things you can change."
As a rookie, the 2012 third-round pick scored 17 goals and posted 46 points in 64 games. He set an NHL rookie record for defencemen with a 15-game point streak.
Gostisbehere underwent hip and abdominal surgeries during the summer of 2016 and returned to post just seven goals and 39 points in 76 games.
He told the Inquirer that rehabbing from the surgeries over the summer rather than doing his usual workouts likely played a role in down season. He added he believes he began to find his rhthym towards the end of last season.
"It wasn't like I hit a switch and the injury healed. It was nothing like that," Gostisbehere said. "I think it was strictly confidence (that returned). I was put in the right situations, and that's a big thing, too. I flourished, and I knew I was one of the best players on the ice. When I know that, I think it really shows out there and it really helped our team, too. That's the biggest thing for me - anything I can do, team-wise."
Gostisbehere re-signed with the Flyers in June of a six-year. $27 million contract. Philadelphia's roster for this season could feature up to five rookies, but the defenceman said he still considers the Flyers to be contenders.
"We have a lot of young guys and we have a great group of veterans, a good core to show the young guys the way," Gostisbehere said. "I think it's a big, big learning season for us obviously coming up, but again, we're a team, and we think we can win the Stanley Cup. That's our ultimate goal."