Grassing makes Long Drive final; DeLaet's season ends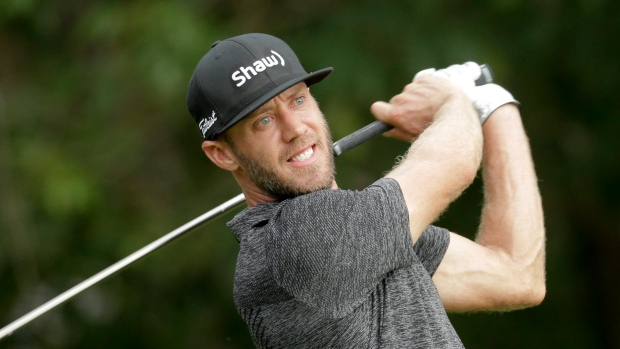 At 6-3, 265 pounds, Mitch Grassing looks more like an offensive lineman than a golfer, but Grassing put his bulk to good use on Wednesday advancing to the finals of the World Long Drive Championship.
Despite launching several bombs well past the 400-yard mark, the 22-year-old Carleton University business student wasn't able to capture the title, falling to American Justin James.
Finishing second is a testament to how far he's come in a short time.
Grassing grew up in Kitchener, Ont., where he played hockey and had a pretty heavy slap shot. After starting golf, however, it seemed that long driving came to him naturally.
"I always played golf and as I kept growing, I kept hitting it farther," Grassing said. "So I decided to take up long driving."
He entered his first world championships in 2014 and made it to the round of 32, a solid achievement. He went back in 2015 and didn't fare that well and decided to take a year off in 2016, which he used to train.
"I was a regular stick when I started, maybe 200 pounds," Grassing said of his physical size in sport dominated by behemoths. "I took up power lifting over the summer and added about 65 pounds which was great, but when I went back to swinging a golf club I was really stiff. I had trouble making a turn."
That's when he enlisted the help of coach Bobby Peterson who trains many long drivers in his facility in North Carolina. He brought back Grassing's flexibility and helped him increase his club head speed.
The results have been impressive to say the least.
Grassing follows in the steps of past Canadians such as Jason Zuback and Jamie Sadlowski, both of who won multiple world championships.
At the world championship, Grassing made it to the final with some impressive smashes, beating two-time world champion Tim Burke along the way.
He also pulled out a dramatic quarter-final victory over Wes Patterson, hitting a 435-yard shot on his eighth and final ball after his first seven went out of bounds.
Long drivers not only need to be long, but also keep their ball inside a grid to count.
In the final, however, he failed to put a ball in play, in large part due to his main driver falling apart and having to switch to a backup.
The finish may have surprised some, but not Grassing. He's had a good summer on the circuit, finishing second in two events, hitting it well in almost every competition and cashing some checks.
"I was pretty confident heading in," Grassing said. "Unfortunately the final didn't go like I wanted. But I'm still happy."
He's looking forward to seeing if his finish might attract some sponsors and perhaps corporate outings. Top long drivers can earn a living, although it usually means lots of travel. For now, however, it's back to school. His classes at Carleton start on Monday.
***
Three Canadian courses made the list of Golf.com's top 100 courses in the world. St. George's Golf & Country Club came in 94th while the two courses at Cape Breton, N.S.'s Cabot Links facility– Links and Cliffs – were 96th and 50th respectively.
The full list can be seen here: http://www.golf.com/courses-and-travel/photo/2017/08/28/top-100-golf-courses-world-2017
Most Canadian courses seldom get more than a passing glance from non-Canadian viewers and there were more than a few raised eyebrows that the likes of The National GC, Shaughnessy G&CC and Fairmont Jasper Park Lodge failed to make the list.
In a lot of cases, it's not that the courses aren't good enough to make the list, but rather that reviewers simply don't head north to check them out in enough numbers to get them rated.
The Cabot courses are the main exception with a huge influx of American visitors heading to the location that most would consider off the beaten track.
It's a three-hour drive from Halifax and two from Sydney, N.S. That it's been able to garner so much attention is a tribute to just how good the courses are. In the last SCOREGolf ranking of Canadian courses, Cliffs came in first while Links was fourth.
****
Graham DeLaet won't advance to the next stop in the FedEx Cup playoffs, meaning his season has come to a close. He ended the Dell Technologies Championship tied for 75th, largely after a Sunday stumble that saw him shoot 80.
Still, for the Weyburn, Sask. golfer, it was a solid campaign that included his career-best finish in a major, a tie for seventh at the PGA Championship, as well as six top-10 finishes. He collected more than $1.5 million for his efforts.
There were lots of positive signs for DeLaet, especially with his putting.
He finished his year in 34th spot in the Strokes Gained: Putting category, a jump of more than 100 spots from 2016 when he was 2016. He gives a lot of the credit for his improvement to a training aid given to him by Peter Kostis, the teacher/broadcaster. The two play and practice at the same golf club in Arizona.
On the negative side, however, was his short game, always a troublesome area highlighted by his case of the yips a year ago.
While he has solved that issue, he still struggled with his chips and pitches, finishing 194th in Strokes Gained: Around the Green. That is second to last of all those measured.
The most consistent issue with DeLaet, however, is his wonky back.
DeLaet admits that he will always play in pain of varying degrees and with some limitations to his swing. Most weeks he undergoes lengthy physio and massage treatments just to make it to the first tee.
In an end-of-year tweet, he gave credit to Craig Davies, the Burlington, Ont., doctor who treats DeLaet as well as several other PGA Tour players.