Grossmann scores two, Coyotes hold off Avs
Nicklas Grossmann had two goals, Mike Smith stopped 26 shots and the Arizona Coyotes held on for a 4-2 win over the Colorado Avalanche on Thursday night.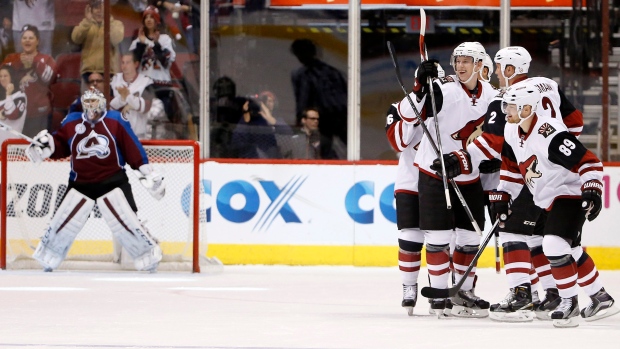 GLENDALE, Ariz. - Nicklas Grossmann prides himself on being a stay-at-home defenceman, happier to block a shot than score a goal.
That's not going to change, even after the first two-goal game of his career.
Grossmann provided an unexpected offensive lift and Mike Smith stopped 26 shots after two subpar performances, lifting the Arizona Coyotes to a 4-2 win over the Colorado Avalanche on Thursday night.
"I always try to take care of the defensive part, but it's always fun to contribute offensively," Grossmann said.
The Coyotes were much crisper in their own end the first two periods after allowing 10 goals the previous two games. They had some breakdowns in the third period, but Smith was sharp after being pulled 4 1/2 minutes into his previous start.
Tobias Rieder and Jordan Martinook also scored. Martin Hanzal had two assists after missing the previous two games with a lower-body injury. Connor Murphy and Mikkel Boedker also had two each.
The unassuming, hardworking Grossmann ended up being the star. He scored in the first period on a clean shot and got a break with a carom in the second.
Not bad for a player who has scored two or more goals in an entire season just twice and has 12 goals total in 543 career games.
"Gross had a real good night," Coyotes coach Dave Tippett said. "Not just with the goals, but he was really strong around our net."
Colorado laboured early and had to fight through a string of penalties in the second period, but still had a shot late after Matt Duchene scored with 3:46 left to cut the lead to 3-2. The Avalanche had two good chances stopped by Smith in the final minute and their comeback bid ended with Martinook's empty-net goal with 14 seconds left.
Cody McLeod also scored for Colorado, which has lost seven of nine.
"I felt like everything they got, we gave them," Duchene said. "It's tough to lose that one with as many good things as we did."
Arizona was looking to break out of a funk, particularly Smith.
The Coyotes goalie was on the hook for every goal in a 6-0 road loss to Boston and got pulled after giving up two goals on three shots against Vancouver last Friday.
Smith and the Coyotes had plenty of time to work things out in practice since that 4-3 loss.
Arizona was sharp early, creating some good scoring chances while Smith was sound, stopping an early 2-on-1.
"Mike was really good tonight," Tippett said.
Grossmann scored midway through the first period on a shot from top of the right circle that Semyon Varlamov couldn't see through traffic in front of his crease.
The second period featured a flurry of goals midway through.
Hanzal set up Arizona's second goal by forcing a turnover in Colorado's zone. Rieder ended up with the puck and beat Varlamov from near the right boards.
The Coyotes had a letdown right after that, allowing Eric Johnson to weave his way right down the middle of their defence. Smith made the initial save, but McLeod punched in the rebound 68 seconds after Rieder's goal.
Arizona got a break less than 2 minutes later, when a shot from the point by Grossmann bounced off Colorado centre Ben Street and trickled past Varlamov. The Avalanche challenged the call after Steve Downie bumped Street into Varlamov, but it was held up upon review.
"I thought (Downie) pushed our forward into the goalie, that's why I challenged it," Avalanche coach Patrick Roy said. "I thought it was a good challenge. I guess it didn't work out."
Duchene set up a tense finish with a nifty move to beat Smith to the short side, but came up just short again.
Notes: Arizona C Antoine Vermette was out of the lineup for the fifth time in six games with a lower-body injury. ... Colorado C John Mitchell missed his second straight game with an oblique injury. ... Avalanche D Brandon Gormley played his first game in Arizona after being traded by the Coyotes last season.