Gushue tops Mouat to stay undefeated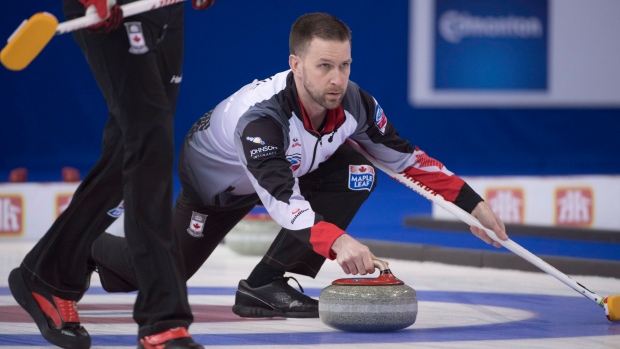 SAULT STE MARIE, Ont. — Brad Gushue of St. John's, N.L., improved to 2-0 at the National, beating Scotland's Bruce Mouat 7-6 in an extra end on Wednesday night.
Gushue is vying for his third straight Grand Slam of Curling championship of the season. He went undefeated while winning both the season-opening Tour Challenge in September and the Masters last month.
Gushue scored a point in the extra end after Mouat had tied it with a single in the eighth.
In other action Wednesday night, Calgary's Kevin Koe topped Winnipeg's William Lyburn 6-4, Brad Jacobs of Sault Ste. Marie, Ont., downed Scotland's Greg Drummond 9-2 in five ends, and Greg Balsdon of Kingston, Ont., defeated John Morris of Vernon, B.C., 6-4.
Gushue, Koe, Chang-Min Kim of China and Winnipeg's Jason Gunnlaugson sit atop the men's standings with 2-0 records.
On the women's side, Tracy Fleury of Sudbury, Ont., Winnipeg's Jennifer Jones and Edmonton's Val Sweeting are 2-0.
Michelle Englot of Winnipeg beat Kerri Einarson, also of Winnipeg, 8-6 in the lone women's match of the night draw.
Earlier in the day, Ottawa's Rachel Homan doubled up Jacqueline Harrison of Mississauga, Ont., 8-4, Sweeting beat Allison Flaxey of Caledon, Ont., 3-2, Jones toppled Edmonton's Kelsey Rocque 7-3, and Calgary's Chelsea Carey defeated China's Bingyu Wang 7-3.