Habs, Galchenyuk agree to two-year deal
The Montreal Canadiens have agreed to a two-year deal with forward Alex Galchenyuk, the club announced Thursday. According to TSN Hockey Insider Pierre LeBrun, the deal is worth $5.6 million with an annual average value of $2.8 million.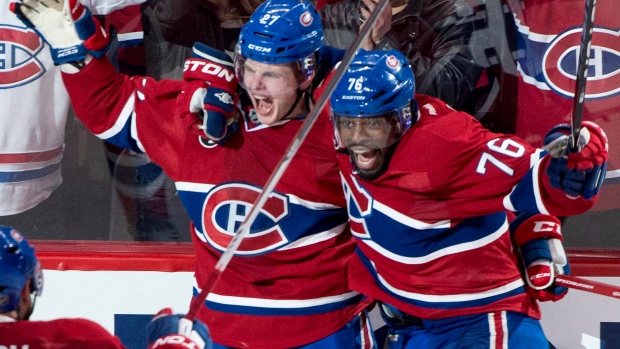 MONTREAL - The Montreal Canadiens have agreed to terms on a two-year deal with forward Alex Galchenyuk.
Galchenyuk will count US$2.8 million against the salary cap each of the next two seasons, according to multiple reports.
The 21-year-old set career highs with 20 goals, 26 assists and 46 points last year.
He has 42 goals and 62 assists in 193 regular-season games and four goals and six assists in 22 playoff games.
Galchenyuk was the Canadiens' last restricted free agent.
"He (Galchenyuk) shows maturity and fits in well within our young players development philosophy," said Montreal general manager Marc Bergevin in a statement. "Alex is an integral part of our core of forwards and we are confident in his ability to continue to improve his game."
Montreal selected the Milwaukee, Wisc., native with the third pick in the 2012 draft.
Locking up Galchenyuk could put a ribbon on the Habs' off-season, which included re-signing defenceman Jeff Petry to a long-term deal, trading Brandon Prust to Vancouver for Zack Kassian and signing free-agent winger Alexander Semin.
Galchenyuk's immediate future is unclear after playing his first three seasons as a winger.
The six-foot-one, 198-pound Galchenyuk is considered by many to be a future full-time NHL centre.