Habs top Sens in OT for 3-0 series lead
Dale Weise scored twice — including in overtime — as the Montreal Canadiens beat the Ottawa Senators 2-1 to take a 3-0 lead in their first-round series. Weise also scored for the Canadiens with 5:47 remaining in the third period to force extra time.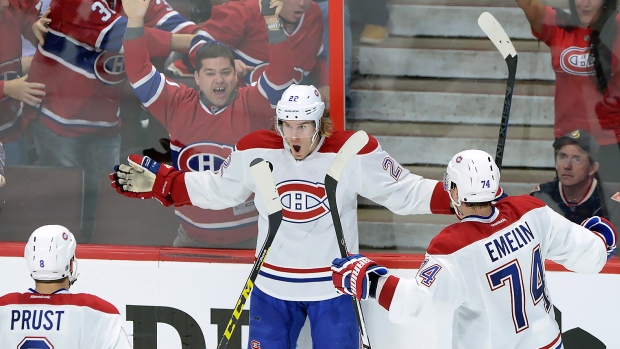 OTTAWA - Dale Weise has not lost the flare for the dramatics he first showed in last year's NHL playoffs.
The physical winger scored the tying goal late in regulation time and then potted the winner 8:47 into overtime to give the Montreal Canadiens a stranglehold on their first-round playoff series with a 2-1 victory over the Ottawa Senators Sunday night.
"Any time you score a winner like that it's pretty special," said Weise. "I got pretty excited about that first one, too, that was a big goal. I just felt like we were pressuring and pressuring and we needed a good bounce like that to put the puck in the net. And thank goodness it was me."
Montreal leads the best-of-seven Eastern Conference playoff series 3-0 and can finish it off in Game 4 Wednesday night at the Canadian Tire Centre.
Weise skated in on the left side and beat Craig Anderson with a shot inside the near post for the winning goal. The 20,500 fans screamed for a whistle on what appeared to be a hand pass by Brandon Prust on the play, but replays showed the puck went off the glass and not Prust.
It wasn't a playoff first for the Winnipeg product, who scored an overtime winner in the opening game of the first round last year against Tampa Bay.
"I don't know if you can call me (clutch) yet, I thought I had some good chances early in the series and just couldn't put them in — a couple of 2-on-1's and hit posts," said Weise. "I don't know what it is, just every game gets so intense, you're so focused."
Weise had tied it with 5:47 left in regulation time for Montreal as he found an open side amid a wild scramble in front of Craig Anderson's net.
Clarke MacArthur scored in the first for Ottawa, which has struck first in all three games of the series.
Montreal outshot the Senators 49-34.
The Senators opted to go with veteran Anderson in goal over Andrew Hammond, whose stellar play led their late push for a playoff spot. Anderson was sharp, stopping 47 shots.
"The guys battled so hard, played so well and to come up short is frustrating," said Anderson. "I gave the team a chance to win and that's my job.
"It's frustrating I wasn't able to get the win for the guys. We've got to put this behind us and get ready to go."
Coach Dave Cameron called Anderson's performance, "real good. It's not surprising. We've seen him do that before."
Ottawa came out hitting every Canadien that moved, led by their captain Erik Karlsson and tough guy Chris Neil, who had nine hits in his series debut. They took a 10-4 lead in shots and a 1-0 lead in the game.
The Senators scored when Montreal defenceman P.K. Subban went for a hit on Karlsson and Mark Stone was able to slip the puck in front of the Montreal net, where two Ottawa players were parked. MacArthur put a deke on Carey Price and slid in is second of the series at 11:28 of the first period.
"They were taking it to us," said Weise. "They're a physical team, they've got good speed, they kind of hemmed us in our zone in the first half of the game. We didn't have an answer for it."
Max Pacioretty said the Canadiens talked it over during the first intermission and came out stronger in the second frame, when they outshot Ottawa 19-6 but couldn't get one past Anderson.
It took until their 36th shot, at 14:13 of the third, for Weise to tie the game as he slapped one into an open side off a pass from Prust with a crowd of players jostling near the net.
Montreal defenceman Nathan Beaulieu took a shattering, open-ice hit from Karlsson, with contact to the head, in the second frame. He finished the period, but did not return for the third.
Coach Michel Therrien said only that he has an upper-body injury, although it appeared to be a concussion.
Notes — Montreal's P.A. Parenteau sat out a second game with an upper-body injury. . . With Chris Neil in the lineup, Alex Chiasson sat out for Ottawa. . . The Senators won both home games against Montreal in their 2013 playoff series. . . A scoreboard tribute and a moment of silence were held for Senators assistant coach Mark Reeds, who died last week of cancer.