Hadwin buoyed by play in the desert
Canadian sees plenty of positives after coming within a shot of notching his second PGA Tour win, Bob Weeks writes.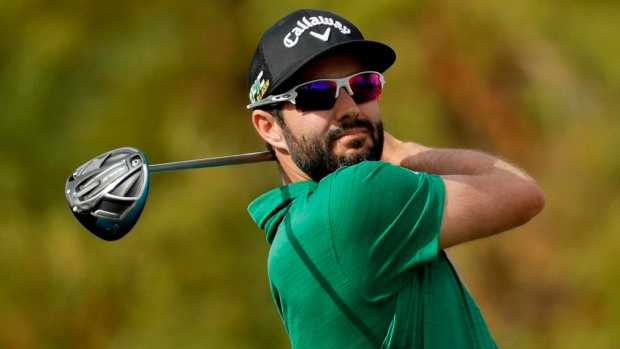 A day after coming within a shot of notching his second PGA Tour win, Adam Hadwin was still disappointed at not getting the win, but at the same time buoyed by his overall performance.
The fact that his New England Patriots advanced to the Super Bowl didn't hurt either.
"It would have been nice to win, for sure, but I don't feel as though I lost the tournament," Hadwin stated after taking time to reflect. "Adam [Long] played really well and he's a deserving winner."
Hadwin started the day two shots back of Phil Mickelson but quickly erased that lead. In fact on the 12th hole, he had a putt to go four up but read too much break into it and watched it burn the edge. By the time the threesome reach the final hole, they were all tied. Hadwin hit a great drive and decided to get aggressive.
"I told Joe [Cruz, his caddie], 'Let's make a birdie here and win this," he explained. "I had 160 and I thought if I could put an eight-iron in there it would be the perfect club. But I must have shut the face a bit because instead of starting out right of the flag and drawing it, it actually started left of the flag and with the shut face it flew further than I wanted."
The ball ended up in a bunker over the green – a bunker Hadwin says he didn't know was even there. He was somewhat relieved at that result, hoping that he might be able to hole the shot. With Mickelson and Long facing longer putts, a par might even be good enough for a playoff.
But when Long rolled in his winner, all Hadwin could do was applaud the rookie on his first win.
"It's the best I've played in a long time," said Hadwin, who moved to 57th in the world ranking, up from 70th. "I feel good about being in contention again. That's what I'm trying to do. I want to be in the hunt more often. That's the goal.
"I'm happy with my ball-striking and it was nice to see some putts go in. I kind of feel like the hard work is starting to pay off."
It was the fourth consecutive year Hadwin was a contender at the Desert Classic. He's now finished tied for sixth, second, tied for third and tied for second in four performances.
Throw in a victory in the Palm Springs area when he was on the Mackenzie Tour – PGA Tour Canada and the area has been a lucrative place for the 31 year old.
As for why his game shows up in this part of the world, he doesn't have a precise answer, despite being asked about it more times than he can remember.
"I wish I knew," he laughed. "I mean, I got asked that so many times and I'm not sure there's a really good answer. I like the courses and they fit my eye. So does the course in Tampa (home of the Valspar Championship, where Hadwin won his only PGA Tour title). I'm not sure if I play well there because I've got confidence from how I've played in the past or what. I guess I'll keep going until I get one spot better."
Hadwin, of course, wasn't the only Canadian in contention over the weekend. On the LGPA Tour Brooke Henderson headed into the final round a shot out of the lead but illness prevented her from giving her best on Sunday. She finished up tied for sixth.
Thanks to Twitter, Hadwin knew of Henderson's performance and was, like many Canadians, hoping they might put together a double celebration.
"That would have been cool," he said. "And I think it's going to happen. I mean, she's a really good player and we have a lot of good players out here who can win on any given week. If it does happen, I'd like to be the guy winning."
Hadwin will take this week off before getting a home game at the Waste Management Phoenix Open where he hopes to pick up where he left off.