Hadwin, Conners keep battling at PGA Championship
Adam Hadwin and Corey Conners might not have a shot at tracking down the PGA Championship lead, but there's still plenty to play for on Sunday, writes TSN's Bob Weeks.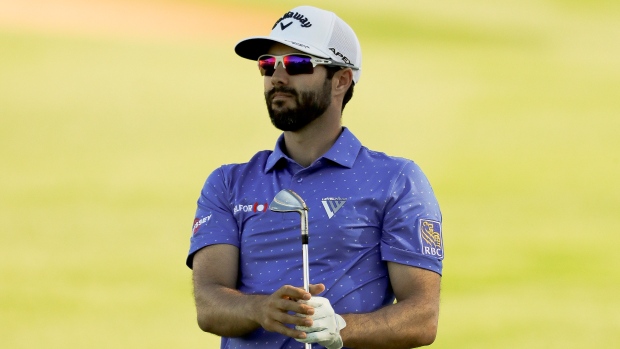 FARMINGDALE, N.Y. – It's not often that you walk off Bethpage Black and think you might have been able to shoot a lower score than what's on the scorecard. Especially not when it's set up as it was on Saturday at the PGA Championship. More often than not, players leave the course feeling as if they've been punched in the gut 18 times.
But Adam Hadwin was thinking about what might have been if just a few putts had dropped in his third round.
"I thought I played really well out there today," said Hadwin.
"I felt like I hit a lot of good putts that just kind of burned some edges and that was kind of the story of the day."
Hadwin ended up shooting an even-par 70 and was sitting inside the top 30.
Off the tee and into the greens, the Abbotsford, B.C., product was strong on Saturday. He was 11th in Strokes Gained: Tee to Green and 17th in Strokes Gained: Approach the Green.
But his putter once again refused to co-operate as he used it 32 times during his round.
"I hit a lot of good quality golf shots today," said Hadwin. "I just didn't reward myself by making putts. Today probably could have been easily three or four under."
Although the score wasn't where he wanted it, he's still pleased with the progress he's making with his game. He added a new putter to his bag this week, an Odyssey Stroke Lab Double Wide, saying that he likes the new model and feels he's hitting good putts. Most of the difficulties on the greens are in reading the subtle breaks.
"I'm really happy with where my game is at right now," stated Hadwin. "I'd just like to see a few more putts go in."
Corey Conners got a full dose of just how nasty major championship golf can be on Saturday, struggling to a round of 76 that included seven bogeys.
The Listowel, Ont., native never seem to find any sort of a comfort level and battled for most of the day.
It got so bad that Conners was even chirped about his beloved Toronto Maple Leafs by the raucous New York crowd.
"If you aren't feeling comfortable it's a real beast," summed up Conners.
His day unraveled quickly as he bogeyed four holes in a five-hole stretch between the third and seventh holes. There were three more bogeys on the back side before Conners climbed the hill at 18 and signed his scorecard.
"Just some sloppy golf really," he stated. "I feel like I drove it pretty well. I was in the fairway on some of the hard holes. But I hit some poor approach shots. I was trying to be aggressive on some and short-sided myself. I talked before about not doing that and I did that today."
Conners' approach shots didn't seem to follow one particular pattern, some veering left and others right. He managed to find half of the 18 greens but only managed to save par on two of the nine he missed. Even when he did land on the putting surface, he was usually quite a distance away. He averaged 44 feet from the hole for his round and only three approaches were inside 15 feet.
Despite being well off the pace, Sunday is an important round for both players. The two are hoping to earn spots on the International team for the Presidents Cup in December.
"Every round's important," said Hadwin. "Every shot's important at this point with some of the goals in mind."