Hadwin satisfied with opening round at Carnoustie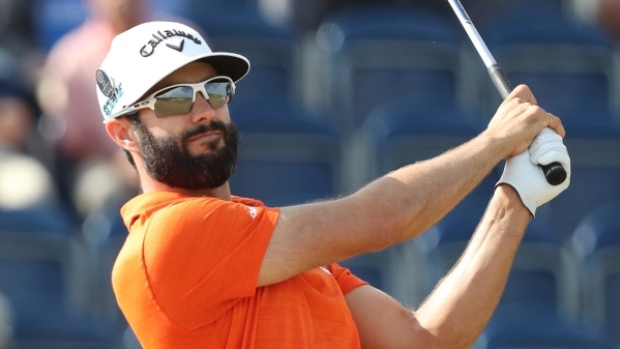 It was a good for Adam Hadwin. Not necessarily a great one, but a day that he can live with.
Hadwin's opening round two-over 73 was a steady and unspectacular spin around Carnoustie that included a little bit of everything.
"It was pretty good," Hadwin said. "This course can sneak up on you and bite you pretty quickly if you get off line. I got off line a couple of times. I made good bogeys, did what I needed to do, didn't do anything crazy.
"But I'm happy, I played pretty well. I just need to maybe be a little bit more aggressive and trust what I'm doing."
The 30-year-old put up nine straight pars on the front side, missing a few makeable birdie putts on the second and fifth holes. On the sixth, after two shots put him in a greenside bunker, he hit a poor sand shot but still scratched out another par.
On the back side, he hit his tee shot on the 12th into a deep fairway bunker and was forced to come out sideways, leading to a bogey. And on 15, he drove into deep gorse and took an unplayable.
Welcome to Carnoustie.
"[I was] close to being so good," Hadwin stated. "You can be a yard or two off on a line and you can end up making bogey or making birdie. "
As he has for much of the season, the Abbotsford, B.C. product was merely average with his putter. He had just a single three-putt, but that was understandable as it was from 85 feet. He used 31 putts on the day and stated that part of the problem was adjusting to the greens that are considerably slower than what's found on the PGA Tour.
"I jokingly said to Joe [caddie, Cruz] when we walked off 13 after making a 10-footer that seemed like it was down the hill and just crept it over the edge, that just doesn't happen normally," he said "You have to force yourself to hit it a little bit but the benefit of that is when you do get outside 30 feet, it's pretty straight. There's not a whole lot of break in the greens, so if you can dial in the speed you can two-putt a lot which I did."
Hadwin was wielding a relatively new putter that he put into play at the U.S. Open. The Odyssey Two-Ball replaced his trusty Tank V Line.
The other issue with which Hadwin had to deal was the wind, which was not blowing in the same direction as the practice rounds.
"We had to adjust a little bit, there were some different clubs off tees and some different choices, but we kind of expected that."
Hadwin played alongside Ernie Els who equalled his two-over score. The South African great is the International Team captain for the next Presidents Cup and Hadwin joked that he was on his best behaviour just in case the Big Easy was sizing him up.
"I wasn't lobbying for [a spot on the team]," he laughed. "I was just trying to be as nice a guy as possible so maybe he'll keep that in the back of his head come next year."
Hadwin tees off at 2:04 Carnoustie time for his second round.