Hainsey enjoying life as a Leaf ahead of tilt with former team
Ron Hainsey has already played more regular season games (29) with the Maple Leafs than he did last season with the Pittsburgh Penguins (16). But what defined Hainsey's time with his former team wasn't about the start – it was about the finish, TSN's Kristen Shilton writes.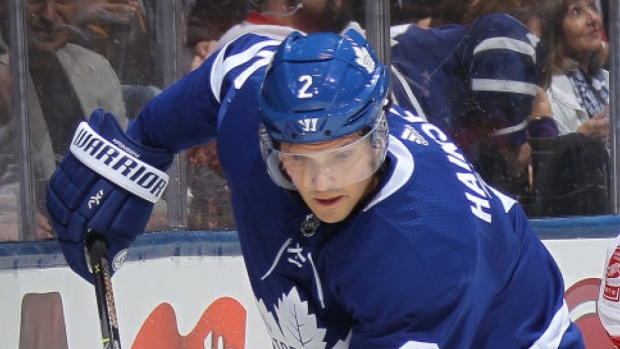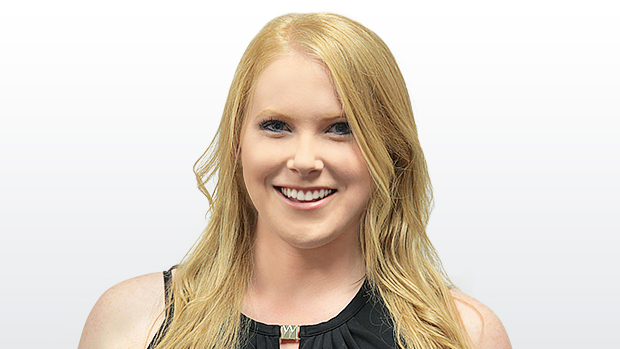 * Ron Hainsey has already played more regular season games (29) with the Maple Leafs than he did last season with the Pittsburgh Penguins (16). But what defined Hainsey's time with his former team wasn't about the start – it was about the finish.
After skating in 907 career games, Hainsey finally made the postseason with Pittsburgh after arriving from Carolina via the first trade of his career last February. When Pittsburgh lost top-pairing defenceman Kris Letang to injury, Hainsey took on more responsibility and moved to his off-side to help keep the Pens' blue line from becoming a liability. And when Pittsburgh defeated the Nashville Predators in Game 6 of the Stanley Cup Final, it was Hainsey who received the Cup first from captain Sidney Crosby.
"If someone is going to step up and trade for you at the deadline, you want to do well obviously. But maybe part of you wants to make it worth their while," said Hainsey. "It is a short period of time; you could be out [of the playoffs] in 10 days or be there for a couple months. So having it work out the way it did was certainly a best-case scenario."
In 25 playoff games, Hainsey posted two goals and six assists for the Pens. He has yet to receive his ring, but said it would be nice to finally get it after the game on Saturday.
As for what the momento might mean to him, Hainsey didn't feel like sharing.
"I don't know," he said. "It's a little deep for a Saturday morning."
Now on a Maple Leafs team that's still striving to reach milestones the Penguins have twice in the last two seasons, Hainsey has been happy with the transition from one club to the other and the talent level around him in Toronto.
Ideally the Leafs would like to be contending for a Cup sooner rather than later, and they've gotten off to a strong start over the season's first two months. But now that he's familiar with what it takes to win one, Hainsey cautions against anyone getting ahead of themselves with the Leafs' Cup prospects – or start predicting a David vs. Goliath type postseason tilt against Pittsburgh.
"It's a long way to go. Certainly we're all fans on some level, that's a cool series to go to the [Eastern Conference] Final or whatever," he said. "But we have a long way to go before that. It's about putting ourselves in the best position we can, and I'm sure they're doing the same thing over there."
—
* As Matt Hunwick shed his helmet after morning skate on Saturday, it was obvious (at least to the Toronto media) he'd made at least one change since arriving in Pittsburgh – his hair is longer.
Since opting to sign with the Penguins in July as a free agent, Hunwick is no longer subject to quite so rigid rules about hair and beard length. But he remains appreciative of the two seasons he spent in blue and white and what the team was able to accomplish with last season's postseason berth.
"It was my first time playing in a Canadian market, and I really enjoyed my time there," he said. "Just the fanbase and the culture there, and what we were able to do making the playoffs last year, it was pretty special."
Pittsburgh wooed Hunwick with the offer of a three-year, $6.75 million deal inked on July 1. Mike Babcock revealed on Saturday for the first time that the Leafs had made an effort to keep Hunwick, but that he was happy to see the blueliner get a three year contract elsewhere.
"I think Hunny was so important for us the first two years with the team and we went through lots of players and we were figuring things out," Babcock said. "He was a real role model, did it right every day and we were always impressed by him."
"A lot of factors go into it," Hunwick said of deciding on Pittsburgh. "But I wanted to go to a good organization with a team that had a chance to compete for a Stanley Cup and I thought this was one where I'd have that opportunity."
Hunwick said facing his most recent former team has lost some of its sheen now that he's playing for his fifth NHL club. But he's maintained some relationships with ex-teammates and was spotted chatting with the Leafs' coaching and PR staff prior to Saturday's game.
The roster may not be wholly changed since he departed, but Hunwick is at least a little surprised to see how the lineup has come together for the Leafs' – especially up front.
"Any time you see someone like William Nylander on the fourth line, you know they have some depth," he said. "Obviously a well-coached team; they have a talented group. They're really solid all around, and they've taken a leap from where we were in the playoffs [last season]."
—
* Babcock has spent 15 years coaching in the NHL and been behind the bench at both the Olympic Games and the World Cup. Among the breadth of skilled players he's shepherded, there are few the coach speaks as glowingly about as Sidney Crosby.
"It's a desire to win and be the best," Babcock said of what sets Crosby apart. "All the great players are like that. They're great because of their drive train and their heart and their soul, and Sid has that in spades. It has nothing to do with skill – it was drive train, it was competitiveness, it was excitement to be in the big games where it matters."
Nazem Kadri is only three years younger than Crosby in age, but in the last two seasons he's undergone a true transformation as a player. Being matched up against skaters of Crosby's talent has forced Kadri into becoming a more mature, responsible player and person. It used to be that Kadri's primary desire was to score goals; now he better understands the value of being a complete 200-foot centre.
"I still think of Naz as a young player even though he's 27 because he's really dug in here in these last couple of years and he's got work to do in those areas as he gets stronger," said Babcock. "To me, if you want to be able to play against the best players every night and through three rounds in the playoffs, you got to be in peak, peak condition and you've got to live that. So he's in the process of working towards that."
"Just being able to be good defensively and contribute offensively as well," Kadri said of how he's evolved. "I've tried to do the best I can finding that balance between both sides, and being responsible while using that offensive instinct so just trying to find a little bit of both."
While Kadri may not qualify as a young player by most standards, Auston Matthews certainly does. The 20-year-old has made more strides than any of the Leafs' sophomores, and is poised to be the type of dominant centre in the league that Crosby has been for most of his illustrious career. But don't expect Crosby to be passing the torch, to Matthews or anyone else, in the near future.
"He's such a driven person, and a driven athlete," said Penguins head coach Mike Sullivan. "I don't know that I've been around a player or an athlete who's more driven than Sid. He has an insatiable appetite to be the best, he wants to help his team win in so many different ways and any time there's a younger generation that comes up, it's probably just one more motivating factor where he tries to keep himself at his best."
—
* Nearly three years after he was traded by the Leafs to Pittsburgh, mentioning Phil Kessel to his former teammates still draws a quick smile.
Kessel had a complicated relationship with Toronto. A fresh start in Pittsburgh, where the spotlight trains most heavily on Crosby and Evgeni Malkin, was rejuvenating for Kessel from the start - and produced two Stanley Cup rings. A meeting with Sullivan over the summer about expectations for the coming year seems to have reinvigorated Kessel again. He leads the Penguins in goals (14) and points (35) and is tied for most assists (21) through 30 games.
"I'm not surprised. He's always been a gifted skilled player," said Kadri of Kessel's success. "You don't find too many like him too often. I think just have great players around him and those players being able to contribute offensively and not just have the brunt of it on him is certainly helped him and elevated his game."
James van Riemsdyk played on a line with Kessel for parts of three seasons, and sees how he's been able to elevate his game even further among Pittsburgh's impressive stable of forwards.
"He's good about finding those soft areas and he's a good passer so he's able to create space for himself," said van Riemsdyk. "He makes the right play and puts other teams in a vulnerable position."
While they only see him a few times a year on the ice these days, Kadri and van Riemsdyk both still keep in touch with Kessel and root for him to keep succeeding – except when their teams face each other, of course.
"He's a good friend of mine and we have had some good times on the ice in Toronto," said van Riemsdyk. "I'm happy to see him doing well here."
—
* Matt Murray hasn't had the easiest time staying healthy the last two seasons. So when he was taken out in the crease by Philadelphia Flyers' forward Jakub Voracek in late November, the Penguins held their breath it hadn't caused a long-term issue.
Fortunately for Pittsburgh, it doesn't look like that's the case. Murray was a full participant in morning skate on Saturday for the first time since the injury. Sullivan said he's now day-to-day with the lower-body ailment, but the progress is encouraging.
"I'm going with no restrictions right now," Murray said in his first media availability since going down. "Just trying to push it, still see how it responds in a day-to-day type thing, but feels really good."
Murray was on the ice for 45 minutes on Saturday, and performed a full complement of movements without any issue. As for the collision itself, Murray said it obviously wasn't intentional on Voracek's part but rather a spot of "bad luck."
"It was just the ice kind of blew up underneath his skates," Murray said. "He was coming pretty fast obviously, he was trying to beat our d-man to the net so he's coming in hot and trying to stop. He's a fast skater so when he's coming in hot like that, a collision can be bad. The post [where I hit my leg] kind of got in the way."
In Murray's absence, backup Tristan Jarry has led the Penguins to a 3-1-0 record over four starts, with eight goals against. Murray had no doubt the 22-year-old was up to the task.
"He's been great. It's no surprise, he's a great goalie," Murray said. "He has the right mindset I think. He's stepped up and did a great job, he's doing a great job. I think he's stolen a couple games for us, he's making all the saves he needs to, and then some. He's been stellar for sure."
-------
* Projected lineup vs. Pittsburgh:
Hyman-Matthews-Brown
Marleau-Kadri-Komarov
van Riemsdyk-Bozak-Marner
Martin-Moore-Nylander
Rielly-Hainsey
Gardiner-Zaitsev
Borgman-Polak
Andersen
McElhinney