Hall adjusting to new normal in New Jersey
New Jersey Devils winger Taylor Hall admits he's still keeping tabs on the Edmonton Oilers from 3,200 kilometres away, Frank Seravalli writes.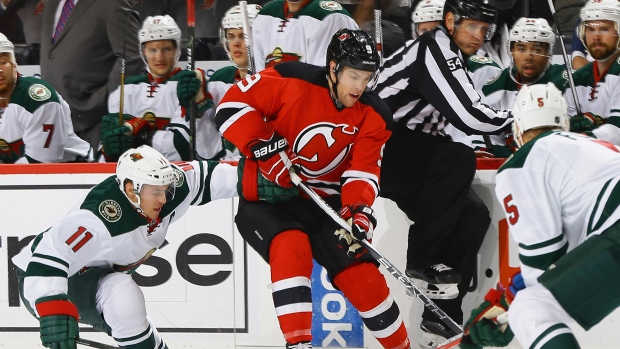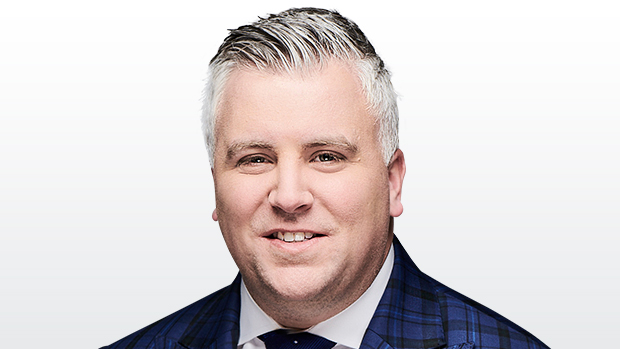 NEWARK, N.J. — Taylor Hall doesn't try to hide it. He is still watching and keeping tabs on the Edmonton Oilers from 3,200 kilometres away.
"I follow," Hall said Thursday. "They won last night. It's kind of a weird feeling. I'd be lying if I said it's not hard to see them get off to such a hot start. But I'm happy for the guys there, for sure."
It's a part of the cord-cutting process, something every NHLer does quietly with his former team. Every day you follow a little less, though, and get a little more used to the new you.
"It's still weird wearing the red and black," Hall said. "Seeing the logo, I get taken [aback]. Playing games now, I'd say it's pretty much getting normal now."
It took Hall a good bit of the summer, he admits, to process the trade that sent him across the continent to New Jersey. Watching the Oilers (6-1-0) get off to their best start since the 1985-86 glory days is harder to take because he knew the turnaround had arrived.
After losing 236 games, Hall wanted to be there to reap the rewards alongside Connor McDavid.
"It's tough," Hall said. "I put a lot into my time there. I didn't want to get traded. But they had to do what they had to do. I don't think I felt like a scapegoat. I just felt like I was shortchanged in the fact that I had been there for so long and now that they had Connor they were finally making that step and I'm the one that gets let go?"
Those feelings have subsided. Everything is being properly compartmentalized.
Hall, 24, is now a man on a mission in New Jersey. The new face of the Devils has scored nearly half his team's goals — five in six games — including two game-winners. It is the best scoring start to any season in Hall's seven-year NHL career.
The Devils (3-2-1) are ahead of the Capitals, Islanders and Flyers — three playoff teams from last spring — despite being tied for the fewest goals scored in the league.
"As the summer went on, I started realizing it's not about proving Edmonton wrong. It's about proving your teammates and the organization here in New Jersey right," Hall said. "We're over .500. We're a team that is going to fight for a playoff spot. That's going to be a lot of fun.
"I'm just hungry to be in a playoff race, to have games at the end of the season that mean a lot."
Devils GM Ray Shero said Thursday that Hall has been "exactly what we needed and we we're looking for." The sample size remains small, but Shero pointed out the Devils have increased their even-strength shot total from an average of 22.4 per game to 31 since adding Hall.
"We've played six games and there hasn't been one where he wasn't one of the most competitive on the ice," coach John Hynes said. "He's very coachable, his work ethic is good. That's one thing you're never sure of with a guy coming to a new team, especially with the way it all went down. Just who he's been as a guy and a teammate, that wasn't advertised, but it has been equally impressive."
Hall said the entire Devils organization, especially teammate Adam Henrique, helped get him acclimated in New Jersey. Sharing breakfast with Shero one day before training camp was beneficial, as were conversations with agent Jeff Jackson of the Orr Hockey Group, who played for the Rangers and raved about the area.
It has been quite the culture change. Hall had only ever known his hometown of Kingston, Ont., his junior town in Windsor, and Edmonton.
He lived in a house in Edmonton with a yard and parked his car in front of his house. Now, he lives on the 27th floor of a condo building in the Hoboken/Jersey City area with a view across the Hudson River of the New York City skyline.
He has a 201 phone number and an E-ZPass tag to glide through New Jersey's innumerable toll booths with ease. He's also trying to decide on a favourite football team.
"I'm trying to cheer for the Giants, but they've been a tough team to cheer for," Hall said, laughing. "But the Jets are just bad. It has fun being part of a new city and a new town. It's definitely different."
Hall said the trade has "re-energized" him and given him "a whole new set of goals." The Oilers have McDavid, but Hall likes being tasked as the man to put the Devils back on the map again.
"I'm on a new team that's in the same exact position," Hall said. "We're a team that's turning the corner; a team that's undergone new management and structure changes. We're hoping to be New Jersey's team again, because there are a lot of teams to root for living here. You want that responsibility, to be a guy that's counted on offensively and off the ice. That's a good burden to have. It's exciting to see what could happen."
Contact Frank Seravalli on Twitter: @frank_seravalli