Hall's Hart validates a night to forget for Oilers
New Jersey Devils forward Taylor Hall is just the second player in the Hart Memorial Trophy's 94-year history to be traded and then take home the hardware. The Edmonton Oilers said Hall could not win by trading him away. He was scapegoated, pointed at if you could read between the lines, as part of the problem, not the solution. All he's done is win one of hockey's hallowed trophies, TSN Senior Hockey Reporter Frank Seravalli writes.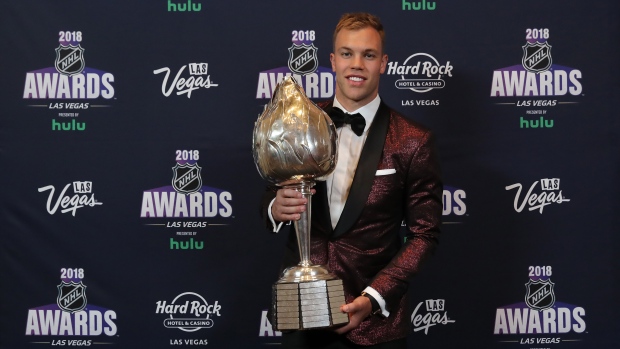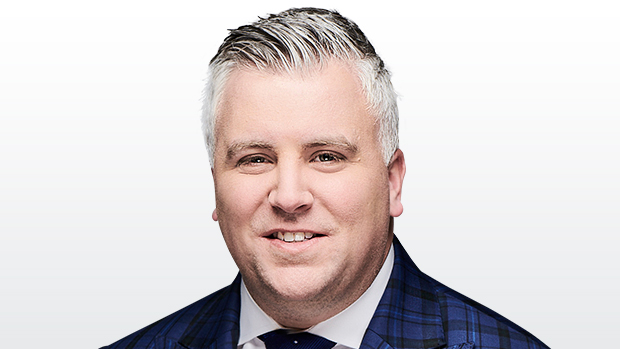 LAS VEGAS — Taylor Hall looked at the miniature Hart Trophy resting on the podium in front of him and thought about the question, but only for one second.
Did being voted the NHL's most valuable player provide some sort of magical validation to his career?
"No," Hall said bluntly. "I don't think so."
As Hall answered, you could practically see the gears turning in his head. A chance to jab the Edmonton Oilers was served up on a silver platter, but Hall took the high road.
This was his night, a night put into perspective by a tear-jerking tribute to the Humboldt Broncos.
"To see those kids, their dreams ripped apart and their families have to kind of heal from that, it just puts everything into perspective," Hall said. "It's not about you, it's not about winning awards, it's about enjoying life and doing what you love."
The only validation provided was further proof that Peter Chiarelli and the Oilers made a giant miscalculation in dealing Hall to New Jersey two summers ago in a straight-up swap for defenceman Adam Larsson.
Hall, 26, became the first player since Joe Thornton in 2005-06 to win the Hart after being traded. Hart-calibre players are rarely moved. It's happened just four other times.
"As a player, as a person, you mature," Hall said. "But in saying that, I was top-10 in points on my entry-level deal. I was a good player for a really long time. I feel what really brought me to the next level was being in Jersey, playing with my teammates, drafting Nico [Hischier] No. 1 overall and getting to play with him as a centreman all season long. I think probably the biggest reason why I'm up here today is No. 13 on my team and the trust that Ray Shero and John Hynes have put in me."
It was a banner night for the Oilers. Hall accepted perhaps hockey's biggest individual honour, the one where only three of the previous 52 retired winners are not enshrined in the Hockey Hall of Fame.
Islanders wunderkind Mathew Barzal nabbed the Calder Trophy as rookie of the year, the No. 16 pick from 2015 traded by Chiarelli for Griffin Reinhart.
Yes, Connor McDavid collected the Ted Lindsay Award as the league's most outstanding player as voted by his peers, but the fact that he also didn't also win the Hart was more of an indictment of the Oilers' failed season than anything else.
"To the city of Edmonton, thank you for being patient with us," McDavid said on-stage as he accepted the award in what he described as a total shock. "We'll be back. I promise."
The Oilers probably would not have ever tumbled if all three of those pieces – McDavid, Hall and Barzal – were in the lineup, the potential that existed in 2015.
Voting by the Professional Hockey Writers Association ended up not nearly as close as expected. Hall edged Nathan MacKinnon by 74 points, or more than seven full first-place votes, and third-place finisher Anze Kopitar for the prize. It did not crack the Top 10 of closest votes in Hart history.
MacKinnon and Kopitar both had compelling cases, but Hall truly could stake claim to the title of most valuable to his team. He had the largest scoring spread between teammates with 41 points separating him from Nico Hischier. The Devils went from last in the East to a playoff berth no one saw coming on the back of Hall and his 26-game point streak from Jan. 2 to March 6.
"I'm pretty confident in saying that's something I'll never do again in my career," Hall said of his streak, unprecedented in today's NHL. "It was a cool moment and it just kind of coincided with our team getting in the playoffs and going on a run there."
Hall said clinching a playoff berth in Toronto against the Maple Leafs, something he never tasted in six seasons in Oil Country, was his favourite moment of the season. After 529 career games, he had a ticket to the dance. At long last.
"It's sad to say, but eight years into my career, I hadn't played in the playoffs," Hall said. "So for me to accomplish that with the group we had – to be written off by a lot of people at the start of the year team-wise and for me – there's no one that could have predicted this."
The Oilers said Hall could not win by trading him away. He was scapegoated, pointed at if you could read between the lines, as part of the problem and not the solution.
All he's done is win one of hockey's hallowed trophies, after a season in which the Oilers watched him lead the Devils into the playoffs.
Validation, indeed.
"If there's one thing I'm proud of, it's to be the first Devil to win MVP," Hall said. "People have [written] me off. It feels pretty good standing up here now, and to have the MVP, and to have had a successful season in Jersey."
Contact Frank Seravalli on Twitter: @frank_seravalli