Halladay, Rivera, Martinez, Mussina headed to Cooperstown
Roy Halladay is headed to Cooperstown. The late Toronto Blue Jays icon is one of four players elected for induction into the Baseball Hall of Fame Class of 2019 alongside all-time saves leader Mariano Rivera, two-time batting champion Edgar Martinez and seven-time Gold Glove winner Mike Mussina.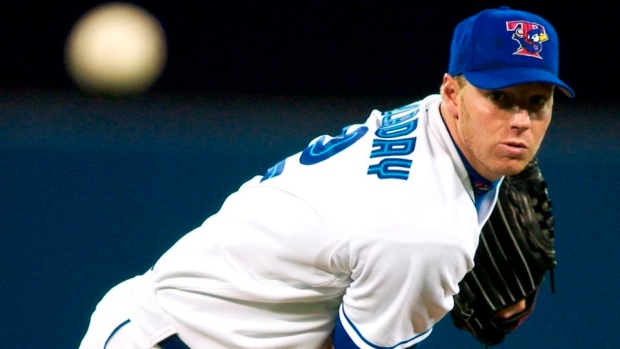 Roy Halladay is headed to Cooperstown.
The late Toronto Blue Jays icon is one of four players who will be inducted into the Baseball Hall of Fame Class of 2019 alongside all-time saves leader Mariano Rivera, two-time batting champion Edgar Martinez and seven-time Gold Glove winner Mike Mussina.
The announcement was made on Tuesday evening.
Halladay, who died in a plane crash in November of 2017, will become only the second Hall of Famer who spent the majority of his career with the Jays. After 12 seasons with the Jays, Halladay was traded to the Philadelphia Phillies in 2010.
A native of Denver, Halladay reaches the Hall in his first year of eligibility with 85.40 per cent of the vote.
An eight-time All-Star, Halladay posted a 203-105 record in 416 games and 2,749.1 innings pitched over his 16-year career with a 3.38 earned run average and a WHIP of 1.178.
Halladay is one of only six pitchers to win a Cy Young in both the American and National Leagues, winning the honour in 2003 with the Jays and again in 2010 with the Phillies.
From 2002 to 2011, the man nicknamed "Doc" had 63 complete games. No other pitcher in either league had more than 33 in that span.
Halladay threw a no-hitter in his first ever postseason start, becoming only the second person to achieve the feat, in Game 1 of the 2010 National League Division Series against the Cincinnati Reds.
"Of the countless players that have worn the Blue Jays uniform, few have done so with the determination and elegance of Roy Halladay," said Jays president Mark Shapiro in a statement. "Today is a bittersweet day for our community and organization, as we remember a beloved pitcher, teammate, and family man, but we can take comfort in the boundless impact Roy had on Canadian fans nationwide and the game of baseball. On behalf of the Toronto Blue Jays organization and all of our fans, we congratulate Brandy, Braden, Ryan, and the entire Halladay family on this monumental honour."
Former teammates also had praise for Halladay.
"Doc was one of the greatest baseball competitors I have ever seen," said fellow Cy Young winner Pat Hentgen. "His work ethic, mental toughness, professionalism, and consistency on the mound were unmatched. Every fifth day that he pitched, he held an intense focus on one goal: to give his team the best possible chance of winning. Any player who had the honour of sharing a clubhouse with Doc will agree that they are better having known him."
"A great honor for a great player and even greater person, proud of you Dad!" tweeted Halladay's son, Braden. "I love you."
Halladay's widow, Brandy, also released a statement.
As expected, Halladay is joined by legendary New York Yankees closer Rivera who was also elected to the Hall of Fame in his first year of eligibility and becomes the first unanimous selection, appearing on all of the 425 ballots submitted. This tops the previous record set by Ken Griffey Jr. in 2016 with 99.32 per cent.
A native of Panama City, Panama, Rivera is Major League Baseball's all-time saves leader with 652.
Signed by the Yankees for $2,000 of Feb. 17, 1990 at the age of 20, Rivera had a hole in his shoe during his tryout.
A 13-time All-Star, Rivera spent 19 seasons in the big leagues, all with the Yankees, winning the World Series on five occasions. Rivera starred in the postseason, posting a 0.70 earned run average and 42 saves.
Rivera's 952 games finished and 205 ERA+ are both all-time records. His 1.000 WHIP is the lowest among retired pitchers (with a minimum of 1,000 innings pitched) in the Live-Ball Era.
Finishing his career in 2013, Rivera posted an all-time mark of 82-60 with a 2.21 ERA over 1,115 appearances in 1,283.2 IP.
His 56.3 career WAR is highest among relievers.
Martinez is finally a Hall of Famer.
The career Seattle Mariner reaches Cooperstown in his ninth year on the ballot. Martinez received 85.4 per cent, up from 70.4 per cent last year.
A native of Dorado, PR, Martinez was a career .312 hitter, winning batting titles in 1992 and 1995.
Beginning his 18-year career in 1987 as a third baseman 1,403 of Martinez's 2,067 career games came at designated hitter, making him the first predominately DH to reach Cooperstown. The MLB's Outstanding DH Award – won five times by Martinez – was renamed the Edgar Martinez Award in 2004.
A five-time Silver Slugger winner, Martinez had 309 home runs, 1,261 runs batted in and an OPS of .933 for his career.
His 68.4 career WAR is 80th all-time.
Mussina gets his call in his sixth year on the ballot, voted in at 76.70 per cent, up from 63.5 per cent last season.
A native of Williamsport, PA, Mussina spent 18 years in the majors – 10 with the Baltimore Orioles and the latter eight with the Yankees.
The 20th overall pick out of Stanford in the 1990 MLB Amateur Draft, Mussina was a five-time All-Star and seven-time Gold Glove winner. While never winning a Cy Young, Mussina finished in the top-five in voting on six occasions.
He retired after the 2008 season, posting a 20-8 mark as a 39-year-old, becoming the oldest first-time 20-game winner in MLB history. Mussina posted double-digit wins totals in every year of his career save for his rookie season.
Mussina finished his career with a mark of 270-153 in 3,562.2 IP over 537 appearances with a 3.68 ERA and a WHIP of 1.192.
His 82.9 pitching WAR is sixth among pitchers in the DH era, trailing only Roger Clemens, Randy Johnson, Greg Maddux, Pedro Martinez and Bert Blyleven.
The next closest finishers were Curt Schilling (60.9), Clemens (59.5) and Barry Bonds (59.1).
Maple Ridge, B.C.'s Larry Walker came up short again in his ninth year on the ballot, receiving 54.6 per cent of the ballot, but is up from 34.1 per cent last year. Next year will be Walker's final shot at enshrinement.
Former Jays slugger Fred McGriff, in his final year of eligibility, falls off the ballot at 39.8 per cent.
The 2019 Baseball Hall of Fame class will be set for enshrinement on July 21.