Halladay's outlook on life should be emulated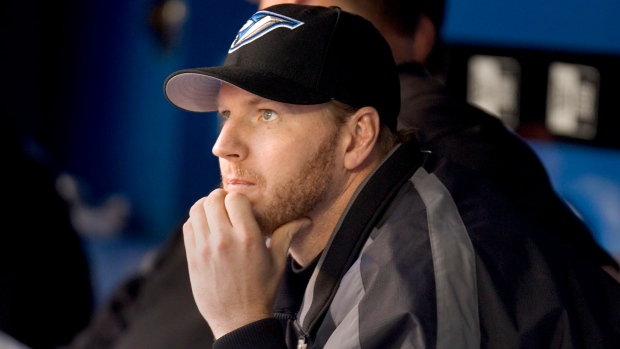 SCOTTSDALE, Ariz. — Everything about this day and the loss of Roy Halladay at the age of 40 is heartbreaking.
When you sit down to try and sum up the longtime and legendary Toronto Blue Jays ace's career, impact, and now devastating loss in a plane crash off the Gulf Coast of Florida, you quickly realize the pitching stats, the no-hitter, the perfect game, the Cy Young Awards, they all pale in comparison to the kind of person he was.
Roy Halladay was a rare breed, both on the mound and off it.
His impact away from the field and the way he lived life is what people wanted to talk about.
Halladay cared about pitching.
He cared about people and life more, and the Internet is littered with anecdotes to prove it.
Whether you knew him or not — I only had two fairly brief encounters with the man, and never had the pleasure of covering a game he pitched in, unfortunately — Halladay was an important figure if you were a Blue Jays fan, or a fan of baseball at all.
As news of Halladay being killed when his single-engine plane, one he had just purchased last month, filtered through the Arizona Fall League game I was at Tuesday afternoon, stunned reactions followed.
Ken Huckaby caught Halladay during the backup catcher's two stints with the Jays from 2002 to 2005.
Now the catching coordinator for the organization, Huckaby's eye was on backstop prospect Max Pentecost, who was starting behind the plate for the Peoria Javelinas on Tuesday.
Huckaby had to leave the ballpark mid-game, shortly after it was confirmed by Pasco County Sheriff Chris Nocco that it was Halladay's body that had been recovered.
Dunedin Blue Jays hitting coach Corey Hart said Huckaby was completely broken up by the news.
Andrew Case, a Blue Jays pitching prospect who grew up as a fan in New Brunswick, was sitting in the bullpen during the game at Sloan Park in Mesa, Ariz., when he got word.
"You kind of don't believe it still," said Case, who was five years old when Halladay arrived in the majors in 1998. "It's so surreal and so heartbreaking that you watched that guy growing up as a kid and, basically, every kid's dream growing up was to be him, the Doc. He was someone special. He was an icon of Canada and he was the face of the Blue Jays for the longest time."
Case met Halladay last year at the team's complex in Dunedin.
It's the same as just about every other story people told Tuesday about meeting the 6-foot-6 Denver native.
Easygoing and humble were the words Case used.
As a young Canadian mound hopeful, Halladay was what you wanted to be and the reason to watch. The only reason to watch on far too many nights.
"Doc this, Doc that," Case said. "He was unreal. His name means something. In Canada, you'd watch and it'd be, 'Who's pitching today? Doc?' He gave you the best chance to win. Growing up, he was my favourite to watch. Absolutely. When he went over to Philly and threw the perfect game, it was something special.
"He hit a lot of hearts, man, especially in Canada. He was the G.O.A.T. in that Rogers Centre. Very, very sad."
On the mound, Halladay was about precision and each and every pitch.
Away from it, Halladay was a big picture man living in an increasingly small picture world.
Of all the stories circulating as the baseball world came to grips with the news, one of Halladay's own tweets from about six weeks ago stood out.
"Life is all about perspective and how you choose to see things and your attitude toward them! Broke down on the Hwy or a day at the beach?," the husband and father of two tweeted alongside some photos, one of his broken down vehicle and the other of the beach right beside it.
Pitchers want to emulate his pitching style and success on the mound.
We should all want to emulate his outlook on life, one that ended far too soon.​