Hamhuis discusses interest in Stars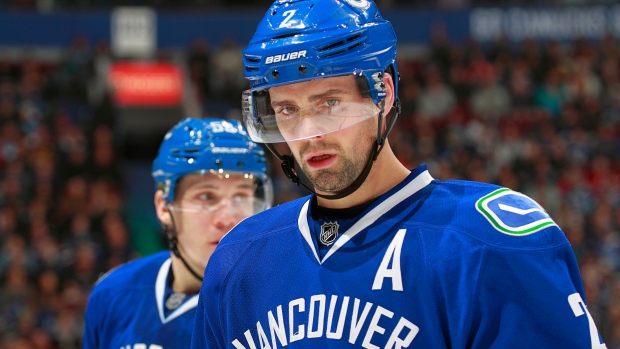 TSN Radio 1040 Vancouver caught up with Canucks defenceman Dan Hamhuis following Saturday's morning skate and asked him about a report that said he would be interested in Dallas as a possible trade location.
"If that's the direction we are going is to a move, then Dallas has a lot of great things going for it. It is one of the top teams in the league and it would be a great city to play in and they have a good chance to win this year"
On connections in Dallas:
"I got to meet Jim Nill at the World Championships in Prague and also, I know quite a few players on that team, if that was one of the places"
On if he is asked to sit out, as a scratch, to prevent injury:
"I'd like to understand the reasoning and to see what is going on. My stance on the whole situation stays the same: obviously we'd like to stay, but we have an open mind to going to possibly a right fit, if that's what they want to do"
On the idea that Sunday vs San Jose could be his last game as a Canuck:
"...with that kind of looming and the possibility the last couple of games, if I'm playing tomorrow, here, as a Canuck, I will certainly be looking to really enjoy it"
TSN Radio 1040 also caught up with Canucks winger Radim Vrbata, who does not expect to play tomorrow against the Sharks due to a leg injury. He has his sights set on Monday.
On his limited no trade clause and if he has submitted a list of eight:
"I know that Jim (Benning) is not commenting on that and my agent has not, so I'm not going to comment on that, either"
On his approach to UFA status and best option to take advantage of that (could a trade help):
"That will take care of itself in the summer...that is something that I am not thinking of right now, that will be more after the season. We have a third child coming up after the season (May), so we will be pretty busy with that. Hockey-wise, that will take care of itself around July"
On getting a chance to get to the playoffs:
"That's what you play for. We will see how it plays out by Monday...I'm waiting the same as you guys are."
On if trade helps what occurrs in off-season:
"If you look at the situation of Vermette last year, he went to Chicago and scored some big goals in the FInals and won the Cup, then went back to Pheonix for pretty much the same money he had before. I'm don't know if it helps or hurts, but that is not something I am thinking about right now"
On if a fresh start would be welcomed (via trade):
"You just go to a different situation and for every player going to a new team, you still try to play your best no matter where you are or what the situation because you are playing for your name. That is what I was trying to do the whole season...even though things are not going well, you still have to keep trying and hope that it will change. That wouldn't change (with a trade).
On if slow start dictated the remainder of his season (after talking briefly about slow start):
"I think there is more to it. When you look at last year, the lines were pretty much set. You knew who you were playing with early: with Danny and Hank and then with Bones. Over the summer when the word was I probably wouldn'd be playing with Danny and Hank and then with Bones getting moved, so you kind of lost those two centremen you were playing with last year. There was a lot more line juggling, than last year. I think it all goes together: unlucky start in the beggining and then just never really got going, I would say. Even though you are trying harder than last year, but when it is not coming, you get frustrated a bit and you are playing catch-up. That is always tough."
On dealing with the family aspect:
"If it was just me, being single and no kids, you don't worry about anything. You just go where they tell you. With family it is more a concern. It is not just about you, it is more about your family"