Hamilton denies Ferrari, wins Italian GP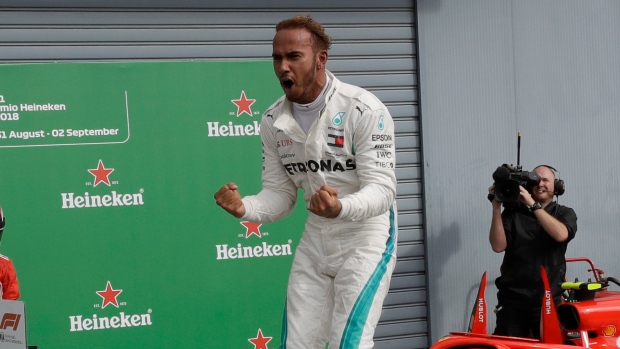 MONZA, Italy — For Ferrari, the wait continues. For Lewis Hamilton, it was a dream of a race as he won the Italian Grand Prix after starting third on the grid to extend his championship lead over Sebastian Vettel following an opening-lap collision with the German driver that effectively ended his chances of victory on Sunday.
Ferrari was hopeful of ending an eight-year wait for a win at its home track after taking the front two places on the grid at the Italian GP for the first time since 2000 but pole-sitter Raikkonen was overtaken by Hamilton eight laps from the end and the Mercedes driver held on, much to the disappointment of the passionate Italian tifosi fans.
"Today was so difficult. Whilst the negativity is never great, that's what powered me along. I actually accept it," Hamilton said after getting roundly booed on the podium.
Hamilton tied Michael Schumacher's record of five Italian GP victories and extended his overall lead to 30 points over Vettel, who had cut the British driver's advantage to 17 points following last weekend's victory in Belgium.
"Disappointed but there was nothing I could do," said Raikkonen, who struggled with a tire problem in the final few laps.
Montreal's Lance Stroll finished 10th. It was his second top-10 result of the season.
Hamilton's teammate Valtteri Bottas was third, ahead of Vettel and Red Bull's Max Verstappen, who received a five-second penalty.
Hamilton put Vettel under pressure from the start but Vettel pulled clear and was alongside Raikkonen into the first corner.
Hamilton had another go on the outside heading into the second chicane, inching ahead of Vettel when they made contact causing Vettel to spin and lose part of his front wing.
The safety car was deployed and Vettel was forced into the pits for a new wing, coming out 18th.
Both drivers complained on team radio but an investigation decided that no further action was necessary.
"That was definitely a very, very key moment, getting past him was the immediate goal ... my race is not really with Kimi, it's with Sebastian. However, I do need to get past Kimi at the same time," Hamilton said.
"Getting past Sebastian at the beginning was clearly a massive turning point. That definitely took a lot of pressure off ... I could just focus on Kimi for the whole race. We had a couple of good battles."
Moments after the safety car came in on lap four, Hamilton swiftly overtook Raikkonen on the straight but gave the lead back almost immediately at the second chicane.
Meanwhile, Vettel was powering through the field and had made it back into the top 10 by lap 15 and was up to fifth nine laps later. But the German's hopes of getting onto the podium were diminished when he was forced to make another pit stop and came out 10th.
Raikkonen pitted from the lead at the end of lap 20 and came out fourth, behind Hamilton, Bottas and Verstappen.
Hamilton waited until the end of lap 28 to come in for fresh tires, handing the lead to Bottas who was ahead of a charging Raikkonen.
Hamilton emerged third and with his teammate holding up Raikkonen, the British driver was able to close the gap.
When Bottas eventually pitted at the end of lap 36, the fight was on, with Raikkonen holding a one-second advantage over Hamilton.
A few laps later Hamilton struck, coming around the outside of Raikkonen on turn one at the end of the straight to overtake the Finn and never looked back.
Behind them there was a scrap for third place culminating at the first chicane when Verstappen appeared to move into Bottas, forcing the Finnish driver onto an escape road.
Verstappen was furious when he was told he had been given a five-second penalty for his role in the incident on team radio, swearing and adding: "They're doing a great job of killing racing, honestly."
___
More AP auto racing: https://apnews.com/tag/apf-AutoRacing and https://twitter.com/AP_Sports