Hart dominating in WHL, ready to start for Canada
Carter Hart is looking forward to playing for his country again, and Hockey Canada will likely be glad to have him back given his improved form since the 2017 World Junior Championship.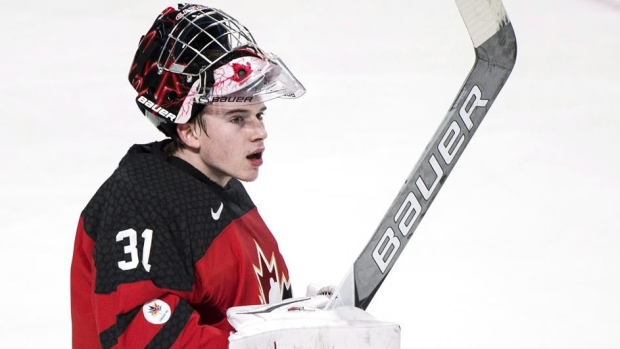 The 2017 world junior hockey tournament came to an agonizing end for Canada, something Carter Hart was reminded of frequently.
Canada's starting goaltender in its 5-4 shootout loss to the United States in last year's gold-medal game, Hart would see assistant coaches Brennan Sonne and Mitch Love wearing Team USA tracksuits as he practised with his junior team, the Western Hockey League's Everett Silvertips.
The two Canadian coaches had to wear the offending garments every day for a week after losing a bet on the gold-medal game to then-head coach Kevin Constantine and goalie coach Shane Clifford, who are American.
"I thought it was pretty funny, there was always stuff going on between the coaches like that," said Hart, who is one of eight players likely to return to Canada's world junior roster this December.
Clifford was "only too happy" to provide the track suits last January, but Hart's not sure if there will be more wagers this year. The annual tournament will be in Buffalo, N.Y., this year with Canada and the United States meeting in the preliminary round on Dec. 29 in an outdoor game at New Era Field, home of the NFL's Bills.
Hart's hoping that his goalie coach has switched allegiances in the past year. And, of course, that Canada comes home with the gold.
"(Clifford) is actually going to be coming to a couple of games in Buffalo," said Hart on Tuesday. "He's definitely looking forward to that and I'm looking forward to having him there this year. He's going to be coming to the game with my family."
Added Hart with a laugh: "I hope he's cheering for Canada and not the U.S."
Clifford, who also works as a goaltending development co-ordinator for USA Hockey, admits it's a unique situation where he's coaching a player that he's also competing against.
"For me, it's just one of those things where they're going to go play and the kids are going to decide that," said Clifford. "At the end of the day, my relationship with Carter is my relationship with Carter. It's just one of those things where I hope it goes to a nothing-nothing shootout and they play so long that they just give them both gold medals.
"Now, that's not going to happen, but you can have wishful thinking."
Hart is looking forward to playing for his country again, and Hockey Canada will likely be glad to have him back given his improved form since the 2017 world junior championship.
He led the WHL last season with 32 wins, a 1.99 goals-against average and a .927 save percentage. His impressive play took the Silvertips to the Western Conference semifinals and earned him the WHL goaltender of the year honours.
Hart is off to an even better start this campaign with a 1.63 GAA and a .951 save percentage. The only thing that has slowed him down is a bout of mononucleosis that has limited him to 12 games so far this season.
Although fatigue made for some low-energy practices upon his return — one day he and Clifford just took goal line-to-goal line shots on each other because Hart was so tired — the 19-year-old native of Sherwood Park, Alta., says he's better now.
"At the start there when I came back I was still feeling a little bit tired," said Hart, who returned to playing on Nov. 3. "They said that's probably going to happen for a couple of months but I'm definitely feeling a lot better and I got my weight back up so that's really good."
A carefully planned regime has helped Hart recover quickly from the ailment. He's watched his diet, sleep and workout routines closely and been disciplined but upbeat and energetic at Silvertips practices. Clifford says that Hart's presence on the ice is similar to Marc-Andre Fleury, who he coached with the Pittsburgh Penguins in 2005-06.
"He reminds me of Marc because he's laughing and smiling the whole time, having a good time," said Clifford. "When it's game day and it's time to go in, he's ready to go win a game."