Hart prepared for outdoor clash – thanks to Steel's backyard rink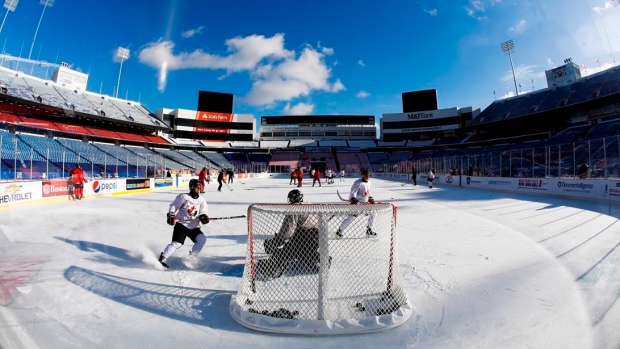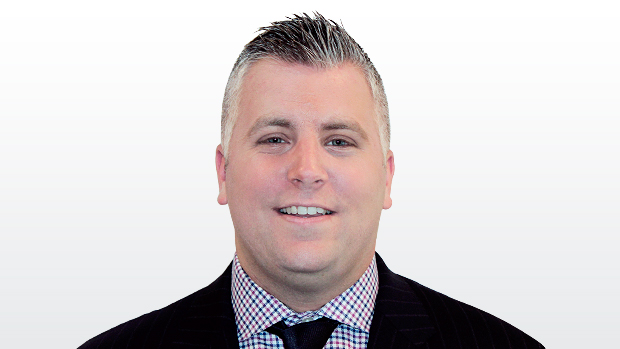 ORCHARD PARK, N.Y. — Carter Hart said he will have no excuse if he struggles to adapt to the harsh conditions expected for Friday afternoon's outdoor clash against Team USA.
Team Canada's backstop has braved worse among the "hundreds" of hours spent playing on World Junior teammate Sam Steel's backyard rink in Sherwood Park, Alta.
"I think it would be kind of cool to have some snow fall, just like the old days, back when you're on the rink as a kid," Hart said. "I've been on that outdoor rink with Sammy probably a million times. You step onto that ice, it brings back memories, just that cold air, runny noses and cold feet."
Except the Steel Family Rink where Hart and Steel forged so many memories isn't just any backyard rink. It is the Field of Dreams of backyard rinks, a winter wonderland for the hockey-obsessed peewee and fit for a scene in Mystery, Alaska, except this one is carved out of an Alberta acreage near Edmonton.
"I think this stage in Buffalo will be a little different," Steel said, laughing.
What began in 2009 as a labour of love for Steel's father, Larry, soon took on a life of its own. Steel said they began with a near regulation-size sheet, boards and glass, then started adding bells and whistles.
Each year, the Steel family added a new accessory. First it was lights. Then it was a full-size Zamboni. Then it was a construction-style trailer to serve as a dressing room and warm shack during intermissions.
"It's unbelievable how much time and effort my dad put into the rink," Steel said. "I can't begin to thank him enough."
By the time they were done building, the WHL's Regina Pats were practising on Steel's palatial backyard rink to prepare for their outdoor game in Calgary, some three years before the Pats selected Steel No. 2 overall in the bantam draft.
The Pats have been back there to practice twice since Steel joined the team. Steel's Zamboni is emblazed with Pats and Anaheim Ducks logos, the team that drafted him 30th overall in 2016.
"You think of Field of Dreams as you drive down a hill on a narrow road amongst some trees, then there is a rink," Pats coach John Paddock told TSN. "We have done it two of the last three years, the kids have a blast, the family feeds you after. It's something everybody looks forward to."​
Hart was there as an 11-year-old that day the Pats first came to the Steel's rink. He grew up 10 to 15 minutes away from Steel's house and first met Steel playing spring hockey for the Wolverines at age 10. They have been training together off-ice since they were 14.
Hart mostly played goal when outside with Steel, but he did have fun as a skater. A lot of times, it was just Hart, Steel and Steel's skills coach. Steel religiously logged his ice time, with the goal of spending a full NHL season on the ice (82 games x 60 minutes).
"I would just be down there for hours and hours," Steel said. "Carter would be a trooper and play goal. A lot of buddies would come over.​"
Even with all of that experience, Hart said it was "pretty breathtaking" to step onto the ice at New Era Field on Thursday for practice. Organizers are expecting upwards of 40,000 fans at the Buffalo Bills' stadium for the first-ever World Junior Hockey Championship outdoor game.
"It's unbelievable," Hart said. "You first get out there; it's a feeling unlike no other. It's incredible. It's one of the biggest rivalries in sports. The USA and Canada are probably the two biggest hockey powers in the world, so any time they're meeting … it's a pretty big rivalry. We're pretty excited."
This year, Steel said, is the first winter since 2009 that his father did not lay down ice in the backyard. There was just no time, not with the busy run-up to World Juniors. Luckily, the Steels will have at least one afternoon to make more outdoor memories – alongside a familiar face.
"Having grown up with Sam, to be at this event and share it with him is really cool," Hart said. "I know our parents are pretty close. They're probably more excited than we are to be here. It's very exciting for all of us."
Contact Frank Seravalli on Twitter: @frank_seravalli