Hawks rookie Panarin turning heads around NHL
Blackhawks breakout rookie Artemi Panarin is turning heads around the league. As TSN Senior Hockey Reporter Frank Seravalli writes, the 'Bread Man' is delivering for Chicago this season.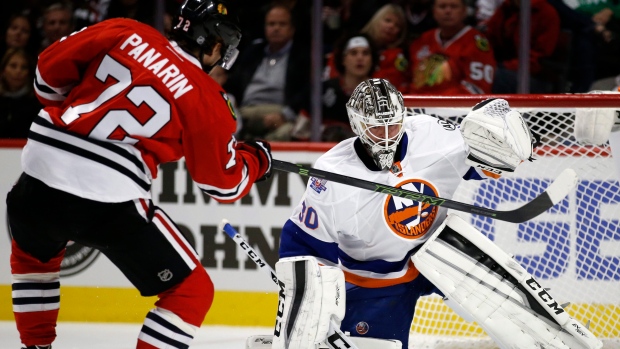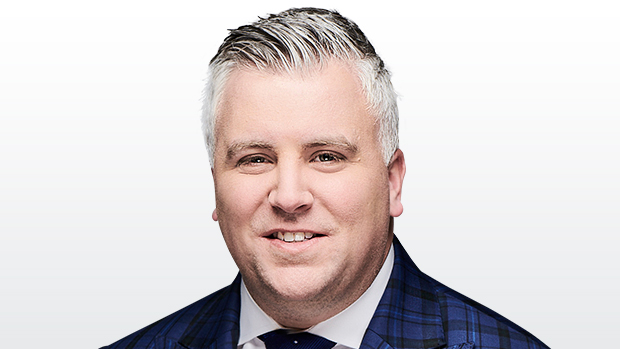 PHILADELPHIA - Blackhawks breakout rookie Artemi Panarin is quickly learning about life in the United States, with help from teammate and sherpa
Viktor Tikhonov
.
Panarin can now venture out in downtown Chicago and go shopping on his own without getting lost.
"Please. Shirt. Medium," are three important words Tikhonov imparted on Panarin.
"The first week, it was a bit of a hand-holding experience," said Tikhonov, who is named after his grandfather, the famous Soviet coach. "He's tried to do stuff on his own. I taught him how to work the Uber app, so he uses that to get to the rink."
Panarin knows only a few words of English. But his limited vocabulary hasn't stopped him from capturing the attention of the Blackhawks with one-liners.
When asked by reporters for his favorite phrase, Panarin shot back: "What the (bleep)!"
Panarin laughed at his new nickname - "Bread Man" - but doesn't quite understand the play on words. He's found one Panera Bread on his travels and stopped in for a cup of tea to see what the fuss was about.
"Bread is a good thing to be named after, I guess," Panarin said with help from Tikhonov.
For Blackhawks general manager Stan Bowman, the Bread Man is better than any delectable soup and sandwich combo. With a two-year, no-risk, high-reward contract, the early returns on Panarin make him the NHL's best diamond-in-the-rough signing - even among a handful of other KHL imports this season.
Panarin, 23, has two goals and two assists in his first four NHL games - all at even strength.
He's turned heads around the league, though, for his uncanny resemblance to linemate Patrick Kane, even down to a similar haircut. Panarin may not be the same complete package, but if you took the names and numbers off the jerseys, his shifty style is striking; Panarin is just a tad thicker.
"They both have high-end play recognition," coach Joel Quenneville said. "I think he's a sniper-type. I think Kaner has the puck a little bit more. They both smell the net well. He's tricky in tight areas, quick with sticks."
On one shift on Wednesday night against the Flyers, Panarin danced around an attacking Claude Giroux at the blueline, then snapped off a rocket that Michal Neuvirth was lucky to push aside. He missed an open net, and the Blackhawks were shutout by the Flyers, but he is one reason Kane is already near the top of league leaders after a tumultuous offseason. Kane has six points in four games, five at even-strength, on a line with Panarin and Artem Anisimov.
"I think we're a similar type of player," Kane said, without prompting. "We like to play the game the same way. He's very, very skilled. His agility is really good on his edges, to the point where he can create some space for himself."
Tikhonov, who returned to North America for the first time after six seasons in the KHL, believes Panarin was the best player in Russia last season. Panarin finished with 62 points, good for fourth in the KHL.
Panarin signed with the Blackhawks on May 1. More than half the NHL actively pursued him, but six teams formally made offers. Tikhonov, a free agent but former Hawks draft pick, helped sway him to Chicago, but he didn't need a lot of pushing.
"The thing that really got him was Chicago's style of play," Tikhonov said.
Three Stanley Cups in the last six seasons and the chance to play alongside Kane didn't hurt, either.
Panarin will earn $700,000 this season in base salary, plus the possibility to earn another $2.575 million in performance-based bonuses. The key for the cap-strapped Blackhawks is that Panarin's salary only counts as $812,500 on the salary cap this year.
Any bonuses Panarin earns this season will count toward the Hawks' cap next year as an overage, the same type of win-now, pay-later risk Bowman took with deadline pickups Antoine Vermette and Kimmo Timonen last season.
As well as Panarin has started, it's easy to forget there was no guarantee he'd thrive and adjust this quickly. Panarin negotiated a European assignment clause in his contract, allowing him to return to Russia if he didn't make the Blackhawks. If he didn't work out, it was no-risk to Chicago.
Alas, Panarin is already on Chicago's top power-play unit with Kane, Jonathan Toews, Marian Hossa and Duncan Keith. And he's earned Quenneville's trust in the defensive zone.
Flyers defenceman Evgeny Medvedev, another Russian import this season, said he tracked Panarin all throughout Wednesday's game. He said Panarin is "by himself already a big star."
"Early in the season, it's been fun watching him," Quenneville said. "I think he's still got upside to see where his game goes."
While a broadcaster chatted with Kane after Wednesday's morning skate, Panarin pointed to Kane and said "no pass!" joking Kane doesn't dish him the puck often enough.
"One pass. Score," Panarin predicted, smiling.
The message did not need translation: Panarin has arrived.
"You can tell he's a funny kid. He likes to chirp back," Kane said. "Hopefully our fun continues."
Frank Seravalli can be reached at frank.seravalli@bellmedia.ca.