Hawks trade Bickell, Teravainen to 'Canes
The Chicago Blackhawks traded forwards Bryan Bickell and Teuvo Teravainen to the Carolina Hurricanes on Wednesday in exchange for a second-round pick in the 2016 NHL Draft and a third-round pick in 2017.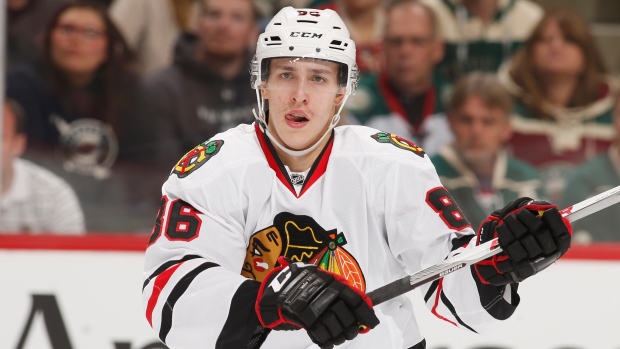 RALEIGH, N.C. — The Carolina Hurricanes acquired forwards Teuvo Teravainen and Bryan Bickell from the Chicago Blackhawks for two draft picks on Wednesday.
Carolina sent a second-round pick in this month's draft, the 50th overall, and a third-round pick next year to Chicago, which saves significant salary-cap space. Carolina had acquired that second-round pick in the February deal that sent longtime Hurricanes star Eric Staal to the New York Rangers.
"This deal allowed us to use some of our collected draft picks to improve our group of forwards for the coming season by (adding) two Stanley Cup champions," Hurricanes general manager Ron Francis said in a statement Wednesday.
Teravainen had 13 goals and 22 assists for 35 points in his first full NHL season. The 21-year-old Finn had four goals and six assists during the Blackhawks' Stanley Cup run a year ago.
Blackhawks general manager Stan Bowman said it was difficult to trade Teravainen, but explained it as a way to continue contending with young players. Teravainen has one year left on his entry-level contract.
"The goal is to try to keep this thing going and have young players coming in," Bowman said on a conference call. "Even though Teuvo is a young player, it's hard these days when you have young guys that are entering the final year of his first contract and then things get tricky when players get raises and you're always looking to have that next wave of young guys coming in."
Bickell, who split time between Chicago and AHL Rockford last season, has one year left on his contract, at a cap hit of $4 million. The 30-year-old was considered a buyout candidate with the window opening Wednesday.
"We are relieved that a trade was finally completed," Bickell's agent, Todd Diamond, said in a statement. "Bryan thoroughly enjoyed his time in Chicago and we are appreciative of everything the organization has done for him and for Stan's effort to get this ?done early in the off-season. Bryan is looking forward to the new challenge and a new beginning."
Bowman said trading Bickell's contract was a "step in the right direction" toward re-signing restricted free agent forward Andrew Shaw.
Also Wednesday, the Blackhawks also agreed to terms with forward Richard Panik on a one-year deal. The 25-year-old Panik had six goals and two assists in 30 games last season after Chicago acquired him from the Toronto Maple Leafs.