Healthy scratch Cowen says trade 'more realistic'
Ottawa Senators defenceman Jared Cowen will watch from the press box Thursday night as his teammates play Connor McDavid and the Edmonton Oilers, writes TSN's Ian Mendes.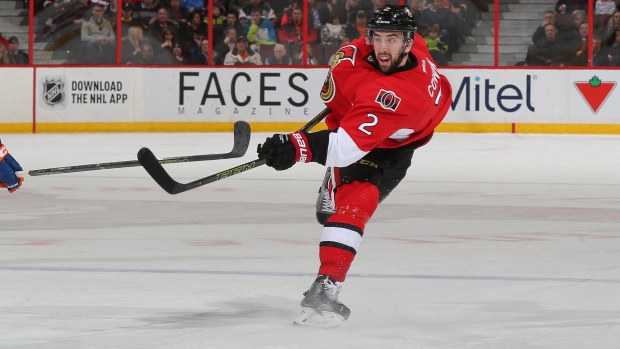 With Connor McDavid and the Edmonton Oilers in town, the media gathering was much larger than you would usually find on a typical weekday. The scrum sizes were befitting of a playoff game instead of a matchup between two teams currently not occupying a postseason spot.
While Ottawa players like Erik Karlsson, Mark Stone and Curtis Lazar answered several waves of questions from reporters, Jared Cowen very quietly removed his gear in his dressing room stall without a single camera pointed in his direction.
Cowen was the last Senators defenceman on the ice, and with Marc Methot ready to return to the lineup, Cowen will once again be a healthy scratch.
With the Feb. 29 NHL trade deadline fast approaching, Cowen's name has been mentioned more than anyone on the Senators as a player who may be shipped off by general manager Bryan Murray. The defenceman admitted that being a healthy scratch Thursday could make a trade this month a reality.
"I'm aware of it, obviously, so if it happens, it happens. I'm not playing today, so obviously it makes it more realistic," Cowen told TSN.ca. "I don't know, so we'll see."
Cowen has tried his best to ignore any of the external talk surrounding his play. He says he hasn't read a single article or listened to the talk radio rumours about his future in Ottawa.
"I don't have to block it out because I don't listen to or read that stuff. If it's happening, I'm not paying attention to it," he said.
While he hasn't paid attention to any of the rumours, Cowen was asked directly on Thursday about the theory that perhaps he needs a fresh start in a different city. There are many Senators fans who believe the ninth-overall pick in the 2009 NHL Entry Draft will never develop into an elite shutdown defenceman in this market because of the constant negativity swirling around him.
So would a fresh start with a new team be beneficial to Cowen?
"Maybe, I don't know. My job is to stay here and be as good as I can be for Ottawa," Cowen said. "Who knows if they're right or wrong, because I don't know either. I've never been traded in my life, so we'll see."
Cowen sits Thursday after suiting up for five consecutive games due to an injury to Methot. Prior to that stretch, he had been a healthy scratch in nine consecutive games and had clearly fallen out of favour with head coach Dave Cameron.
On Tuesday in Pittsburgh, Cowen thought he was going to be a healthy scratch but ended up playing when Methot wasn't able to suit up. The 25-year-old defenceman admits being on uncertain terms about your playing status on a game day can create a tough situation.
"There's no guidebook for it. It kind of sucks because you're in-between all day," he said. "You can't really prepare like you usually do. It's impossible to be the same person that you would be if you knew you were playing, so it's just one of those things you have to just tough out."
Cowen will watch from the press box as his teammates take on the Oilers. In his last game in this rink — nine days ago against the Sabres — Cowen had one of his worst performances of the season. His sloppy exchange with netminder Craig Anderson led directly to Buffalo's first goal of the evening. In the second period, he was walked around by Sabres phenom Jack Eichel for a highlight-reel goal.
Cowen said he's tried his best to erase that performance from his memory bank.
"Just forget about it I guess. Just watch the video after and learn from the mistakes. And if there weren't mistakes, it was just bad luck and you just have to flush it, so that's all I can do," he said. "Learn from it and move on. I can't really dwell on it."
The question now is if Cowen will have another opportunity to learn from those mistakes with the Senators — or if his next game will be with another NHL team.