Hearn, Fritsch have tough end to PGA Tour season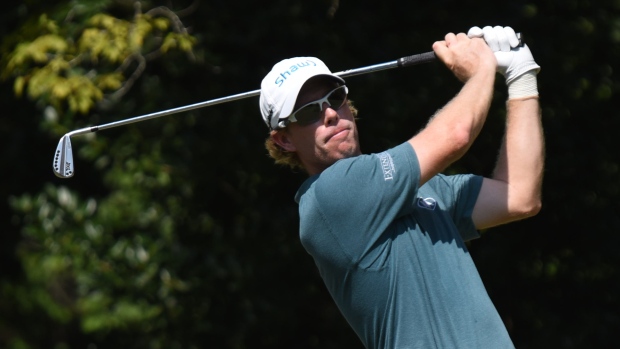 The PGA Tour season ended on Sunday and with it went the hopes of two Canadian golfers, David Hearn and Brad Fritsch.
Hearn, the Brantford, Ont., product, finished the Wyndham Championship tied for 64th spot after a final-round 69.
While that finish, in itself, wasn't awful, the result dropped him to 128th on the FedEx Cup standings and out of the playoffs for the first time since 2011 (the top 125 make it).
It also means the 38-year-old will need to play in the Web.com Tour finals to earn back privileges for the 2017-18 PGA Tour season. That's a four-tournament series involving the top 75 finishers from the Web.com Tour season and those finishing from 126 to 200 on the PGA Tour. The top 25 finishers from the Web.Com Tour season are guaranteed PGA Tour cards for next season while 25 more are up for grabs at the end of the four tournaments.
Even if he doesn't get a spot on the PGA Tour next year, the worst-case scenario for Hearn would be exempt status on the Web.com Tour. And there are also some limited exemptions available on the PGA Tour for players who ended up finishing from 126 to 150 on the previous year's FedEx Cup list.
After ending the season with a T50 at the Wyndham Championship, Fritsch also finds himself on the outside looking in.
Playing with limited status, the native of Manotick, Ont., was never able to put together any sort of consistent schedule based on where he sat on the priority list. For instance, he played just one event in each of February, March and April. On the year, he was able to enter only 18 tournaments, making the cut in 10 of those.
The result was a lack of momentum and he ended the season in 204th spot on the FedEx Cup points list. The 39-year-old's finish there means he won't qualify for the Web.com Tour finals series and will likely enter the Web.com Tour Qualifying School, hoping to earn back a spot on the B circuit of the PGA Tour.
Fritsch has been back and forth between the Web and PGA tours, playing the former in 2016 and '15, and the latter in 2014 and '13.