Hellebuyck tames the Wild, calms surging Jets
One game after he was yanked, Connor Hellebuyck bounced back to earn the first shutout of his Stanley Cup playoff career with a 2-0 win over the Wild. It's also the same day he was named a Vezina Trophy finalist, Frank Seravalli writes.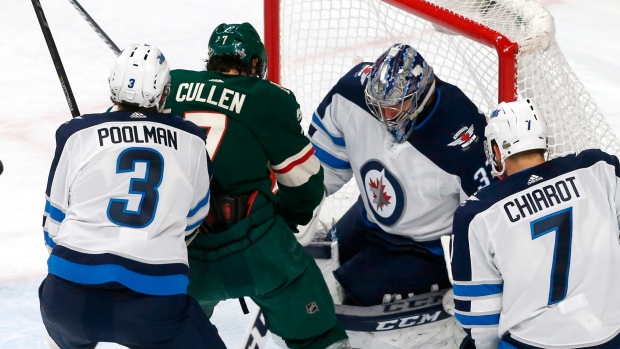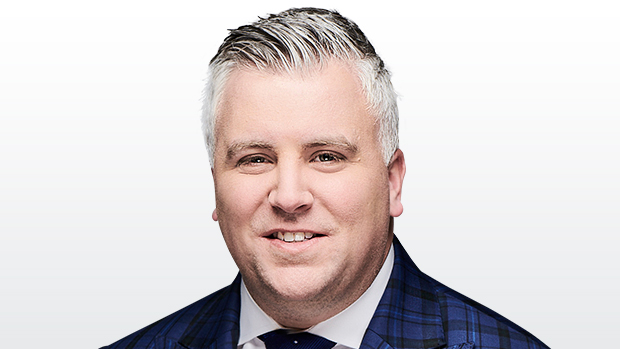 ST. PAUL, Minn. — One day after allowing six goals on 22 shots in Game 3, Connor Hellebuyck stood in front of the microphones Monday and said he liked the way he felt, liked the way he moved.
Huh? Most would have dismissed Hellebuyck's comments out-of-hand as pure puffery, the exaggeration of a goalie trying to feel good again.
Blake Wheeler and the rest of the Winnipeg Jets did that last season, too.
The Jets' captain remembered raising an eyebrow in the dressing room one night after Hellebuyck also allowed six goals.
"One of the quotes he had was that he felt his game was good enough to win a Vezina," Wheeler told TSN last week. "We were like, 'What the hell are you talking about?' He was a young goalie. We were losing.
"Now, the joke is on us."
Hellebuyck was named one of three finalists for the Vezina Trophy, the highest honour for NHL goaltenders, on Tuesday night as voted by the league's 31 general managers.
His supreme confidence proved prescient again on the ice in Game 4 against the Minnesota Wild.
One game after he was yanked, Hellebuyck bounced back to earn his first career Stanley Cup playoff shutout in a 2-0 win over the Wild. The Jets are now on the brink of the franchise's first-ever playoff series win with a 3-1 series edge since Hellebuyck has outduelled mentor and friend Devan Dubnyk, a former Vezina finalist himself.
Winnipeg can advance to the second round with a win over Minnesota on home ice in Game 5 on Friday night at Bell MTS Place.
Mark Scheifele scored both of Game 4's goals, including an empty-netter with 10.7 seconds left. But Hellebuyck, 24, has a .955 save percentage in Winnipeg's three wins.
"He's got the perfect mindset for a No. 1 goalie," Wheeler said. "I don't think much fazes him. He could give up 10 goals and none of them were good goals and he could shake them off and come back the next day."
Wheeler admitted at times last year, that confidence was tough to hear. The Jets ranked 28th in save percentage and their goaltender was talking about the potential to be world-class.
"I remember talking to him, not that I didn't like what he said – I love the confidence – but let's temper the expectations a little bit," Wheeler explained Tuesday. "He never wavered from it. That's where I think his temperament is so special."
For Hellebuyck, who set the single-season NHL record for most wins (44) by an American-born goaltender this season, absolute confidence is the only way.
"I believe in myself," Hellebuyck said last week. "I know what I'm capable of. You have to know you are good enough. The results show."
They showed in Game 4. Hellebuyck produced a save-of-the-year candidate when he sprawled out to catch Matt Dumba's cross-crease one-timer. He clearly saw and managed the puck through traffic. There was no moment he didn't seem in complete control.
"You knew five to 10 minutes into that game he was feeling good," Jets coach Paul Maurice said. "I don't think I've pulled him [often] this year, but I certainly got my fill of it the year before. He got pulled an awful lot. That was all part of the process in the year, learning how to handle those things."
Jets GM Kevin Cheveldayoff said last week that the Hellebuyck we're witnessing now would not have been possible without that trial by fire in last year's hellscape. Hellebuyck admitted it was hard to buy into that long-term view at the time.
Remember, it was Steve Mason who began this year as the Jets' starter for the first two games before Hellebuyck took over and never looked back.
"If you told me I could go through a year like last year and come back and be 10 times the goalie, I would probably tell you to screw off," Hellebuyck said. "I'd rather just have continued success. Now, going through it, it's a tough process but I learned you can't be afraid of failure. It's going to make you better in the long run."
Hellebuyck retooled his game alongside Dubnyk in Kelowna, B.C., under the tutelage of Adam Francilia at Net 360. He felt one season as a starter gave him a baseline for what to expect in the NHL, which allowed him to work on the "fine details instead of re-sculpting my game to the NHL level."
Last year, Wheeler had to tamp Hellebuyck's expectations down. There he was on Tuesday night after the game saying the Jets are "here to win the Stanley Cup." Suddenly, his visions don't seem too far fetched. Hellebuyck has the rest of the Jets and Manitoba dreaming big.
"That's really cool to have a young guy that believes in himself that much," Wheeler said. "I think to be a No. 1 goalie in this league, you have to think that way. You wake up the next day after giving up six and you still think you're the best. That's pretty special."
Contact Frank Seravalli on Twitter: @frank_seravalli