Henderson running into history
Brooke Henderson is only 21, but she has already joined a select group of Canadian golf legends by winning her eighth LPGA title in just her fourth full year on tour, Bob Weeks writes.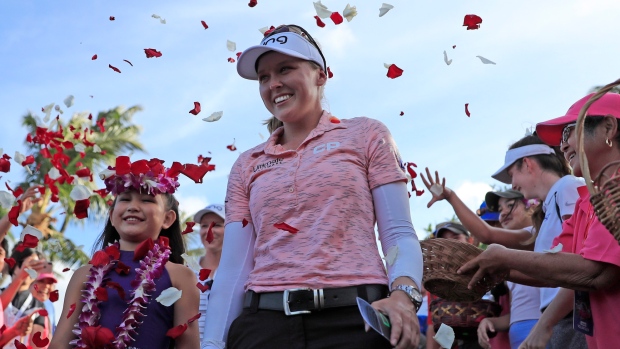 When Brooke Henderson started playing golf, she would often tee off and then race after her ball, hitting it as often and as quickly as possible until it ended up in the hole. She wouldn't wait for her sister, Brittany, or her father, Dave, who were often left standing dumbfounded back on the tee.
"I thought the idea of the game was to get the ball in the hole as fast as possible," laughed Henderson about her early forays onto the links.
These days, the Smiths Falls, Ont., product has a better grasp of the rules, but she still likes to accomplish things quickly. On Saturday, she joined a select group of Canadian golf legends by winning her eighth LPGA title. In doing so, she joined George Knudson, Sandra Post and Mike Weir at the top of the list of Canadian golfers with the most professional victories.
Those other three earned their wins over the span of their very successful careers. Henderson? She's just 21 in her fourth full year as a member of the LPGA Tour. She's played just 100 events.
"It's amazing even to be mentioned in the same sentence as Sandra Post, Mike Weir and George [Knudson]," she said on Saturday evening. "Win No. 8 . . . how cool is that?"
There really seems to be little doubt that Henderson will not only pass the other three hall-of-famers, but leave them way back in her dust. When I asked her how soon she thought she would get win No. 9, she replied: "Next week."
She was joking of course, but there's not a Canadian golf fan anywhere who would be shocked if she actually accomplished that at the LPGA stop in Los Angeles.
After all, she's been doing it her own way since she figured out that speed golf wasn't the best way to play. This is a girl who won a professional event at 14, who bypassed college to turn professional at 17 and who won her first event on the LPGA Tour at 18.
She's done it all with a homemade swing that no instructor would teach but that she owns. It's not quite Moe Normanesque, but it works for her, obviously.
Every shot she's ever hit, she's done gripping the club well down the shaft, a habit she formed using clubs belonging to her sister and father.
And every tournament she's played, she's utilized an aggressive style that's like driving a Formula 1 car without brakes.
"If I can't play aggressively, I don't want to play," she once told me.
Henderson plays without fear, without any reservation for what might go wrong.
Driver off the deck? No problem. Going for the green on a drivable par 4? Of course.
There are times when it hasn't worked all that well, but there are more when it has. Henderson's latest win came in her 100th start as a member of the LPGA Tour. It was also the 39th time she's ended up inside the top 10.
Let that sink in for a minute: for every 10 starts she's made, four of them have resulted in top-10 finishes.
If she maintains that pace, she'll clearly be running into history rather than down the fairway. As fans, it's going to be fun to be along for the ride.