Herrera drives in three, Cubs sweep Mets
Jonathan Herrera filled in neatly for Kris Bryant, driving in three runs with a squeeze bunt and homer that sent Jake Arrieta and the Chicago Cubs past the feeble New York Mets 6-1 Thursday for a three-game sweep. Miguel Montero also homered as the Cubs beat the Mets for a team-record ninth time in a row, and finished 7-0 against them this season.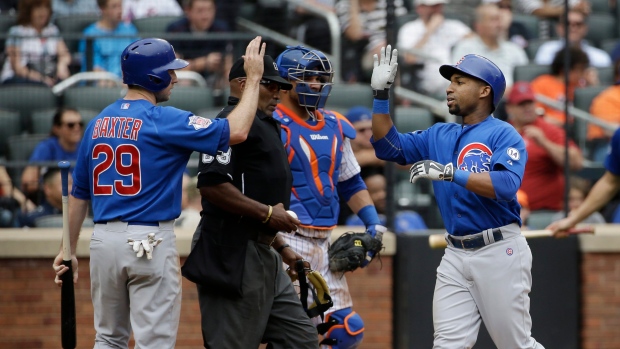 NEW YORK, N.Y. - By the time Jonathan Herrera and Miguel Montero homered, the Chicago Cubs didn't really need the extra runs.
Once again, their pitchers had shut down the feeble New York Mets.
Herrera neatly filled in for Kris Bryant with a squeeze bunt and homer for three RBIs that sent Jake Arrieta and the Cubs past the Mets 6-1 Thursday for a three-game sweep.
"We can pitch with anybody, we can swing the bats, our defence can play lights out," Arrieta said.
The Cubs beat the Mets for a team-record ninth time in a row, and finished 7-0 against them this season. Chicago outscored New York 9-1 in this series at Citi Field.
"I can't sit here and tell you we bludgeoned them," Cubs manager Joe Maddon said. "I know they've been offensively challenged. So have we. It's the ebb and flow of the season."
Arrieta (8-5) pitched eight sharp innings, helping extend the Cubs' shutout string to 25 innings before the Mets managed their only run of this set.
Arrieta gave up five hits, walked none and struck out seven. The crowd booed several times as New York kept making weak outs and breaking their bats — Cubs outfielders didn't catch a flyball until the eighth.
Jacob deGrom (8-6) doubled and scored for the Mets, who have totalled a mere 23 runs in 14 games.
DeGrom delivered another hard hit, too. The righty exited after Herrera's two-run homer in the sixth inning, then punched a Gatorade cooler in the dugout with his pitching hand.
"I told the team inside, no disrespect to anybody in this room, we have to lighten it up around here," Mets manager Terry Collins said.
"They are so tense and so tight and so worried about making a big out instead of walking up there like they're going to get a hit," he said. "We got to lighten it up, so I said just for heaven's sakes play the game with some fun, with some energy, with some enthusiasm."
Maddon gave Bryant a routine day off, wanting to rest the slugging rookie third baseman. Maddon also said Herrera often made good things happen when he was in the lineup, and the quirky skipper was right.
"He stays ready," Maddon said. "He's just a solid, solid guy to have on the team."
The Cubs arrived in New York with a five-game losing streak, and Maddon brought in a magician to entertain the players before the series opener. That was theme of the visit as their woes disappeared — prior to the finale, the clubhouse was filled with the 1965 hit "Do You Believe in Magic" by The Lovin' Spoonful.
Arrieta said the sweep was no illusion.
"Overall, we knew we had to pick it up," he said. "We had to make a decision coming here: Were we up for the challenge?"
Herrera put the Cubs ahead 1-0 in the second with a first-pitch, safety-squeeze bunt with runners at the corners. Anthony Rizzo blooped an RBI single for 2-1 lead in the fifth.
Herrera hit his first home run in nearly two years, sending a drive off the padding on top of the right-field wall to match his career high for RBIs. It was the Cubs' first homer in nine games.
Montero hit a two-run homer in the ninth. The catcher also picked off Daniel Murphy at first base on a call reversed by replay.
DeGrom and Curtis Granderson doubled in the third for the Mets' run, stopping their scoreless streak at a season-high 22 innings.
TRAINER'S ROOM
Cubs: OF Jorge Soler, who's missed nearly a month with a sprained left ankle, is "close" to returning, Maddon said. Maddon said it's possible he could be back when Chicago hosts St. Louis early next week.
Mets: LF Michael Cuddyer missed his second straight game because of a sore left knee. He's been given two injections and Collins wants to see if they'll take effect soon.
UP NEXT
Cubs: Back at Wrigley Field on Friday afternoon to take on Miami, beginning a 10-game homestand leading into the All-Star break. Jason Hammel (5-3, 2.92) faces the Marlins' Tom Koehler (6-4, 3.66).
Mets: Start a rugged six-game trip by facing Clayton Kershaw at Dodger Stadium on Friday night, followed by Los Angeles ace Zack Greinke on the Fourth of July. Then the Mets visit San Francisco next week, where they're lined up to see rookie Chris Heston, who pitched a no-hitter against them June 9. Noah Syndergaard, Matt Harvey and rookie Steven Matz start for the Mets in LA.
SWEEPOLOGY
This was the fourth time the Cubs have swept a season series of at least five games. They went 6-0 against in Atlanta in 2008, and twice did it a long time ago — in 1876 vs. Cincinnati and 1885 vs. Buffalo. ... The Cubs swept a series of at least three games on the road against the Mets for the first time since in 1991. ... The Mets were swept in a season series of at least seven games for the first time.