Hextall leaves a complicated legacy in Philadelphia
The Philadelphia Flyers are moving on from a general manager who was ultimately done in by his own inaction, TSN Senior Hockey Reporter Frank Seravalli writes.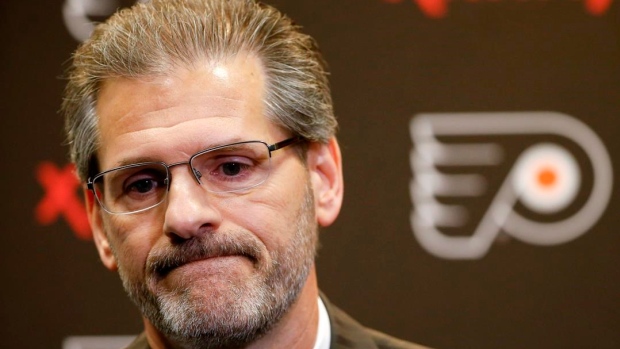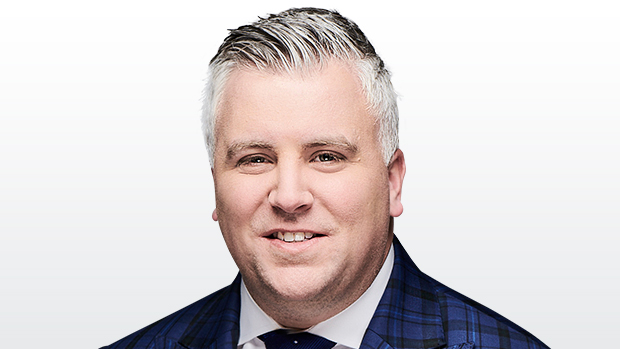 PHILADELPHIA - Time was up. The Flyers ran out of patience for Mr. Patient.
The Philadelphia Flyers fired general manager Ron Hextall on Monday after parts of five seasons on the job, with team president Paul Holmgren saying it became "clear that we no longer share the same philosophical approach concerning the direction of the team."
Hextall, 54, became the first NHL GM fired in-season since Jarmo Kekalainen took over for Scott Howson in Columbus in 2013. Holmgren said in a statement he hopes to complete a search for a new manager as soon as possible.
Former Minnesota Wild GM Chuck Fletcher is believed to be a front-runner for the job, while the list of candidates potentially includes Ron Francis, Chris Pronger, Scott Mellanby and Garth Snow, among others.
Whoever succeeds Hextall should know that mediocrity is not accepted in Philadelphia, a proud franchise where Stanley Cup contention is the perennial expectation.
The Flyers were the definition of mediocre during Hextall's tenure.
He presided over one of the leanest eras in club history, second only to the pre-Eric Lindros years, as the Flyers became perhaps the most mediocre team in all four major pro sports. Their record was 165-128-58 for a .552 points percentage and they made the playoffs as many times (twice) as they missed. The Flyers were not bad or good. They just were.
"I've been here for a long time. This organization, it's all about winning," Flyers captain Claude Giroux told reporters Monday after Hextall's ouster. "When you're not doing that, you think something's going to happen."
That was the difference in philosophy in the Flyers' front office.
In the wake of two blowout losses in four days, Holmgren and Comcast Spectator CEO Dave Scott clearly expected something to happen. It rarely did under Hextall, who set a plan and did not deviate from it.
An expected coaching shake-up may have been the tipping point.
After a 6-0 pummeling on Saturday night in Toronto, many wondered whether head coach Dave Hakstol would pay with his job. It was Hextall's head that rolled instead. Hextall had been a fierce defender of the coach he hired from the University of North Dakota in 2015.
That was Hextall's style. He is a methodical thinker, a process-driven manager moulded in the shape of his mentor Dean Lombardi in Los Angeles. He didn't operate on snap decisions, which defined the Flyers for so long under the late Ed Snider and became what this city expected. Some within the organization took that for Hextall being crippled by indecision.
Hextall was hired in 2014 with the blessing of Snider to take a different approach. He was supposed to be a breath of fresh air for the club that always went for the prize.
After collecting eight first-round draft picks in five years, this was the year the Flyers were supposed to "take a step forward" by Hextall's own admission. He was done in by his own inaction.
That inaction was most glaring in the crease. He gambled by entering the season with a tandem of Brian Elliott and Michal Neuvirth, two netminders who are no strangers to the injury list. Both are currently hurt and the Flyers have used five goalies in 23 games, tying a franchise record for most in a season, and rank dead last in save percentage with an .880 mark.
Hextall needed to find a bridge to prized prospect Carter Hart, maybe the best Canadian netminder in major junior history, but leaving it to Elliott and Neuvirth was malpractice for a team he saw as ready to win a playoff round.
Bridging that goalie gap will be priority No. 1 for Hextall's replacement. No team can expect to win when allowing four or more goals in more than half of a season's games. That the Flyers sit just four points out of a playoff spot in spite of their 31st-ranked goaltending is something.
It was time for change. Apathy had set in among the Flyers' once rabid fan base. Swaths of hundreds of empty seats pock-marked Wells Fargo Center lately.
Meaningful change was unlikely to come via trade. Hextall made just one trade in his tenure to bolster the Flyers in the here and now, acquiring rental goalie Petr Mrazek from Detroit last February with little choice once Elliott and Neuvirth went down. Signing James van Riemsdyk to a $35 million deal last summer was Hextall's only impact free-agent deal.
Every move before that was with the future in mind. From Brayden Schenn to Braydon Coburn, the goal was to accumulate assets. That came at a cost to the current crop of difference-makers, which included Giroux (second in points last season), Jake Voracek (fourth in assists in 2017-18) and slam-dunk 30-goal scorer Wayne Simmonds.
While Schenn's trade brought back two first-round picks, it also thwarted the development of second-overall pick Nolan Patrick, who was suddenly asked to play a No. 2 centre role when he clearly wasn't ready. That Schenn netted a career season with 70 points in his first campaign in St. Louis as a centre, a role the Flyers refused to use him in, only added insult to injury.
Hextall will leave a complicated legacy in Philadelphia, a stark public contrast as manager to his fiery playing days filled with fisticuffs. He dug the Flyers out of salary hell caused by Holmgren. He stocked a prospect cupboard that was totally bare before he arrived.
All the while, Hextall walked the tightrope between rebuilding and trying to win now. He ended up falling off halfway down the line.
Now he'll have to watch as someone else takes the next steps to bring his work to fruition.
Contact Frank Seravalli on Twitter: @frank_seravalli