High-flying Kuznetsov has Caps one win away from first Stanley Cup
Kuznetsov's four points matched a single-game Stanley Cup Final record and paced the Capitals to a 6-2 rout of the Vegas Golden Knights in Game 4 at Capital One Arena. Teams holding a commanding 3-1 edge in a best-of-seven Stanley Cup Final have claimed the prize 31 straight times, TSN's Frank Seravalli writes.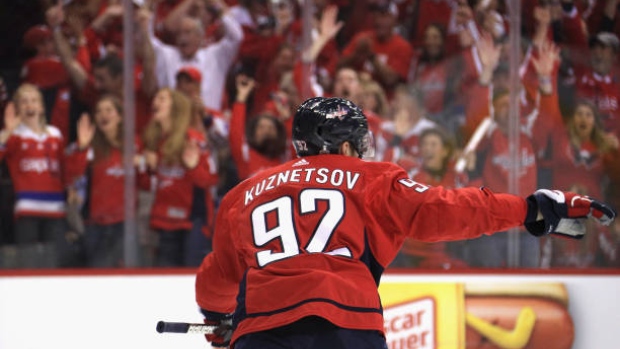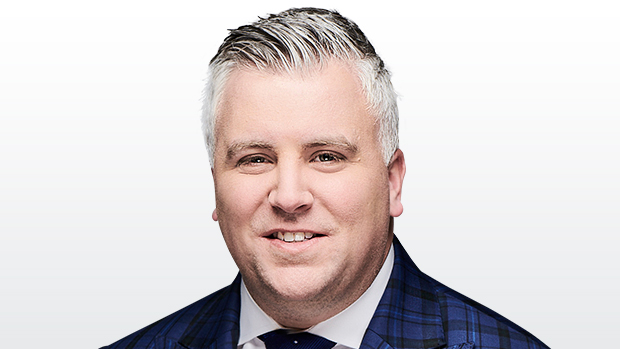 WASHINGTON — Reserved exclusively for goals, Evgeny Kuznetsov didn't break out his trademarked dancing bird celebration on Monday night.
He might be saving it for when the Capitals hoist the Stanley Cup. The Caps are on the cusp now.
That would be a celebration like no other – part pterodactyl, part albatross – which actually originated as a brag by Kuznetsov when he made a big play in a video game.
Kuznetsov dished the puck like he was playing a video game, assisting on four goals with precision passing to push his Stanley Cup playoff-leading point total to 31.
Only four other players this century have hit 30 points in a single spring.
Kuznetsov's four points matched a single-game Stanley Cup Final record and paced the Capitals to a 6-2 rout of the Vegas Golden Knights in Game 4 at Capital One Arena. Teams holding a commanding 3-1 edge in a best-of-seven Stanley Cup Final have claimed the prize 31 straight times.
The Capitals can erase 44 years of heartbreak and misery and lift the franchise's first Stanley Cup with a win in Game 5 on Thursday night.
"It's easy to let your mind wander," John Carlson said. "I think everyone knows the stakes. There's nothing, no opportunity that's going to pass by that we're not going to give it all we've got."
Midnight is fast approaching for Sin-derella.
James Neal had the chance of a lifetime to potentially change the course of history. The Real Deal blinked at a gaping cage just minutes after puck drop and fired it off the post, with Braden Holtby somehow scrambling to put a paddle on it after it clanked out.
"To be honest, I thought that it was in from my angle," Holtby said, "and somehow it didn't go in."
It was a miss that will haunt Neal for a summer, the kind of miss that's harder to comprehend the more times you watch it.
"It probably changes the game," Neal said. "It's probably a different game after that. Definitely one I want to have back."
If you believe in karma, that post was almost like every bad bounce of the last decade coming back for the Capitals ten-fold. There is almost a poetic element to it all, that it was Neal the former Penguin, and that they're beating Marc-Andre Fleury now, the man who stood in their way for so many of those sorry springs.
"There were a lot of moments it was our game," Vegas head coach Gerard Gallant said. "We played a lot of the game the way we want to play. Let's play the same way and see what happens."
Kuznetsov would be all right with that.
Alex Ovechkin's centre has been at the forefront of nearly everything the Capitals have done these playoffs. With a series-high six points in the Cup Final, Kuznetsov now has at least one point in 13 of the last 14 games.
The only one Kuznetsov failed to register a point in was Game 2 – when he didn't play the final two periods because he left with an injury.
The Conn Smythe Trophy race is a two-man battle to the finish with linemate Ovechkin. Of the six goals scored by the Caps on Monday, only one didn't have the New Big Red Machine – Ovechkin or Kuznetsov – factor into it.
"It's special," Kuznetsov said of his playoff run before the series began. "Some players play so many years and never have a chance to play in the Final. It's huge for me personally. You may have one chance in your life and I believe that you have to take it."
He hasn't missed many. Kuznetsov found T.J. Oshie for a power play goal minutes after Neal went postal and the Capitals chugged down the track. It's a train that will be tough to stop now.
Kuznetsov's wizardry continued when he landed a tape-to-tape pass through sticks and skates to find Tom Wilson. He passed it through Jonathan Marchessault's skates in mid-stride, then around Deryk Engelland, to a wide-open Wilson – all as he was looping around the net. It was an all-world pass.
"He just tells me to put my stick on the ice and he'll hit it," Wilson said. "He's one of the best at his craft."
What Kuznetsov is doing now is exactly what Golden Knights GM George McPhee envisioned when selecting him 26th overall in 2010. The irony is that McPhee is watching it all unfold from the Vegas management suite.
Kuznetsov, now 26, remained in Russia's KHL playing for his hometown Chelyabinsk Traktor for four seasons after the Capitals drafted him.
When the Capitals finally convinced him to come over, McPhee was fired after just a 17-game taste of Kuznetsov.
"You're seeing the talent of 'Kuzy'," Capitals head coach Barry Trotz said. "He's learned to adjust and he's grown as a player in North America. He's gotten better and he's taken a bigger piece of our team every year. I think he's one of the top centremen in the league now."
Kuznetsov said that the adjustment to North America was not easy. He nearly has as many points in these playoffs (31) as he did in his first full 82-game season (37).
"I don't like talking about my game because I don't know how to explain it to you," Kuznetsov said. "For me, it's the language barrier. I never learned English in school. When I get better with the language, it gets more easy for me to make a joke or handle my jokes. For me, it's a big confidence to have that positive emotion to feel more comfortable off the ice."
Two years ago, Kuznetsov said, he started talking more and understanding more. His personality has come out, witnessed by the bird celebration, even though he almost discontinued it because the Caps lost last spring when he first did it. Kuznetsov only brought it back because his young daughter liked watching how happy daddy was when he scored.
With the Caps, Kuznetsov faced many games where he said "you know you're going on vacation soon." Vacation is around the corner now, maybe just one more work trip left.
With the Cup in the building Thursday, this could be the best Boys Trip ever to Vegas.
"You know me, I always stay loose a little bit," Kuznetsov said. "I'm pretty sure when the game is going to come, we're going to a little bit think about it. It's pretty hard to not think about that."
Contact Frank Seravalli on Twitter: @frank_seravalli​