Hitchcock's notorious 'grind' evident on Day 1 with Oilers
Just 211 days after announcing his retirement, Ken Hitchcock said he was quiet on the Oilers' bench for all of about four shifts before he started barking. Frank Seravalli has more on Hitchcock's first game as Edmonton's head coach.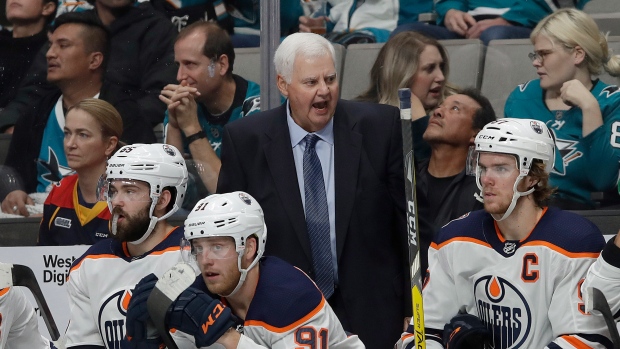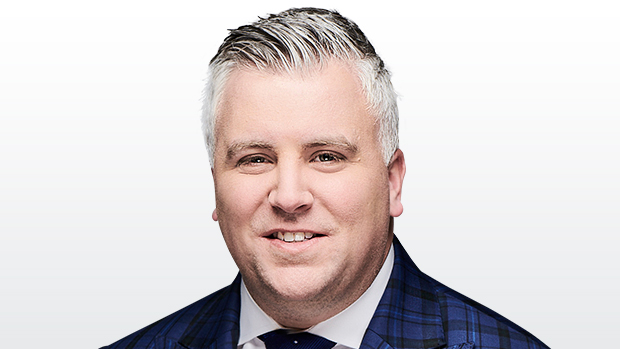 SAN JOSE, Calif. — When Ken Hitchcock introduced himself to the Edmonton Oilers on Tuesday afternoon, his message was clear and concise.
Be prepared to be pushed. Be prepared to be uncomfortable. Don't take it personal.
"I thought he said exactly what we needed to hear," Connor McDavid said.
Just 211 days after announcing his retirement, Hitchcock said he was quiet on the Oilers' bench for all of about four shifts before he started barking.
"I needed about four shifts to make judgments and I just started coaching," Hitchcock said. "I was grinding hard. I told them I was going to do it and I was pushing hard."
The Oilers responded by grinding out a 4-3 overtime win, the 824th of his career, in his debut with his hometown team. Edmonton didn't lead for any stretch of the night.
For Hitchcock, there was no warm and fuzzy get-to-know-you warmup, no friendly introduction. Just Hitchcock being unapologetically himself.
"I struggled with names," Hitchcock said, joking that Tuesday night was the first time he stayed awake for a third period in the Pacific. "I had one player I called four different names. Finally we got to a nickname there and that worked in the third period."
He might not know every Oiler's name, but it was like riding a bike.
"The more I coached, the more comfortable it was for me," Hitchcock said. "But I was grinding hard today."
Hitchock's grind is both his blessing and his curse. Striking the right tone will also be his greatest challenge in a most unique scenario - with likely the youngest team he's ever coached and also no contract to guarantee his job for next season that would usually put some extra weight behind the hammer he wields. Hitchcock has 61 games. That's it.
He was affectionately described as a cold glass of water on Tuesday. GM Peter Chiarelli, who also conducted his own team meeting earlier in the day, described Hitchcock as a "taskmaster."
He captured the Oilers' attention.
"It was such a weird day," said McDavid, who scored once and setup two of the other three goals. "I'd only ever heard one voice back there. He's a different style of voice."
The question is whether Hitchcock can keep the Oilers engaged long enough to unlock the potential that he and Chiarelli both say exists. Coaching millennials is just different. It's a fact. Hitchcock turns 67 next month. No one ever stops learning or evolving, but to think that an old dog will learn new tricks and completely change his style in his 23rd season is dreaming.
"They feel young to me," Hitchcock said. "It's a young group. They're excited to play. The part I like is they have really embraced it. I told them I would coach them hard and they embraced that. When I told a player they needed to change something, they went out and did that."
Hitchcock made subtle changes in Game 1. He double-shifted McDavid for stretches, even in a three games in four nights scenario. He cut ice time for Ty Rattie. He moved Milan Lucic to a heavy third line with Kyle Brodziak and Zack Kassian.
Hitchcock addressed Lucic head-on postgame. He was blunt and did not pull any punches, even bold in saying that a $6 million player does not need to score. At least not right now. Lucic has just two goals in his last 66 games. His damaging contract aside, Lucic's lack of production has eroded the Oilers' scoring depth, the team's biggest problem.
"To me, he spent way too much time talking about not scoring goals," Hitchcock said of Lucic. "That's not going to help. He needs to do what he did today - he knocked two guys out of the [game] today. He was physical on the puck. He protected the puck. He was great down low, a very, very effective player.
"He'll score goals and chip in, but he needs to be a really solid third line player that can play on the power play for us to be effective. He needs to get back to what he was as a junior player, nevermind what he's not doing."
Consider it a message sent to Lucic, from a coach who says he is true to himself. Hitchcock said he doesn't care if he is liked by the players.
"I am part that," Hitchcock said. "My reputation is not really who I am. But I think the thing that works for me, and why I've been able to hang on late, is I tell them exactly who I am and how it's going to be, what my strengths and weaknesses are. I kind of throw myself out there and then I stay true to that. I think the players appreciate that."
Only time will tell.
Contact Frank Seravalli on Twitter: @frank_seravalli​