Hockey world watching Bettman's decision on Wideman ban
When NHL commissioner hears Calgary Flames' defenceman's appeal to reduce his 20-game suspension for a cross-check to linesman Don Henderson in New York on Wednesday, more than just the NHL Officials' Association will be watching, Frank Seravalli writes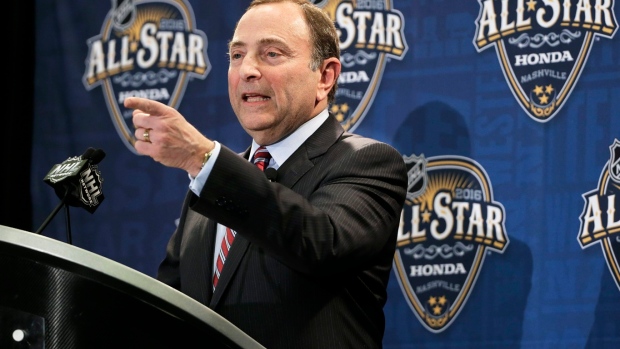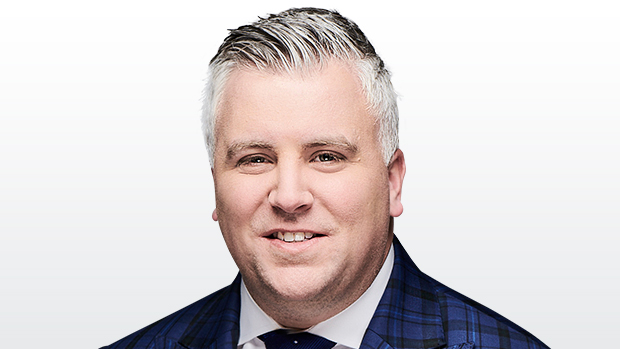 When NHL commissioner Gary Bettman hears Calgary Flames' defenceman Dennis Wideman's appeal to reduce his 20-game suspension for a cross-check to linesman Don Henderson in New York on Wednesday, more than just the NHL Officials' Association will be watching.
Hockey officials around the world will be awaiting the verdict, with Bettman's long-reaching voice setting important tone and precedent for physical abuse of officials, trickling down to the game's lowest levels.
Abuse of officials — both on and off the ice — is a problem.
Accomplished AHL linesman Dave Brown says he was attacked and assaulted by two parents after a high school game on Sunday afternoon in central New Jersey.
Brown, 45, says he was untying his skates in the referee's locker room at Howell Ice World when two parents barged in. The door swung open in the small closet-sized room and clocked Brown in the head, leaving him with a lump above his ear. The parent grabbed him, pinned him against the wall and began throwing punches. When Brown and his officiating partner finally got the situation under control and removed the parent from the room, a second parent entered to further the attack.
Brown, who has officiated at multiple IIHF World Championships including the 2010 gold medal game in Germany, left the arena on a stretcher. He and his partner was treated at Jersey Shore University Medical Center, according to the Asbury Park (N.J.) Press, and later released with head, neck, and shoulder injuries.
"I think as an official, we all expect stuff to be said, but I'm not sure you ever expect anything like that," Brown said. "I was attacked in what is supposed to be a safe zone."
Tempers flared in the heated game between two rival high schools, Howell and Manalapan, which left one player unconscious after a head-first collision with the boards. The Press reported multiple players were given game misconducts and removed. The teams decided to play on after the injury and Brown said the conclusion was typical for a high school game.
Brown and his partner have been in contact with police. The rink's owner, George Haviland, did not respond to requests for comment.
"I've been around the world and the fact that this happened to me in my own backyard is a travesty," Brown said. "In a way, I'm glad that it was me - a grown man - and not a 14-year-old kid working or a first-year referee who will walk away and never ref again. I will be back."
"Every single official is or was affected. This needs to stop. People need to know assaulting officials is wrong and that they will suffer consequences."
Each game his suspension is reduced is worth $28,225.81 to Wideman. The NHLPA is expected to introduce at least one concussion expert to argue on Wideman's behalf that a brain injury impaired his judgment. Former Harvard football player and WWE wrestler Chris Nowinski, who now works with Boston University's renowned CTE program, said the NHL's explanation that Wideman was aware of his surroundings because he skated toward the bench and signaled for a line change is "misinformed armchair psychology."
"Not every domain is impaired in the first 20 seconds of a concussion, so having functional balance and awareness that one needs a line change is not evidence that other domains are not impaired," Nowinski said last week. "He could very easily have been suffering from double vision or impaired peripheral vision, which could explain mistaking the referee for the opposing player who just hit him — who, if you notice, was wearing a white and dark blue jersey, similar colors to the referee. With my concussions, I have more than once suffered short-term double vision in the absence of other significant symptoms, and in my book Head Games, I document other athletes complaining of double or tunnel vision while continuing to play the game."
If Bettman upholds a suspension longer than five games, Wideman can appeal to a neutral arbitrator. That's when things get interesting: the NHLPA has never used that tool under the new Collective Bargaining Agreement.
Big trades rarely happen after the deadline, but could Jonathan Drouin be dealt between March 1st and June's draft? That was one theory floated by two Eastern Conference executives over the weekend should a deal for Drouin not materialize in the next three weeks. Trades are allowed to occur after the deadline, but those players are ineligible for the playoffs. The executives' thinking was that interested parties would be non-playoff teams looking to build for the future. Those teams would have little reason to play Drouin this season, which would prevent his contract from accruing a year of service, thus keeping him under team control for another year. Many believe the Lightning sent Drouin to the AHL for that purpose after he was on the NHL roster for only 38 games this season. Two more games would have counted as a year of service, making him eligible for free agency at age 26 instead of 27.
Others closer to the situation poured cold water on the idea, saying if Drouin doesn't go by Feb. 29, that a deal will wait until the off-season. Why would the Lightning unnecessarily limit the field to non-playoff teams when they could wait until the summer? And if Drouin is really as good as the acquiring team believes, he would be in the lineup this season, accrued seasons be damned. His next contract, or control five years from now, could be a problem for the next GM. The Drouin camp is ready to wait until the summer if need be. For now, Drouin continues to train and skate daily near Montreal.
Could Malcolm Subban's scary injury on Saturday spur a goaltending equipment change? Subban, 22, was lucky to escape with a fractured larynx (voice box) after being hit in the throat with a puck during warmups with the AHL's Providence Bruins. He was listed in stable condition in a Boston hospital on Sunday, where he would be kept for observation, according to the Bruins. Like a lot of goaltenders, Subban does not wear the plastic shield dangling from his mask, which exposes his neck. The NHL (and AHL) doesn't require a certain type of throat protection, leaving it to personal preference. Many netminders simply wear a neck guard to protect against skate cuts. Although injuries like Subban's are uncommon, perhaps it will spark a conversation. Just last week, a junior-aged player in Russia died after a puck struck him in the neck, rupturing his carotid artery and rendering him unconscious.
Connor McDavid can still earn all $2.85 million of his performance bonuses for this season, according to GeneralFanager.com. McDavid, 19, will bring in $2 million alone for finishing in the Top 10 in points per game. He is currently tied for fourth with 1.06 (18 points in 17 GP). The key is McDavid can't miss many more games: most of his bonuses are predicated upon a minimum of 42 games played. After missing 37 games with a fractured collarbone, the maximum number of games McDavid can play this season is 45. He can also hit up to four smaller bonuses of $212,500 each for finishing in the top six among Oilers forwards in average ice time per game (he is fifth); for 0.73 points per game (he has 1.06); for top three among Oilers forwards in plus/minus (he is tied for fifth at minus-6); for hitting 20 goals (he has seven); for reaching 35 assists (he has 11); and for being voted to the All-Rookie team. Any of that would be in addition to his $925,000 base salary, which could push the Oilers to start next season with a salary cap overage.
You don't need a degree in lip reading to get the sense that Joel Quenneville and Patrick Roy would like a more centralized review of goals. Both coaches nearly popped blood vessels arguing coach's challenges that went the other way. Quenneville lost his mind on Thursday night after Marian Hossa's goal was overturned despite the fact Hossa was pushed into the Coyotes' Louis Domingue. Roy threw his own tantrum on Saturday when it appeared Andrew Ladd bumped Semyon Varlamov with his rear-end. Both goals were left to the interpretation of officials on the ice via video review. Both calls might have been different with the NHL's hockey operations department making a streamlined decision from Toronto. Quenneville and Roy were both hit with two-minute minor penalties for their outbursts:
If anything, Sidney Crosby's climb to 900 points on Saturday night makes you appreciate the greatness of Bobby Orr. Crosby, 28, became the 11th-fastest player in NHL history to 900 points, a mark he hit in 677 games. Orr set the standard when he reached 900 in 638 games in 1976-77 — as a defenceman with wonky knees, no less — only later to be passed by five others. Orr accomplished his feat in a league scoring environment much closer to the one Crosby plays in now, compared to some of the other players on the list. There were 6.22 goals per game in Orr's first 10 seasons, compared to 5.66 goals per game in Crosby's first decade.
The road back has been long, but Saturday marked the first game for defenceman Joni Pitkanen in nearly three years. Pitkanen fractured his heel chasing an icing touch-up on April 2, 2013 - video which served as a big proponent for the current hybrid icing format. Unable to get his heel quite right in his skate, Pitkanen sat out the entire 2013-14 NHL season, and first skated toward this comeback in December, 2014. He played 20:04 for Kärpät in the Finnish Elite League on Saturday. He will face Frölunda in the Champions Hockey League final on Tuesday night. Whether Pitkanen's skating has rebounded enough to generate NHL interest remains to be seen. Pitkanen, now 32, averaged north of 25 minutes per night over his last five seasons in Carolina and is better than a 0.5-point per game player (0.53) in his 535-game NHL career.
Line of the weekend belonged to former Flyers captain Bobby Clarke. The Flyers held an alumni game to raise money for local charities on Friday night and Clarke, 66, was asked about the one part of hockey that hasn't changed over the years. "The locker room language," Clarke responded.
Frank Seravalli can be reached at frank.seravalli@bellmedia.ca.