Hoffman - Cameron relationship under the microscope in Ottawa
Even though Dave Cameron found the right formula to capture a 4-2 win over the Florida Panthers last night, he's being heavily criticized by some Ottawa Senators fans for his use of forward Mike Hoffman in the third period of that contest, writes TSN's Ian Mendes.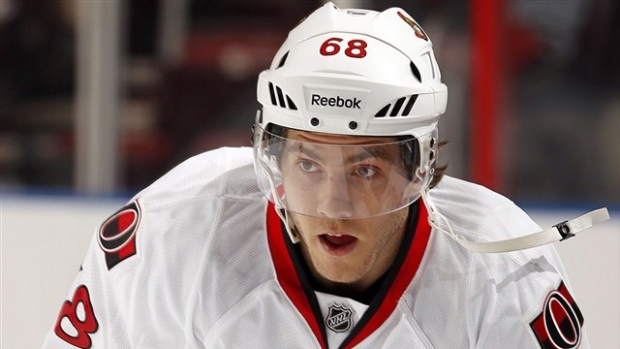 Normally, a head coach would be applauded for tinkering with his line combinations in a game where his team ended up staging a comeback victory.
But even though Dave Cameron found the right formula to capture a 4-2 win over the Florida Panthers last night, he's being heavily criticized by some Ottawa Senators fans for his use of forward Mike Hoffman in the third period of that contest.
Hoffman – who entered the game with 10 goals in his previous 10 games – was taken off the top line with Kyle Turris and Bobby Ryan in the third period. Logic would dictate that, with the game hanging in the balance, a coach would want his top offensive line playing together.
Instead, Cameron put Mark Borowiecki – who has always been a stay-at-home defenceman – up on the top line with Turris and Ryan while demoting Hoffman. It was a move that raised a lot of eyebrows around Ottawa.
"I didn't think my top line had its A-game and I was a little worried with the game on the line about them being a little too high-risk. I knew Boro would be safe and be physical and give them energy and would allow the other two guys to do some work," explained Cameron after the game. "Same as last year; you move Hoff down onto another line and he's not against their best players and it worked tonight."
The words that will immediately jump out to some Senators fans from that Cameron quote are "same as last year" – because Mike Hoffman found himself in Cameron's doghouse for long stretches in the 2014-15 campaign. The demotion last night brought back memories of Hoffman being buried on the club's fourth line, despite leading the team with 26 even-strength goals.
But here's the great irony of Cameron's move that is lost on a number of fans: Hoffman actually scored the game-winning goal last night playing alongside Jean-Gabriel Pageau and Alex Chiasson.
You could make an argument that Cameron's move was perfectly executed. He wanted to get Hoffman away from the Panthers' top players and when he scored the goal, he found himself matched up against fourth liners like Connor Brickley and Quinton Howden.
Still, Hoffman's reaction to the goal may have spoken volumes as well. Instead of having an emphatic fist-pump or a celebratory move, Hoffman simply stared forward with a straight face. Some might call it a look of defiance based on his ice time.
In his post-game interview on TSN, Hoffman was alertly asked by Chris Cuthbert about his usage in the third period. Hoffman politely answered the question, but did not shed any light about what happened in the final frame.
"Yeah, not too sure. Just trying to take advantage of ice time that I got," Hoffman said. "We managed to win the game and get a big two points for the team."
In the end, Hoffman – who now has 11 goals in 11 games – played the same number of shifts (17) as Mark Borowiecki – who was playing in his first NHL game as a forward. The 17 shifts represented a season-low for Hoffman and the 14:56 of ice-time was his second-lowest of the campaign.
We should also mention that Hoffman was coming off a game in New York in which he failed to register a single shot on goal and finished minus-two – so perhaps that performance was also weighing on Cameron's mind when he thought about reducing his role in Florida.
Strangely enough, Cameron does have a little bit of ammunition in his favour when it comes to Hoffman's limited ice time so far this season.
In the 10 games that Hoffman has played fewer than 18 minutes in a game, the Senators have a remarkable 9-0-1 record. It's not like Hoffman has suffered offensively in those 10 games either – posting six goals, seven assists for 13 points.
Conversely, in the 10 games where Hoffman has seen the most ice time, the Sens have posted a 4-4-2 record. And his productivity has remained the same in those games too – he's got seven goals, four assists for 11 points in the 10 games in which he's seen the most ice.
The concern for some Senators fans is that Cameron's constant habit of demoting Hoffman is going to come into the equation when he becomes a restricted free agent this summer and potentially an unrestricted free agent in the summer of 2017. Many are grumbling that Hoffman's $2 million arbitration award has already left him with a chip on his shoulder, but only time will tell how this plays out.
As for whether or not Hoffman is back in the coach's doghouse, fans need to remember it was just a few days ago when Cameron had enough confidence to start Hoffman in the 3-on-3 alongside Erik Karlsson and Kyle Turris as they went up against the defending Stanley Cup champions' trio of Patrick Kane, Jonathan Toews and Duncan Keith.
Would we have seen that out of Cameron last season? Probably not.
Hoffman rewarded the coach by scoring the overtime winner on a terrific feed from Karlsson. After that game, Cameron was glowing about the elevation in Hoffman's game.
"When you have that skill-set and then decide you're going to be one of the hardest workers, you are going to be a pretty dominant player," Cameron said.
Dave Cameron is coming around on Mike Hoffman, but every once in a while – like we saw last night in Florida – he still snaps back the leash.