Hoffman plummets on latest TSN Trade Bait board
Now it all makes sense why the talk around the Ottawa Senators last week was that Mike Hoffman was a sure bet to be traded.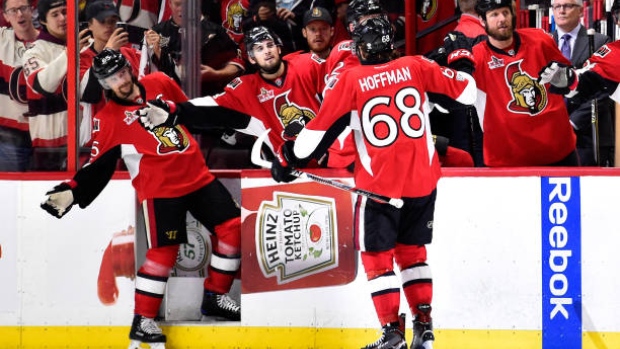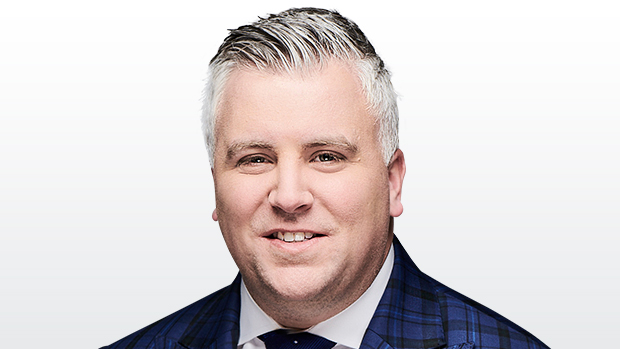 That sound you heard on Wednesday as the story broke about the series of allegations levied by Erik Karlsson's wife against teammate Mike Hoffman's fiancée wasn't jaws hitting the floor in the Ottawa Valley.
It was Hoffman's trade value plummeting.
Now it all makes sense why the talk around the Senators last week was that Hoffman was a sure bet to be traded – which is why he ranked No. 3 on TSN's first Trade Bait board of the summer.
Hoffman has dropped to No. 9 on the latest Trade Bait list – only remaining so high because it's a near certainty that he will be traded now. It's just a matter of when, where, and for what.
The situation had been simmering behind the scenes for months. Hoffman's agent, Robert Hooper, told the Ottawa Citizen this week that he has "been aware of it since the end of the season."
Karlsson's wife, Melinda, filed for an order of protection against Hoffman's fiancée, Monika Caryk, for an alleged cyberbullying campaign that began in Nov. 2017 and continued through the death of the Karlssons' stillborn son. No criminal charges have been laid against Caryk and none of the allegations have been tested in court. Hoffman told the paper there is a "150 per cent chance that my fiancée Monika and I are not involved in the accusations."
There is little chance the Senators' roster can be put back together as currently constructed – adding yet another layer to Karlsson's complicated extension or trade process looming this summer.
"It would be very difficult for both parties – both Erik and Mike as well as the wives and fiancées – to co-exist in the same wives' room and the same dressing room," Hooper told the paper. "Hopefully it can be resolved as quickly as possible."
Senators GM Pierre Dorion must be kicking himself now for not pulling the trigger on a trade before the drama leaked. He could be faced with moving Hoffman, who has averaged 26 goals over each of his first four full NHL seasons, for pennies on the dollar compared to the asking price at February's trade deadline.
One NHL GM said Thursday that Hoffman would be "persona non grata" with his team – "at least until this legal matter is resolved up one way or the other." Another GM said he "would never invite that kind of circus" into his dressing room.
The Senators would love nothing more than to move on from this latest embarrassment in a calendar year full of them – from a 30th place finish to owner Eugene Melnyk's show on Parliament Hill to Karlsson's trade and extension drama to assistant GM Randy Lee's arrest.
Here is TSN Hockey's latest Trade Bait, with trade season revving up and just one week until the NHL Draft kicks off in Dallas:
- Oliver Ekman-Larsson [previously No. 8] is off the board as he has agreed to terms on a $66-million extension with the Coyotes, which can officially be signed on July 1.
- Canucks defenceman Alex Edler joined the board in concert with teammate Chris Tanev, as Vancouver is expected to entertain and explore many different avenues to improve their roster. Edler is the longer shot of the two to go.
- P.K. Subban slid to No. 15 from No. 10 after Predators GM David Poile told Pierre LeBrun this week that a Subban trade is "not happening." If it sounds familiar, Canadiens GM Marc Bergevin said "I would say no" when asked if a Subban trade was unrealistic just days before it actually happened in 2016. No one is questioning Poile's word or integrity. It's just other GMs insist on Subban's recent availability. Whether or not Subban is actually moved is another story.
The Top 25
Trend
Player
Pos
Age
Cap Hit
GP
G
PTS
Years
Clause
1.

Erik Karlsson

, OTT

RD

28

$6.5M

71

9

62

1

M-NTC

2.

Ryan O'Reilly

, BUF

C

27

$7.5M

81

24

61

5

3.

Jeff Skinner

, CAR

LW

26

$5.73M

82

24

49

1

NMC

4.

Philipp Grubauer

, WSH

G

26

$1.5M

35

2.35

.923

RFA

5.

Max Pacioretty

, MTL

LW

29

$4.5M

64

17

37

1

6.

Justin Faulk

, CAR

RD

26

$4.83M

76

8

31

2

7. Canucks' No. 7 overall pick

8.

Noah Hanifin

, CAR

LD

21

$925K

79

10

32

RFA

9.

Mike Hoffman

, OTT

LW

28

$5.19M

82

22

56

2

M-NTC

10.

Phil Kessel

, PIT

RW

30

$8M

82

34

92

4

M-NTC

11.

Milan Lucic

, EDM

LW

29

$6M

82

10

34

5

NMC

12.

Alex Petrovic

, FLA

RD

26

$1.85M

67

2

13

RFA

13.

Dougie Hamilton

, CGY

RD

24

$5.75M

82

17

44

14.

Rasmus Ristolainen

, BUF

RD

23

$5.4M

73

6

41

4

15.

P.K. Subban

, NSH

RD

29

$9M

82

16

59

4

16.

Jacob Trouba

, WPG

RD

24

$2.81M

55

3

24

RFA

17.

Conor Sheary

, PIT

LW

25

$3M

79

18

30

2

18.

Max Domi

, ARI

C/LW

23

$1.36M

82

9

45

RFA

19.

Alex Galchenyuk

, MTL

LW

24

$4.9M

82

19

51

2

20.

Andre Burakovsky

, WSH

LW

23

$3M

56

12

25

1

21. Chris Tanev, VAN

RD

28

$4.5M

42

2

11

2

M-NTC

22. Alex Edler, VAN

LD

32

$5M

70

6

34

1

NTC

23.

Vladislav Namestnikov

, NYR

LW

25

$1.94M

81

22

48

RFA

24.

Sam Reinhart

, BUF

RW

22

$894K

82

25

50

RFA

25.

Corey Perry

, ANA

RW

33

$8.63M

71

17

49

3

NMC