Hoilett, Cardiff face stiff test in Premier League return
Mike Beauvais, TSN.ca Staff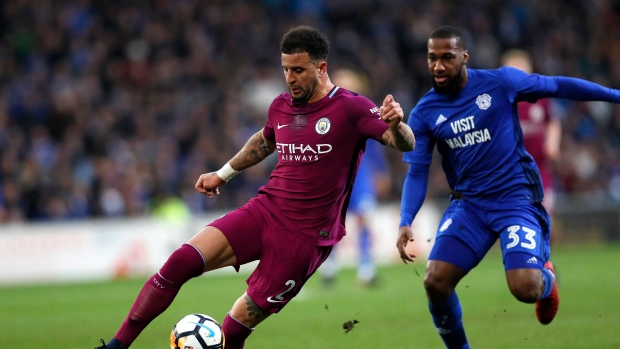 Alphonso Davies' move to Bayern Munich heralds an exciting new period for the game of soccer in Canada with the country's brightest young star heading to one of the true superpowers of world football.
But the announcement of the Vancouver Whitecaps winger's impending move to the Bundesliga wasn't the only big announcement surrounding a Canadian international and his future in Europe.
With much less fanfare, Premier League new boys Cardiff City announced that Brampton, Ont., native David "Junior" Hoilett signed a three-year extension at the end of June. The 28-year-old winger has been capped 17 times by Canada and returns to the Prem for the first time since 2013. He joined the Welsh side in 2016.
Hoilett, who came up in the Blackburn academy and played in the Premier League with Rovers and Queens Park Rangers, was instrumental in the Bluebirds' promotion a season ago, scoring 11 times in 50 appearances. Much of that was due to Hoilett's revitalization under manager Neil Warnock, who was able to get Hoilett to live up some of the early promise he showed in his days at Ewood Park before his spell at QPR sidetracked his ascendancy.
Runners-up in the Championship last season, Hoilett and Cardiff will likely face the bumpiest road among the promoted teams this season and will need an inspired effort from the Canadian and the rest of the club to make sure their return to the Prem isn't a one and done.
Here's the thing about Warnock – he's a promotion master. This latest one with Cardiff was the eighth of the combative 69-year-old Sheffield native's career. The problem he and Cardiff face now is what comes next. Warnock has never kept a team in the top flight. And, simply put, there probably isn't enough talent here to stay competitive in a league where mid-table and lower-table sides spend gobs of money due to the strength of the league's TV contract.
Owner Vincent Tan seems to be willing to open his wallet if the right deal comes along, but it hasn't so far with the transfer window about to slam shut in scant few days. It's not that their haven't been any signings – in fact, the club has signed a handful of players including winger Josh Murphy from Norwich City and Bristol attacking midfielder Bobby Reid. The problem is that these are Championship-calibre signings. There have been rumblings of approaches for former Manchester City and Middlesbrough striker Alvaro Negredo and Watford's Troy Deeney, but as it stands, the Bluebirds team that take the pitch for their first match of the season on Saturday against Bournemouth will look a lot like last year's squad.
The big question for Cardiff is where the goals will come from with Kenneth Zohore as the only recognized out-and-out striker on the books. Hoilett and his counterpart on the other flank, Nathaniel Mendez-Laing, were a constant menace last season against Championship opponents, but will they be able to do the same against more talented competition? The 25-year-old Reid is the big X-factor for the Bluebirds. Reid scored 21 goals a season ago with Bristol, including 19 in the league to finish only two adrift of Derby's Matej Vydra – now of Burnley – for the Golden Boot. The Bluebirds will need him to attempt that kind of production this season for Cardiff to even have a puncher's chance of staying up.
Their final stretch will be a telling one and one that could determine where the Bluebirds are playing next season – in their last seven games, Cardiff will play Chelsea, Manchester City and Liverpool and then finish up their season at Old Trafford against Manchester United.
Though the Bluebirds' promotion is a feel-good story and the progress of Hoilett will be a storyline to keep tabs on this season for Canadian fans, the chances of this campaign being a difficult one with more bad days than good looms large for Cardiff City.
The same cannot be said for last year's Championship winners, Wolverhampton Wanderers, who return to the Premier League after a five-year absence, brimming with a sense of optimism about their long-term future in England's top flight.
A lot has been made about the amount of foreign investment when it comes to English football and while there are cautionary tales (the current state of Aston Villa comes to mind), Wolves are another success story of a club that has benefitted from foreign capital. Thanks to an infusion of cash from the Fosun Group, the Chinese conglomerate that purchased the club in 2016, Wolves finds themselves poised to become a Premier League mainstay and one with real European ambitions.
To hammer home the fact that Nuno Espirito Santo's Wolves aren't your typical promoted team, look no further than their recruitment during this transfer window. In Rui Patricio, the club signs a 'keeper who backstopped Portugal to Euro triumph in 2016. His international teammate Joao Moutinho comes over from Monaco fresh off a World Cup that saw him play in all but one of Portugal's games. Another transfer coup sees Mexico international striker Raul Jimenez head to the Molineux on loan from Benfica.
Wolves' strength comes from the middle of the park where Moutinho will slot in next to Ruben Neves, another Portugal international, and allow Neves – a fine playmaker – to venture forward a little bit more if Moutinho can provide an effective defensive buffer ahead of the back three led by the stalwart Conor Coady. Neves will seek to continue to link up with Diogo Jota, now on a permanent after scoring 17 times last season on loan from Porto, and develop chemistry with Jimenez and yet another Portuguese player in Ivan Cavaleiro, who complete the front three.
While Wolves' backline remains questionable, there is enough talent and depth here that should guide the club into mid-table safety or, perhaps, even better if the chips fall right. Maintaining their Premier League status is crucial, though, as Wolves won't be the first promoted club to have big dreams scuppered by tripping up in their first season in the top flight. If they're being pragmatic, Wolves should aim for safety and ensconce themselves as a Premier League side in the coming years that will invite further investment and allow a true push for a European place and even a title chase.
If Cardiff is expected to go right back down and Wolves expected to make a big splash, Fulham falls somewhere in the middle – but probably closer to Wolves than the Bluebirds.
The Cottagers are back in the Premier League for the first time since 2014 thanks in large part to a 23-game unbeaten run from the end of 2017 into April that saw the team finish third in the table and then take out Derby and Villa in the playoffs for promotion.
Slavisa Jokanovic's side played attractive, free-flowing football last season and replicating it against a much higher level of opposition will be difficult, but American owner Shad Khan has allowed the club to pay for a talent influx that likely wouldn't be possible without the league's massive TV deal.
Firstly, Aleksandar Mitrovic returns to the club on a permanent transfer from Newcastle. The Serbia international was a one-man wrecking crew on loan at Craven Cottage, coming over in January. In 17 Championship appearances, Mitrovic scored 12 goals and was an integral part of the promotion push.
Mitrovic will have help up front in the form of World Cup-winning Germany international Andre Schurrle, who comes in on loan from Dortmund. The 27-year-old winger has something to prove on a couple of fronts. Most recently, Schurrle – the man who set up Mario Götze's 2014 World Cup-winning goal against Argentina – was left off of Die Mannschaft's entry this summer in Russia. Now, in retrospect, he's probably thankful to not have the stink of that disaster on him, but an opportunity to return to the world's biggest league provides the chance to show he still belongs among his country's best offensive threats.
And then, of course, there's the matter of demonstrating his worth in the Premier League, something that he didn't in his first spell with Chelsea. While his opportunities were limited, Schurrle scored 11 times over 44 appearances in two seasons at Stamford Bridge under Jose Mourinho from 2013 to 2015 before being deemed surplus to requirements and being sold to Wolfsburg. Playing a part in Fulham's return engagement to the Prem could go a long way in Schurrle reasserting his credentials.
The biggest coup that the Cottagers managed to pull off this transfer window, though, was the signing of Cote d'Ivoire international Jean Michael Seri from Nice. Having nearly joined Barca last summer and having been attached to a host of European heavyweights including Chelsea and Arsenal, the capture of Seri is a real sign of intent from Fulham and its management team.
A technically sound box-to-box midfielder with flair, Seri immediately becomes the most skilled man in the middle of the park for Fulham. His arrival should allow for captain Tom Cairney to move forward and operate as a more traditional No. 10 than what he was asked of at times last season when he was forced into a deeper role.
Fulham's return to the top flight also puts the spotlight on 18-year-old wunderkind Ryan Sessegnon, who certainly appears set to become a household name in a hurry. A left-back by trade, Sessegnon was converted into a marauding winger by Jokanovic and it paid immediate dividends with the England under-21 scoring 16 times and forcing his way into the conversation for a call-up to Gareth Southgate's World Cup squad.
An absolute worst-case scenario for Fulham wouldn't be for Sessegnon to fail to live up to last season's promise – a much bigger disaster would be for Sessegnon's sensational form to continue, but the team itself struggles and paves the way for the player to seek a bigger club. Certainly, this thought has already crossed the minds of both Jokanovic and Khan.