Leafs' young D giving Babcock, brass pause
For the first time in Mike Babcock's coaching tenure with the Toronto Maple Leafs, there is something to figure out on the backend. For more than a year, the refrain has been that defence is the team's weakness. Suddenly, it seems the Leafs, who won their fourth straight game Thursday night, have a plethora of defencemen, TSN Senior Hockey Reporter Frank Seravalli writes from New York.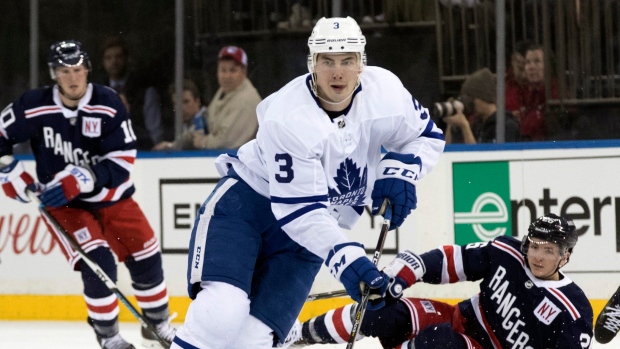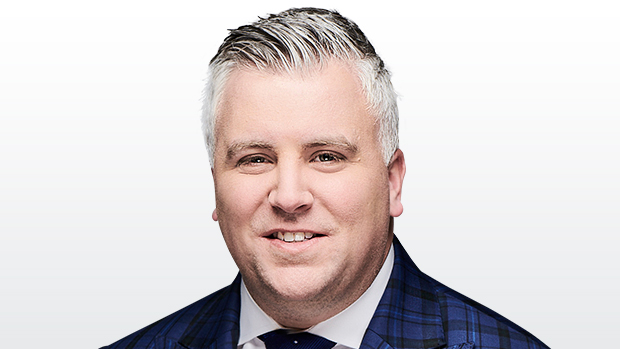 NEW YORK — Let's not kid ourselves here, Mike Babcock was saying.
Emergency call-up Justin Holl turned into a tremendous story. But if Morgan Rielly and Ron Hainsey are ready to return to the Toronto Maple Leafs lineup on Saturday night in Boston, there is no difficult decision: "They're playing."
"They're real good players," the Maple Leafs head coach said. "We'll figure out the rest after that."
For the first time in Babcock's tenure with the Leafs, there is something to figure out on the backend.
For more than a year, the refrain has been that defence is the Leafs' weakness. That the defence corps isn't strong enough – or deep enough – to back Toronto to a run at the Stanley Cup.
Suddenly, it seems the Leafs have a plethora of defencemen.
Thursday night's 4-0 thrashing of the New York Rangers marked Toronto's fourth straight win, with these last three against the Rangers, Islanders and Stars perhaps marking the Maple Leafs' three best and most complete outings of the season.
It has been, well, an eye-opener for Babcock.
"We seem to have some good depth that you didn't know until you try," Babcock said. "That's positive. We're deeper than we've been, we've got four lines, and let's be honest, all of them – I didn't know [Nikita Zaitsev] could be this good, I thought [Holl] was real good. [Travis] Dermott has been real good."
It's almost hard to tell whether Babcock should be crowned a genius for finding this lineup combination with obvious chemistry and sticking with it – or chastised for not giving some of these young players an opportunity before now. Part of it has been dumb luck with Hainsey and Roman Polak missing games due to a stomach illness; Matt Martin sitting out was a coach's decision.
There was Holl on Thursday night playing like the right-shooting blueliner the Leafs have coveted. He became the first Maple Leafs defenceman to score in each of his first two NHL games.
His teammates were calling him "Hollsy Orr" and "Justin Lidstrom" in good fun. Any night you can set an Original Six franchise record is a good night.
"I've taken a longer path than most," Holl said, who was in the ECHL three seasons ago after the Blackhawks opted to not sign him to an NHL deal after drafting him. "I was talking to [fellow 1992 birthday Kevin] Hayes on one of the faceoffs and he was like 'Congrats.' "
Holl deadpanned in reply to Hayes: "Yeah, I only made it five years after you."
So, no one is willing to anoint him a Holl of Famer just yet. After all, the last rookie defenceman to score in each of his first two NHL games was Alex Grant with Anaheim in 2013-14 and he didn't play in the NHL again for two more seasons. He's played five more games total.
But it's not unfair to say that Holl and Dermott are giving the Maple Leafs pause, as in: Maybe we have more here than we think.
"They come here, you put them out there. If they can do it, you do it again. If they can't do it, they don't go out," Babcock said. "The ball is in their court. They're all good players."
The Maple Leafs' recent surge is not mutually exclusive to the young players that have filled in over the last handful of games. Between Kasperi Kapanen, Dermott and Holl, the injection of speed across Babcock's lineup card has been noticeable.
The Leafs just look like a different team with those guys playing.
"We're playing way quicker," Babcock said. "Part of that's confidence, part of that's work ethic, part of that's personnel. But the bottom line is the faster we play, the more pressure we put on the other team."
Dermott has already played himself into the conversation to stick once Polak et al are healthy again. Babcock called Kapanen an "NHL player." And Holl has been one of the feel-good stories of the season, a player who said he may have given up on pro hockey if it meant another season in the ECHL.
The sample size remains ridiculously small. But Babcock is interested in finding out more.
"We're just like anybody else, we're just watching," Babcock said. "Hope is a wonderful thing, but watching the truth and the facts are right there. Now you've got to do it again."
Contact Frank Seravalli on Twitter: @frank_seravalli​