Holtby deal could set up resolution for Bernier
Braden Holtby and the Washington Capitals agreed to a five-year, $30.5-million contract Friday afternoon, rendering his salary arbitration hearing from Thursday moot. As TSN Senior Hockey Reporter Frank Seravalli writes, Holtby's deal might help provide a template for negotiations between the Toronto Maple Leafs and goaltender Jonathan Bernier.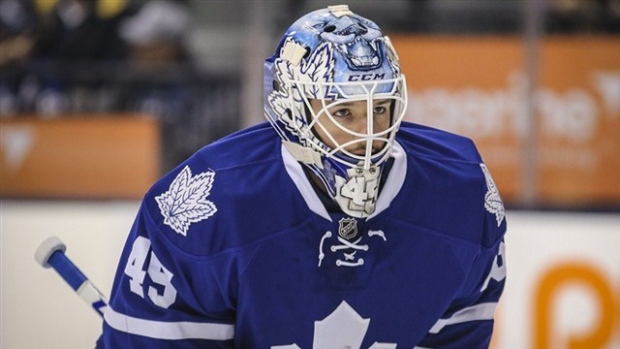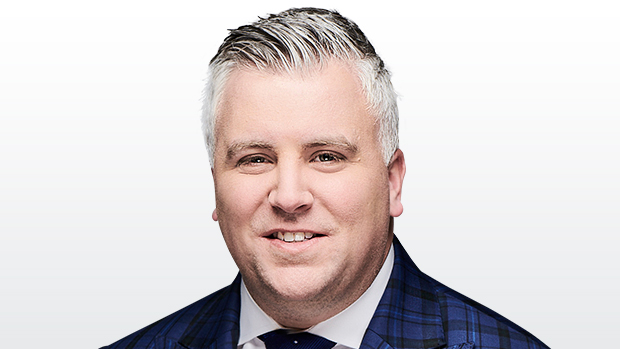 With less than 24 hours to spare before an impartial arbitrator's decision would have locked him into a one-year contract with the Washington Capitals, Braden Holtby is now five times richer.
Holtby and the Capitals agreed to a five-year, $30.5-million contract Friday afternoon, rendering his salary arbitration hearing from Thursday moot.
Holtby, 25, will become the seventh-highest-paid goaltender in the league by salary cap hit, with an average annual value of $6.1 million. That places him above netminders like Corey Crawford, Ryan Miller, Cory Schneider, Ben Bishop, Mac-Andre Fleury and Jonathan Quick.
Holtby's new deal could set the table for a similar, less expensive resolution between the Maple Leafs and goaltender Jonathan Bernier. An arbitration hearing between Bernier and the Leafs is scheduled for July 31, with salary requests from each side due on July 29. Bernier will be under contract by Sunday, Aug. 2 at the latest, either by arbitration award or an accord brokered any time before then.
Holtby is the third NHL player this summer to attend a salary arbitration hearing, only to end up settling with the club on a longer-term deal before an award could be announced.
"Braden emerged as a top NHL goaltender and we are pleased to sign him to a long-term contract," Capitals general manager Brian MacLellan said in a statement. "We feel Braden is just entering his prime and in his young career has already established himself as one of the best goaltenders in the history of our franchise. He is an athletic goaltender with a tremendous work ethic and is a big part of our future."
Holtby's camp asked the arbitrator for an award of $8 million. The Capitals offered $5.1 million and requested a one-year award, which would have been binding if the arbitrator's award was issued before 1 p.m. on Saturday afternoon.
The new deal represents a near even split between both the arbitration asking prices and the long-term extension prices the two sides have been negotiating since May. The Capitals reportedly offered a five-year deal at $5.5 million per season; Holtby's side pushed for a five-year deal at $6.5 million per season.
In return, the Capitals achieved cap certainty for the next handful of years, and Holtby earned long-term financial security.
Holtby set or tied franchise numerous franchise records, including appearances (73) and wins (41), and led the Stanley Cup playoffs with a .944 save percentage and 1.71 goals-against average.
The Maple Leafs surely kept a close eye on Holtby's proceedings. It was the Leafs who elected to take Bernier to arbitration, not the goaltender. So far, there appears to be little in the way of progress toward a deal.
Since Holtby's new contract chews up unrestricted free agency years, it will not be admissible as a comparable contract for Bernier at the Friday hearing. The two goaltenders are one year apart in age and have played almost an equal number of NHL games (178 for Holtby, 175 for Bernier).
Bernier, 26, finished last season with a 21-28-7 record, a .912 save percentage and 2.87 goals-against average. His career save percentage (.916) is similar to Holtby's (.921) and he does not have the benefit of playing behind as strong a team as the Capitals. Coincidentally, Bernier's worst season as a pro (2011-12, .909 save percentage, 2.36 GAA) was the year he won the Stanley Cup as a backup for Quick on the Los Angeles Kings.
Bernier is likely looking at a salary arbitration award around $5 million. The Leafs cannot walk away from any decision since they elected for the arbitration.
Perhaps, with new general manager Lou Lamoriello in charge, the two sides will be able to avoid a hearing.
Lamoriello kicked the tires on acquiring Bernier from Los Angeles before prying Cory Schneider from Vancouver at the 2013 Entry Draft. Given the lack of true comparable deals, a four-year deal in the neighbourhood of $20 million would not be unreasonable for either Bernier or the Leafs.
According to generalfanager.com, the Capitals now have approximately $4.2 million in salary cap space remaining. More space will open up once either Philipp Grubauer or Justin Peters is sent to AHL Hershey in October.
A good chunk of that money will be tied up with forward Marcus Johansson, who is scheduled for his own arbitration hearing on Wednesday. Johansson, 24, could well command $4 million per season or more after a 20-goal, 47-point campaign.
Player-elected arbitration hearing schedule:
July 23 - Alex Chiasson (Ottawa) - awaiting arbitrator decision
July 24-26 - None
July 27 - Derek Stepan (New York Rangers)
July 28 - Colin Wilson (Nashville)
July 29 - Marcus Johansson (Washington), Adam Larsson (New Jersey)
July 30 - Mike Hoffman (Ottawa), Paul Byron (Calgary)
July 31 - Erik Haula (Minnesota)
Club-elected arbitration hearing schedule:
July 31 - Jonathan Bernier (Toronto).
Settled:
*Braden Holtby (Washington): 5 years, $30.5 million
*Craig Smith (Nashville): 5 years, $21.25 million
Gustav Nyquist (Detroit): 4 years, $19 million
Michael Del Zotto (Philadelphia): 2 years, $7.75 million
*Lance Bouma (Calgary): 3 years, $6.6 million
Justin Schultz (Edmonton): 1 year, $3.9 million
Mikkel Boedker (Arizona): 1 year, $3.75 million
Eric Gelinas (New Jersey): 2 years, $3.15 million
Josh Jooris (Calgary): 1 year, $975,000
Magnus Paajarvi (St. Louis): 1 year, $700,000
Taylor Beck (Toronto): 1 year, $875,000
Mathew Clark (Colorado): 2 years, two-way, $600,000
Philip Samuelsson (Arizona): 1 year, two-way, $600,000
Phil Varone (Buffalo): 1 year, two-way, $600,000
Brendan Shinnimin (Arizona): 1 year, two-way, $600,000
Andrew Agozzino (Colorado): 1 year, two-way, $600,000
*denotes player settled with club after arbitration hearing, but before arbitrator's decision was rendered within 48 hours.
Frank Seravalli can be reached at frank.seravalli@bellmedia.ca.