Homan, Jones the headliners as Scotties return to Nova Scotia
For the first time since 1992, the Scotties Tournament of Hearts is returning to Nova Scotia. Centre 200 in Sydney, N.S., home of the QMJHL's Cape Breton Screaming Eagles, will host this year's Scotties as 16 teams will battle it out for 10 days from Feb. 16-24 for the right to call themselves Canadian champions.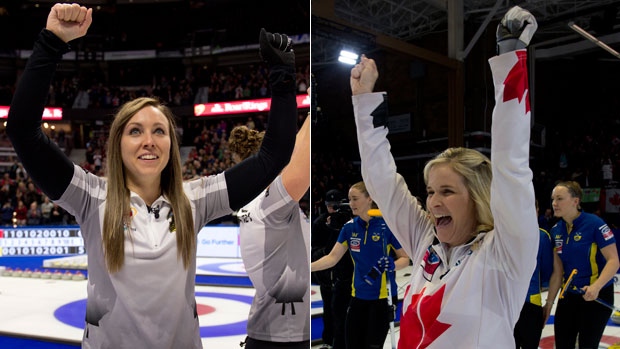 For the first time since 2011, the Scotties Tournament of Hearts is returning to the East Coast.
Centre 200 in Sydney, N.S., home of the QMJHL's Cape Breton Screaming Eagles, will host this year's Scotties as 16 teams will battle it out for 10 days from Feb. 16-24 for the right to call themselves Canadian champions.
Charlottetown, P.E.I., was the last eastern city to host the women's nationals and we all know there's a healthy appetite for granite in the Atlantic after that unforgettable week at the 2017 Brier in St. John's, Nfld. The last time the Scotties was held in Nova Scotia was 1992 in Halifax when Manitoba's Connie Laliberte won her second national championship.
The headliners remain the same as defending champion Jennifer Jones and her foursome from Winnipeg will compete as Team Canada while Ottawa's Team Rachel Homan return wearing Ontario colours. Unless disaster strikes, both have to considered locks to make the playoffs.
The second tier sees the likes of Alberta's Chelsea Carey, Manitoba's Tracey Fleury, Saskatchewan's Robyn Silvernagle and Northern Ontario's Krista McCarville competing with real shots at being in the top four as well.
This is how the week breaks down: The 16-team field will be divided into two pools of eight. Each team will compete in round-robin play (seven games) within their pool. From there, the top four teams in each pool will advance to the championship pool. In this round, every rink will play four games against teams in the opposing pool. The top four teams advance to the regular page playoff where the Scotties champion will be determined on the second weekend.
Here's a look at the two pools and each team's seeding.
Pool A – (1) ON - Rachel Homan, (4) MB - Tracy Fleury, (5) AB - Chelsea Carey, (8) BC - Sarah Wark, (9) NO - Krista McCarville, (12) NS - Jill Brothers, (13) QC - Gabrielle Lavoie, (16) NU - Jenine Bodner
Pool B – (2) CA - Jennifer Jones, (3) Wild Card, (6) SK - Robyn Silvernagle, (7) PE - Suzanne Birt, (10) NT - Kerry Galusha, (11) NB - Andrea Crawford, (14) YT - Nicole Baldwin, (15) NL - Kellie Sharpe
The action gets under gets underway Friday, Feb. 15, when Manitoba's Kerri Einarson takes on Alberta's Casey Scheidegger in the wild card game.
You can watch every single draw throughout the week from Sydney on TSN and streaming on TSN Direct.
Wild Card Game
Kerri Einarson (Winnipeg) vs. Casey Scheidegger (Lethbridge)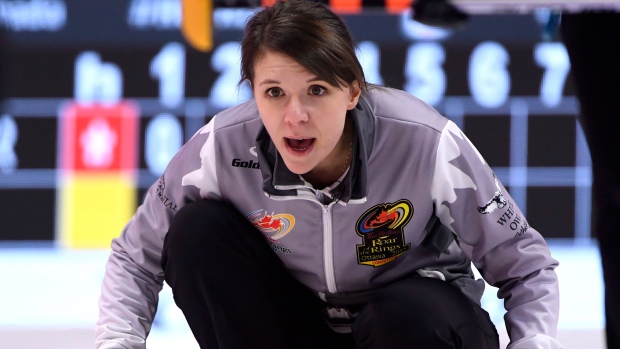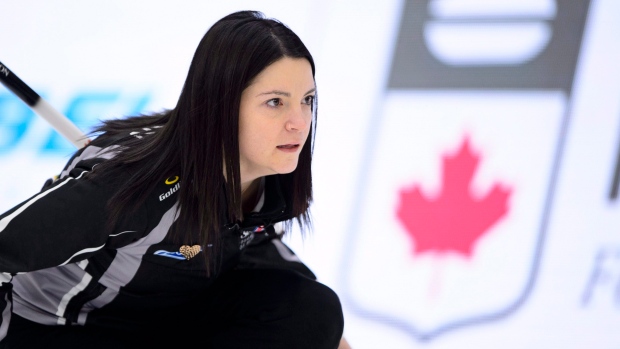 Einarson's Record: 62-21
Scheidegger's Record: 27-26
For the second season in a row, Winnipeg's Kerri Einarson will need to win a do-or-die play-in game to earn a spot in the main draw of the Scotties.
It worked pretty well last year in Penticton, B.C., when she topped Chelsea Carey in the wild card game and made a tremendous run to her first Scotties final where she fell to Jennifer Jones.
A year later, Einarson is in the same position, this time at the helm of a different rink. Einarson and company blew a healthy lead in the Manitoba Scotties final to her former squad (now skipped by Tracy Fleury), forcing her to take a much tougher pass to the Canadian championship.
Defending Alberta champ Casey Scheidegger had a tough time at provincial playdowns, posting a 3-3 record and missed the playoffs.
The 31-year-old appeared in her first Scotties last year and had a very strong week before dropping her last three to miss the playoffs by a hair at 7-4.
Einarson and Scheidegger have played each other three times this season, with Einarson taking all three contests.
Still, this wild card game should be considered a tossup with the winner having a real shot at doing some damage in the main draw.
Pool A
Team Rachel Homan (1) – Ontario (Ottawa Curling Club)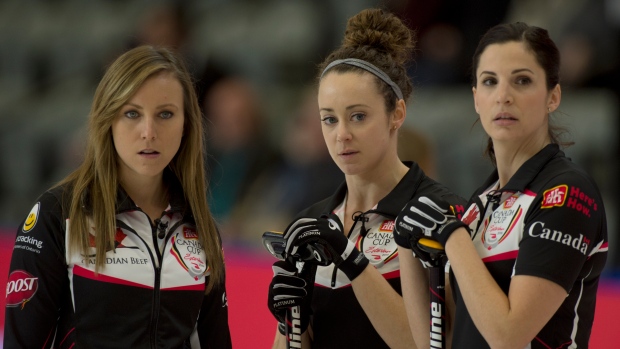 Skip: Rachel Homan
Third: Emma Miskew
Second: Joanne Courtney
Lead: Lisa Weagle
Coach: Marcel Rocque
Season Record: 50-13
Rachel Homan can join Jennifer Jones and Colleen Jones as the only skips to capture four career Canadian championships with a victory in Sydney.
Homan and her Ottawa-based rink won the 2017 Scotties in St. Catharines, but didn't return as Team Canada last year due to Olympic commitments.
They'll be back after topping Julie Tippin in the Ontario Scotties final.
Team Homan has easily been the best team in curling this season, highlighted by winning three straight Grand Slam events against stacked fields. Her victory at the Canadian Open in North Battleford, Sask., gave Homan 10 Grand Slam titles for her career to surpass Jones for the most in women's history.
They also won the opening leg of the Curling World Cup back in September by beating Sweden's Anna Hasselborg in the final.
Final Word: Along with Jones and her Winnipeg foursome, Homan and her teammates are the favourites at every event they play in. This year at the Scotties won't be any different. Fully expect to see the 29-year-old in her fourth Scotties final by week's end.
Team Tracy Fleury (4) – Manitoba (East St. Paul Curling Club)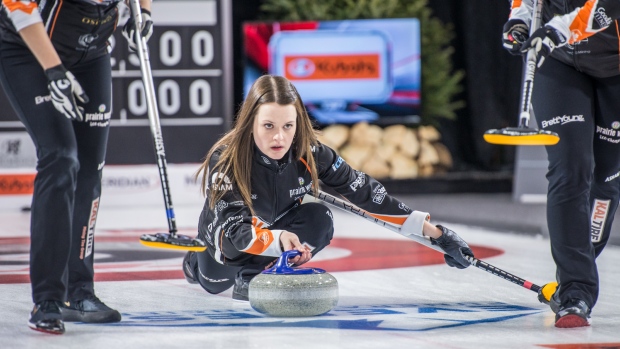 Skip: Tracy Fleury
Third: Selena Njegovan
Second: Liz Fyfe
Lead: Kristin MacCuish
Coach: Andrea Ronnebeck
Season Record: 39-26
The 2018 Scotties silver medalists and their new skip are returning to the Canadian championship.
Kerri Einarson led her rink of Selena Njegovan, Liz Fyfe and Kristin MacCuish to their first Scotties final last year where they fell to Jennifer Jones. After Einarson's departure in the off-season, the remaining members of the team recruited Sudbury native Tracy Fleury to skip their rink this season.
The new-look Team Fleury squared off with Einarson's squad in a wild final at the Manitoba Scotties in Gimli. After falling to an early 5-1 deficit through two ends, Fleury stormed back to take the game and the provincial championship, 13-7.
Aside from their playdowns, Team Fleury has yet to win an event on tour with their best result coming at the Tour Challenge in November, losing to Rachel Homan in the final. They've qualified for the playoffs in five of 11 events played.
This will be the fourth national championship appearance for Fleury with the first three coming as a representative of Ontario or Northern Ontario. She lost in last year's page playoff 3 vs. 4 game after an impressive 8-3 record in the round robin.
Final Word: Fleury's rink lost just one game all week at the Manitoba Scotties after an up-and-down season on tour. Three quarters of this team have already proven they're good enough to make a national final. Can Fleury take then one step further?
Team Chelsea Carey (5) – Alberta (The Glencoe Club)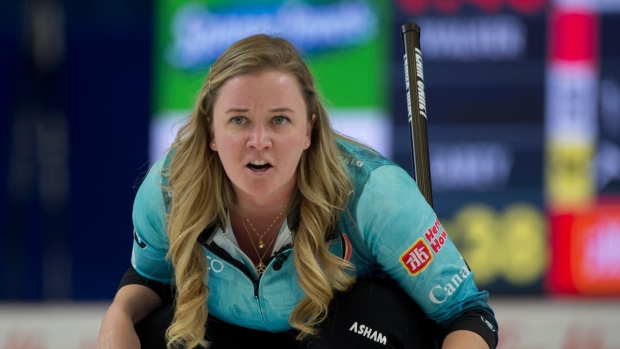 Skip: Chelsea Carey
Third: Sarah Wilkes
Second: Dana Ferguson
Lead: Rachel Brown
Coach: Dan Carey
Season Record: 31-27
Chelsea Carey has now led three different rinks to the Scotties after defeating Kelsey Rocque in the Alberta provincial final.
The Winnipeg native skipped a Manitoba rink to nationals in 2014 before moving to Alberta and winning her first Scotties title in 2016. Carey formed an entirely new team for 2018-19 after bowing out to Casey Scheidegger in last year's Alberta playdowns.
It's been a mixed bag for her new rink this season, but they've picked it up as of late with a quarter-final appearance at the Canadian Open and a 5-0 showing at playdowns.
Final Word: Behind Jennifer Jones and Rachel Homan, Chelsea Carey is arguably the third best skipper at this year's Scotties. This will keep her in the playoff hunt all week with a shot at finishing first if she can manage an upset or two.
Team Sarah Wark (8) – British Columbia (Abbotsford Curling Club)
Skip: Sarah Wark
Third: Kristen Pilote
Second: Carley Sandwith
Lead: Jen Rusnell
Coach: Rick Fewster
Season Record: 29-12
Sarah Wark is competing in her first Scotties Tournament of Hearts.
Wark and her Abbotsford rink topped Corryn Brown in the B.C. final. They've had some success on tour this season too, winning the Driving Force Abbotsford Cashspiel and Kamloops Crown of Curling in October.
B.C.'s Kesa Van Osch qualified for the championship pool last year, but her rink dropped their last four games to finish with a 4-7 record.
Final Word: British Columbia should be in the mix for the championship pool and will likely need to cause some upsets if they want to take it further.
Team Krista McCarville (9) – Northern Ontario (Fort William Curling Club)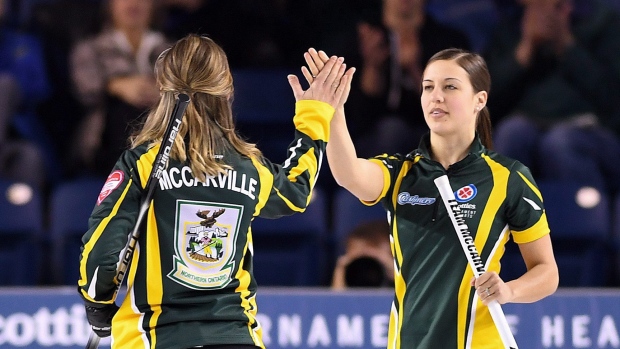 Skip: Krista McCarville
Third: Kendra Lilly
Second: Jen Gates
Lead: Sarah Potts
Coach: Rick Lang
Season Record: 17-6
Krista McCarville will return to the Scotties after losing in provincial playdowns last year.
This is the fourth straight season McCarville has played with this lineup and eighth straight with Ashley Sippala and Sarah Potts in the mix. However, their Scotties lineup will look at little different as Jen Gates will replace Sippala as she is expecting her second baby in March.
Team McCarville has played in only five events this season, picking up victories at the KW Fall Classic and Curl Mesabi Classic. They also posted a perfect 7-0 record at the Northern Ontario Scotties, scoring two in the last end to edge Jenna Enge, 8-7, in the championship tilt.
The Thunder Bay rink lost to Chelsea Carey in the 2016 Scotties final and dropped a semi-final clash to Rachel Homan the following year.
Final Word: The Scotties Tournament of Hearts is one of the few times curling fans get to see Team McCarville in action. And they never seem to disappoint. Despite playing limited events on tour, McCarville and company are always in the thick of things when it counts. Sydney shouldn't be any different. They'll be a tough out all week.
Team Jill Brothers (12) – Nova Scotia (Mayflower Curling Club)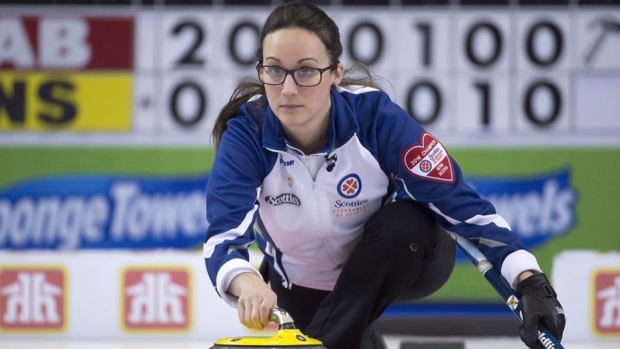 Skip: Jill Brothers
Third: Erin Carmody
Second: Sarah Murphy
Lead: Jenn Brine
Coach: Taylor Ardiel
Season Record: 16-5
Jill Brothers will get the chance to play in front of her hometown fans at this year's Scotties after she defeated defending provincial champion Mary-Anne Arsenault in the Nova Scotia playdowns.
Nova Scotia will host the Scotties for the first time since Halifax held the event in 1992.
The last time a Nova Scotia rink won the Canadian championship was in 2004 when Colleen Jones accomplished the feat for a fourth consecutive season.
Like most East Coast rinks, Team Brothers has played a fairly light schedule this season, but did win a tour event in Halifax in early November.
Final Word: Brothers' fourth appearance at the Scotties will surely be her most anticipated. The hometown team won't be top contenders in Sydney, but who knows what can happen with the crowd on your side.
Team Gabrielle Lavoie (13) – Quebec (Montreal Curling Club)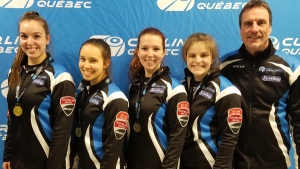 Skip: Gabrielle Lavoie
Third: Patricia Boudreault
Second: Anna Munroe
Lead: Julie Daigle
Coach: Daniel Charette
Season Record: 6-3 (playdowns)
Last year in Penticton, it was 18-year-old Émilia Gagné who made a surprise appearance at the Scotties Tournament of Hearts for Quebec, posting a respectable 3-4 record in the round robin.
This year that honour will be bestowed upon Gabrielle Lavoie who edged Gagné 6-5 in the Quebec Scotties final. Team Lavoie fell to Gagne's crew in the semi-final of Quebec's junior playdowns a few weeks prior.
Final Word: Quebec is one of a handful of rinks at this year's Canadian championship who are not expected to contend but should gain some valuable experience playing on the national stage at such a young age.
Team Jenine Bodner (16) – Nunavut (Iqaluit Curling Club)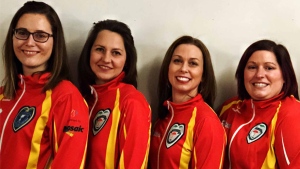 Skip: Jenine Bodner (second stone)
Third: Jennifer Blaney (fourth stone)
Second: Alison Griffin (third stone)
Lead: Megan Ingram
Coach: Susanne Martin
Season Record: N/A
Nunavut is sending Jenine Bodner to represent the territory for the first as they look for their first win since 2016. Bodner calls the game, but throws second stones while third Jennifer Blaney is the last rock thrower. Alison Griffin throws third stones.
Final Word: Nunavut has always been up against it at nationals and this year will be no different.
Pool B
Team Jennifer Jones (2) – Canada (St. Vital Curling Club)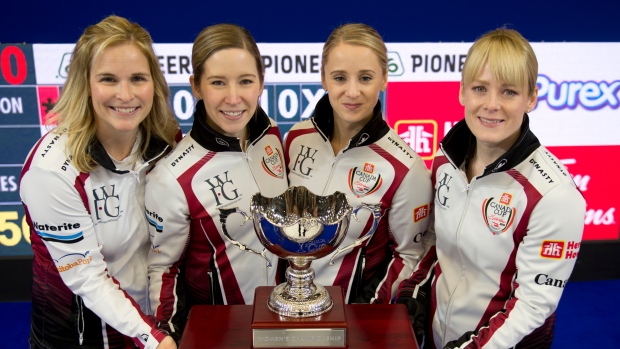 Skip: Jennifer Jones
Third: Kaitlyn Lawes
Second: Jocelyn Peterman
Lead: Dawn McEwen
Coach: Viktor Kjell
Season Record: 39-21
Jennifer Jones will search for a record breaking seventh Scotties Tournament of Hearts title in Sydney.
The 44-year captured her sixth national championship last season in Penticton, B.C., and can pass Colleen Jones for most titles in Scotties history if her Winnipeg crew can put in a repeat performance.
For the first time, Jones will have to win it all without longtime second Jill Officer, who stepped away from the game this season and was replaced by 2016 Scotties champ Jocelyn Peterman.
The new-look team hasn't missed a beat as Jones led her foursome to a record fourth Canada Cup title in December in Estevan, Sask. Jones also won her third straight TSN Skins Game in Banff earlier this month.
Kaitlyn Lawes will look to become a Canadian champion for a second time after she was replaced at last year's nationals by Shannon Birchard due to Olympic commitments.
Final Word: Jones can cement her status as the most decorated curler in Canadian history with a championship in Nova Scotia. This year will be much tougher though as she'll have to go through three-time champ Rachel Homan to get back to the top of the podium. They haven't played each other in a Scotties final since 2013, a game Homan took 9-6 for the first title of her career.
Team Robyn Silvernagle (6) – Saskatchewan (Twin Rivers Curling Club)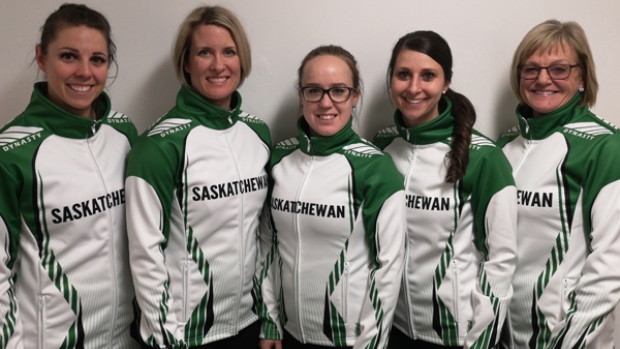 Skip: Robyn Silvernagle
Third: Stefanie Lawton
Second: Jessie Hunkin
Lead: Kara Thevenot
Coach: Lesley McEwan
Season Record: 44-17
Robyn Silvernagle is finally going to the Scotties Tournament of Hearts.
The Biggar, Sask., native suffered heartbreaking losses in the last two provincial finals before topping veteran Sherry Anderson in this year's final thanks to a 10th end steal.
Silvernagle, 31, added former skip Stefanie Lawton to her team this season as a third and it appears the move has panned out.
Team Silvernagle captured the Red Deer Classic in mid-November and made the quarters of the Canadian Open on the Grand Slam circuit, an event that was played in their hometown of North Battleford.
Final Word: Silvernagle sports a record 20-plus game above .500 this season and could be primed to do some damage at the Scotties after the breakthrough at provincials. At the very least, this team is good enough to make the championship pool and could be real contenders to sneak into the top four by week's end.
Team Suzanne Birt (7) – Prince Edward Island (Charlottetown Curling Club)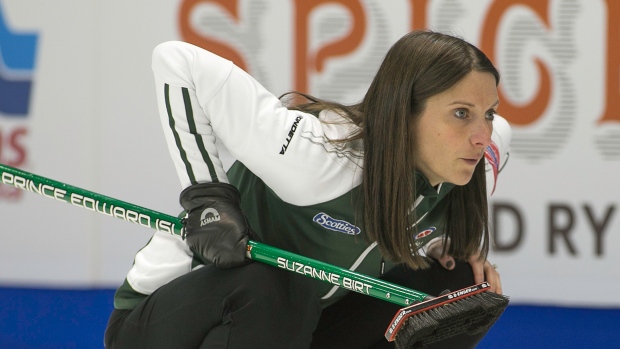 Skip: Suzanne Birt
Third: Marie Christianson
Second: Meaghan Hughes
Lead: Michelle McQuaid
Coach: Mitch O'Shea
Season Record: 30-11
After taking two seasons off from competitive curling, 37-year-old Suzanne Birt will return to the national championship for the 10th time of her career this year.
Birt added second Meaghan Hughes and lead Michelle McQuaid to the team this season after they played in the past two Scotties with Robyn MacPhee. Team Birt won the WFG Jim Sullivan Curling Classic in early December before posting a 6-2 record in Alberton to win the P.E.I. Scotties.
Final Word: Birt's best finish at the Canadian championship came in her first appearance in 2003 when she won bronze in Kitchener, but hasn't been able to make the playoffs since 2006. A spot in the championship pool is a possibility, however anything more will be tough.
Team Kerry Galusha (10) – Northwest Territories (Yellowknife Curling Centre)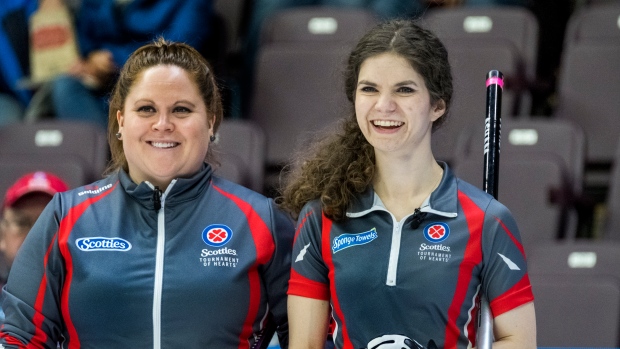 Skip: Kerry Galusha
Third: Sarah Koltun
Second: Brittany Tran
Lead: Shona Barbour
Coach: John Epping
Season Record: 20-12
It will be sweet 16 for Kerry Galusha in Nova Scotia at this year's Scotties as the 41-year-old will make her 16th appearance at the Canadian championship. Galusha had a tough time last year, posting a 1-6 record with her only win coming against Yukon. Second Brittany Tran will make her Scotties debut after she was added to the fold this off-season.
Final Word: Galusha and company are definitely better than their performance last year and should keep teams honest all week with the help of their coach John Epping.
Team Andrea Crawford (11) – New Brunswick (Thistle-St. Andrew's Curling Club)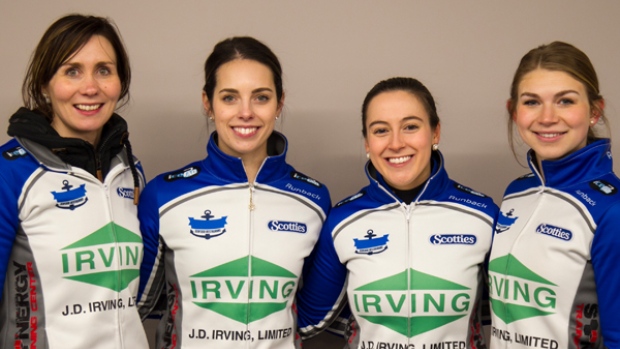 Skip: Andrea Crawford
Third: Jillian Keough
Second: Jennifer Armstrong
Lead: Katie Forward
Coach: Charlie Sullivan
Season Record: 21-9
Former Canadian junior champion Andrea Crawford is returning to the Scotties Tournament of Hearts for the first time since 2014.
Crawford, 33, captured the provincial crown in Moncton after defeating Sarah Mallais 6-3.
Team Crawford has played six smaller events on the East coast this season, winning three of them.
Final Word: Crawford's best performances at the Scotties came in 2013 and 2014 when she finished with 6-5 records. New Brunswick will look for similar results in Sydney.
Team Nicole Baldwin (14) – Yukon (Whitehorse Curling Club)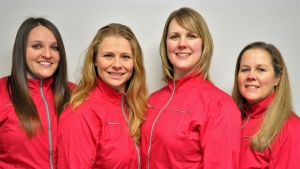 Skip: Nicole Baldwin
Third: Hailey Birnie
Second: Ladene Shaw
Lead: Helen Strong
Coach: Wade Scoffin
Season Record: N/A
Nicole Baldwin returns to the Scotties for a second time and first since losing in the qualification round under the old format in 2016. Last year, Yukon, led by Chelsea Duncan, went 0-7 in Pool A action.
Final World: Yukon will do their best to pick up at least one win during the week and anything after that will be icing on the cake.
Team Kelli Sharpe (15) – Newfoundland and Labrador (Bally Haly Golf & Curling Club)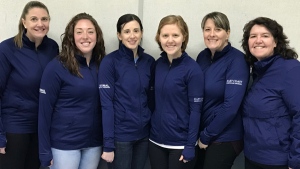 Skip: Kelli Sharpe
Third: Stephanie Guzzwell
Second: Beth Hamilton
Lead: Carrie Vautour
Coach: Leslie Anne Walsh
Season Record: 5-1 (playdowns)
For the first time since 1997, Newfoundland and Labrador will be represented by a skip not named Stacie Curtis, Heather Strong or Cathy Cunningham. Kelli Sharpe will appear in her fourth Scotties Tournament of Hearts for Canada's most easterly province, but first as a skip after playing in three as a third for Strong. She also appeared at nationals three times for the Northwest Territories.
Final Word: Curtis was a win away from qualifying for the championship pool last year after a 4-3 performance in the round robin. Sharpe will do well to get that many wins in Sydney.