How a simple conversation with my co-host changed our relationship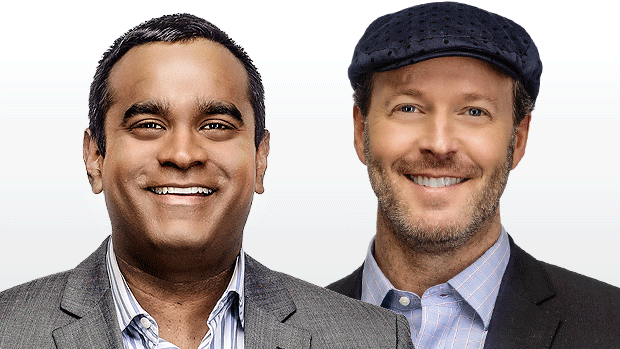 As we walked into the Clocktower Pub in Ottawa's Byward market, the bartender immediately recognized us.
On most days, this wouldn't be a problem. My co-host Shawn Simpson and I usually have no problem talking sports with fans and avid listeners to our radio show on TSN 1200. And since this was the first week of April – which coincided with the end of the Senators' 2015-16 season – everybody wanted to know if we thought Dave Cameron was going to be fired.
But on this day, we had no interest in talking sports. We were there to have an uncomfortable conversation that required a lot of privacy. We asked for a table hidden in the back of the bar that was completely tucked away and out of sight.
As we sat down, I wasn't sure which one of us was going to speak first. Shawn was outwardly nervous; constantly fiddling with his scarf and looking very distracted. The waitress gleefully intervened to take our drink order, but she was oblivious to the tension and awkwardness that surrounded this table.
As she left the table to get our beers, Shawn began to speak. His voice was trembling and shaky – a far cry from the man who speaks with such enthusiasm and passion on the radio. He could barely get any words out, when he broke down and started to cry.
At that moment, I knew that our relationship was never going to be the same again.
***
When I first started at TSN 1200 in the fall of 2013, several people told me I was taking a huge gamble. Sure, there were inherent risks in moving from a network television job to something in local radio, but many people were generally curious about one particular aspect of my career switch.
They openly wondered how I would get along with my soon-to-be co-host Shawn Simpson. We were opposites in most every way imaginable. I was a married family man, while he was divorced and single. I had a journalism and reporting background, while he spent years working in the NHL's front office. I had a reputation of being a thorough, well-researched media member, while people told me countless stories about how he would cut corners on the radio job.
His previous co-host had quit suddenly at the end of August, leaving behind a trail of unanswered questions. A lot of people thought it was impossible to work with Shawn from a media perspective. As I debated whether or not to take the job, I had people come up to me and say, "Man – I wonder who's going to want to take that afternoon drive job. Imagine working with Simmer every day?"
They had no idea I was in the running, so I pretended to laugh along with them, all the while knowing that I was leaning towards taking the job.
I suppose the powers that be at Bell Media in Ottawa figured we could actually develop a great chemistry. I can almost hear their conversation before they decided to put us together. "Hey – it'll be like the Lethal Weapon movies. Mendes is the button-down Danny Glover and Simmer is the wild and free Mel Gibson. It'll be brilliant."
As I took the job in September of 2013, I know there were plenty of people taking bets on how long we'd last. It was like one of those Hollywood relationships that was doomed for failure from the start.
"Julia Roberts and Lyle Lovett? Man, that'll never last." (For the record, I see myself as the Julia Roberts in my relationship with Shawn).
And so for the first few weeks on the job, we got along – but there was a feeling out process to be sure. I had to get used to his constant laughing and interrupting. And I also needed to figure out how to keep him focused on one topic, as he had a penchant for bouncing around the sports world in a single answer.
I once asked him about why Eli Manning was throwing so many interceptions and he gave a response that included a story about his time in Washington with Pete Peeters.
Every few weeks I would go into my boss's office and vent about the frustrations of working with Shawn. It was almost like a predictable volcano pattern; I would let the stuff build up for two or three months and then erupt with a series of complaints.
But as I moved into my third year of working at the station, I was realizing that things weren't improving as much as I wanted. I always send detailed, thorough pre-show notes to my co-host and producer before every single show. It would give an outline of what we were going to talk about and stories that we would touch on. It frustrated me to no end that Shawn never seemed to read these prep notes, because he never once sent a response with suggestions of his own.
Sometimes, the tension would spill over on the air, where I would openly accuse him of not being prepared for the show.
One time, we got into an argument on the air – about the Vancouver playoff riots in 2011 of all things – and the subsequent tension spilled into the commercial break. We didn't say a single word to each other for the entire four-minute break; each of us was too upset with the other guy. We gave a whole new meaning to the term 'radio silence.'
The situation wasn't getting better. And last spring, I reached a breaking point. I had a meeting with Shawn and our boss in his office and it wasn't a lot of fun. I pretty much went the full Hal McRae, dropping expletives and doing everything except pull out the office phone and throw it.
I felt like I wasn't being heard and I figured if I was a little more forceful, that might finally do the trick. And in the end, there was a voice that needed to be heard – but it turns out it wasn't mine.
We left that meeting and Shawn asked me if we could go somewhere and talk in the near future.
"You need to hear my story," he told me.
And that's when we agreed to head to the Clocktower Pub.
***
As he broke down in front of me, my heart just sank.
In great detail, Shawn told me about what it's like being an adopted child and how he's struggled with trust issues. It's a burden he's lived with his whole life and a feeling of alienation that's hard for people like me to understand. And so when I tried to "fix" our relationship by being demanding and challenging, he resisted because he didn't trust me.
He told me about the pain of divorcing his wife and essentially saying goodbye to his two young sons. His eyes were teary as he told me about living out of his car, when his divorce was complete. He was lost and alone and headed down a terrible path.
He had one option left and that was to come home to Ottawa and live with his parents. Imagine the embarrassment, he said, of having nothing – absolutely nothing to your name – and coming back home to live with your parents in your 40s.
"Can you imagine what that's like for a second?" he asked me.
At that moment, I felt about two inches tall. Not once in my time at the radio station had I bothered to look at things from his perspective. It was always, "My way or the highway" – which in hindsight, was a terrible approach. I always assumed I was the one in the right, since I was putting in the hard work and research for our show. But I never stopped to wonder what it would be like to work with someone like myself - especially if I had trust issues.
I can't imagine being in my 40s and having to move back in with my parents. Shawn used the word "humbled" on more than one occasion to describe his experience. But he said that our radio station basically tossed him a life preserver a few years ago. It was a chance for him to get back into sports. He said that sports talk radio used to keep him company when he was living in his car, so maybe this was life coming full circle. Maybe he could be the voice on the other end of the radio to help somebody who was struggling and lonely.
Shawn admitted that he came to Ottawa with his tail between his legs, but now he's proud again. He said every day he wakes up excited to come to work. That four-hour window of talk radio is often the best part of his day, because he has such a passion for sports.
But most importantly, he said to me, "I want you to help me write my last chapter here in Ottawa."
When it was my turn to speak that night, I said nothing but encouraging things. I told him I was no longer going to push him anymore. I was going to be his friend and teammate first; a co-worker second. I told him I was really glad that he felt comfortable opening up to me like that.
As we left the pub and said our good-byes on Clarence Street, we actually hugged each other. In that moment, I could feel the tension and aggravation of three years melting away in an instant. We had obviously reached a new place in our relationship – because as you know, guys don't just hug each other in public for no reason.
In the nine months since, I've not had a single feeling of anger or tension towards Shawn. I haven't had a single meeting with our boss about my frustrations with him. Each day when I send the daily rundown of our show, I receive a long and detailed response from Shawn with a bunch of topics that he would also like to discuss. We text each other constantly – and it's not always about work-related stuff either.
Last month, I was walking into the station at the same time as Simmer and I noticed he was carrying a bouquet of flowers. I made a joke to him, but my tone completely changed when he said, "They're actually for your family because of your grandma." I had just been away for the weekend at my grandma's funeral in Toronto and he brought flowers for me the first time we worked together again.
A couple of weeks ago, he showed up to the rink with a bottle of champagne for me in honor of my 40th birthday. It was a thoughtful gesture that reflected how far our relationship has progressed.
The last nine months have been the most enjoyable time I've spent at the radio station. And it all started with a conversation inside a pub.
And as I've learned, sometimes it's more important to be the one listening than the one who is talking.