How did it come to this with Turris?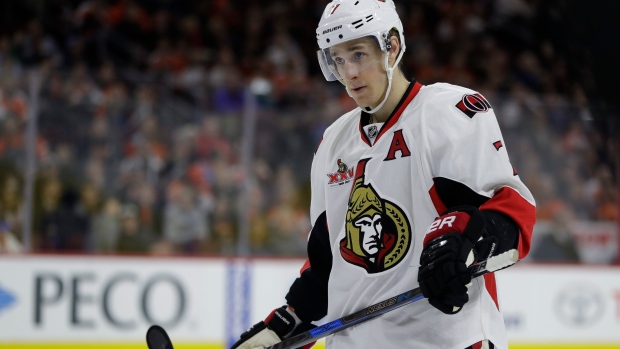 Pierre Dorion had been chasing Matt Duchene with more aggression than any of his counterparts in the National Hockey League.
A few months ago, Dorion admitted something to me that I couldn't report at the time because he would be guilty of tampering.
But now that the Senators have acquired Duchene, I feel like I can pass this anecdote along.
At his first general manager's meeting in Buffalo before the NHL Draft in 2016, Dorion introduced himself to Avalanche general manager Joe Sakic. In his first conversation with Sakic, Dorion told him, "If you'd ever like to trade Matt Duchene, please call me."
It took him almost 18 months, but on Sunday, Dorion finally landed his big fish.
The Senators believe they are a better team today because they didn't see a light at the end of the tunnel in the Kyle Turris contract negotiations. So rather than let that situation play itself out towards the trade deadline and free agency in July, Dorion decided to use Turris as an asset to help land Duchene – whom they have coveted for a long time.
Many in Ottawa are questioning how contract negotiations between the Senators and the Turris camp could have become so tumultuous over the past few months. I got my first sense this past June that things might not be smooth on that front.
I've had the honor of emceeing the Capital City Condors golf tournament for the past couple of years – a tournament that Turris has lent his name to in order to help raise funds for the special needs hockey team.
During an informal interview I did with Turris in front of about 100 people, I asked him to talk about his pending status as an unrestricted free agent next summer. His answer was somewhat surprising, as I had naively assumed that the two sides would have an easy time getting a deal done.
On the surface, it always seemed to me that Turris loved Ottawa and the organization valued him in return. But his answer – which I will paraphrase because it wasn't recorded in any fashion – was a window into what would happen a few months down the road.
"If we don't have something by the start of training camp, that's not a good sign. I don't want to be talking contract during the season," Turris told me. That quote might be off by a word or two, but its essence is accurate: Turris wanted his future solidified by early September at the latest.
Sure enough, when early September rolled around, Turris and the Senators were nowhere near a deal. Dorion would only categorize the talks as "on-going", but at no point was anybody led to believe that a deal was imminent as the summer drew to a close.
When it came time for Turris to do an on-the-record interview with me at the Senators golf tournament on September 11th, he quickly shot down my question about the state of his contract negotiations
"I don't think that's something for me to comment on. I'm just here to play hockey. That's as far as I'm going to go," he said sharply during a live radio interview on TSN 1200.
Turris' body language that day couldn't have been more telling. This was a player who felt like he was not getting a contract done in Ottawa and was biting his tongue at the thought of being asked about this in a public forum.
Considering he'd already been through one tumultuous contract situation in his career – which involved a holdout in Arizona – Turris probably has a better pulse than most 28-year-olds when negotiations are going off the rails.
The final straw appeared on opening night in October, when TSN Hockey Insider Darren Dreger created a frenzy by stating the Senators would likely end up trading Turris at some point during the season since they would be unlikely to meet his contractual demands.
At that point, things took a definitive turn for the worse – at least in the public sphere. But many wondered aloud if this was simply a negotiation tactic from the organization to apply pressure to the Turris camp. Dorion had been in contract negotiations that had been more toxic in the public eye – such as his spat with Marc Methot and his agent Larry Kelly in the fall of 2014. But even then, cooler heads prevailed, the storm clouds passed and the two sides eventually agreed on a contract extension.
What makes the Turris situation more puzzling is that it seemingly took his camp all of about 30 minutes to hammer out a new contract with the Nashville Predators. He inked a fairly reasonable six-year contract worth a total of $36 million with the Predators minutes after the trade was finalized on Sunday night. Nobody would mistake that contract for an outrageous demand, given the current landscape in the NHL. Turris easily would have fetched that – if not more – on the open market next summer.
So if Turris' agent Kurt Overhardt and Nashville general manager David Poile were able to hammer out a deal in the matter of a few hours, then what on earth happened in Ottawa?
Either Turris wasn't willing to sign that contract with Ottawa or the Senators weren't willing to pay him that money.
Based on what the chatter has been around the situation, it seems like the Turris camp framed the majority of their negotiations with the Senators around a seven or eight-year deal. The smart money suggests that a six-year, $36 million contract with Ottawa was probably never really on the table from the Turris camp. But then again, as contract negotiations become public, there is a lot of posturing from both sides and you have to take all the information with a huge grain of salt.
So instead of waiting to see how this played itself out over the course of the next three months, Dorion pulled the trigger on a massive three-way deal that shipped Turris to Nashville, Duchene to Ottawa and a package of young talent to Colorado.
The Senators appear ecstatic that they landed Duchene without parting with any of their blue-chip prospects such as Colin White, Logan Brown or Thomas Chabot. They believe the younger Duchene – who is under contract for this season and next – is an upgrade on Turris. His left-hand shot at centre should mesh well with either Bobby Ryan or Mark Stone on his wing, though that will be a decision left to head coach Guy Boucher.
Once again, the Senators have pushed a lot of their chips into the middle of the table by landing a player like Duchene in exchange for some younger assets. This is consistent with some of the other moves they've made over the past few years, such as landing Bobby Ryan, Dion Phaneuf and Alex Burrows.
And in two years from now, Dorion will have to figure out a way to squeeze in contracts for both Duchene and Erik Karlsson – who will become unrestricted free agents in the summer of 2019. And he'll also need to hammer out a new deal with Mark Stone at the end of this season as well.
But those are contract negotiations for another day.
Tonight, Dorion is just thankful that the Turris contract saga is behind him – and he landed his desired target in the process.