How do the NHL's No. 1 lines stack up?
TSN Senior Hockey Reporter Frank Seravalli ranks the top trios from all 31 teams ahead of opening night in the regular season.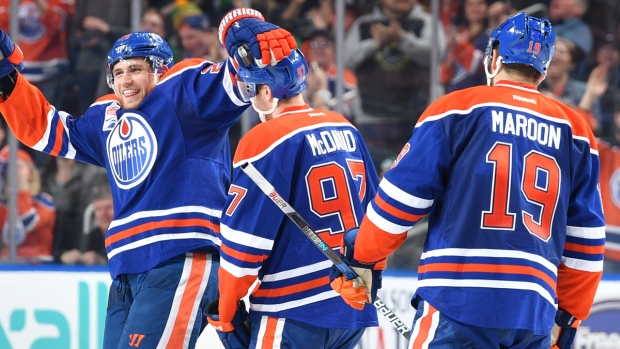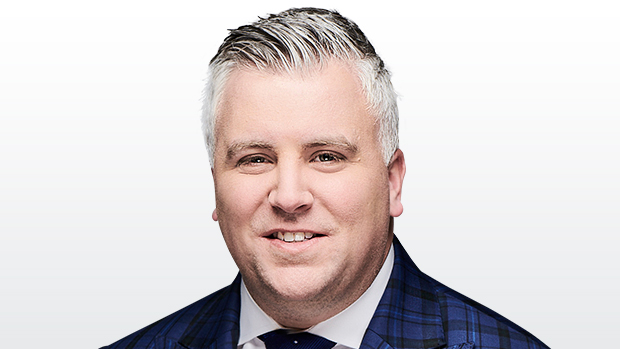 The only thing more fickle than a coach's lineup card is the way a chunk of frozen vulcanized rubber bounces during a September preseason game in Arizona.
Thousands of line combinations will whir in the blender over the 1,271 games that make up the 2017-18 NHL season, with each bench boss playing the role of chemist to concoct the most potent cocktail.
For some, the lines set for opening night will be crossed out and redrawn before the puck drops for the third period of Game 1. For others, the magic will be there from the start, but may see a shakeup due to injury, slump or game plan. Some coaches prefer a star-studded attack. Others opt for more balance throughout the lineup.
Nonetheless, the magnifying glass is always fixed on the No. 1 line on the board, the engine assembled to drive each club from now until April – or beyond.
So, how do the NHL's best motors stack up?
TSN ranked the NHL's projected top lines from top to bottom, based on how they've been constructed throughout the preseason or how they're most likely to shape up for opening night:
1. Edmonton: Patrick Maroon - Connor McDavid - Leon Draisaitl
Scoop: For Todd McLellan, pairing the $168-million duo of McDavid and Draisaitl together is like kryptonite. McLellan did his best to separate them through training camp, slotting Ryan Strome, Jesse Puljujarvi and Kailer Yamamoto to the right of No. 97, but the security of the NHL's highest-scoring tandem (177 points) from last season proved too much to resist.
2. Dallas: Jamie Benn - Tyler Seguin - Alexander Radulov
Scoop: Two seasons ago, Benn and Seguin combined for 73 goals, second only to Patrick Kane and Artemi Panarin. Now fully healthy, with Ken Hitchcock returning to the Dallas bench and 54-point man Alexander Radulov in tow, they're hoping to make last season's miserable finish a distant memory.
3. Tampa Bay: Vladislav Namestnikov - Steven Stamkos - Nikita Kucherov
Scoop: Has Stamkos passed the baton to Kucherov as Tampa Bay's biggest threat? Friday will mark Stamkos' first game since Nov. 15, 2016, following knee surgery. He was on fire to start last season, with nine goals and 20 points in his first 17 games – a pace he'd almost have to keep to hold off Kucherov, who finished last season with 40 goals and 85 points in just 74 games.
4. Boston: Brad Marchand - Patrice Bergeron - David Pastrnak
Scoop: Three 30-goal scorers who provide a blend of speed, creativity, tenacity and energy. Bruce Cassidy's top line seems to have it all, a puck possession monster anchored by one of the best two-way players in league history in Bergeron, who is hoping to ratchet up his offensive production again.
5. Winnipeg: Mathieu Perreault - Mark Scheifele - Blake Wheeler
Scoop: The Jets flirted with creating a true "super line," linking Finnish sensation Patrik Laine with two players who finished in the top 12 in scoring in Scheifele and Wheeler. The experiment was short lived, with Laine likely to start the season alongside Nik Ehlers and Bryan Little. But Perreault has the hands and veteran savvy to do some damage.
6. Pittsburgh: Jake Guentzel - Sidney Crosby - Conor Sheary
Scoop: The back-to-back Stanley Cup champs are hoping Guentzel can push them toward a three-peat after netting 29 goals in 67 regular and postseason contests last spring, including a league-best 13 in the playoffs.
7. Toronto: Zach Hyman - Auston Matthews - William Nylander
Scoop: Ninety goals aren't out of the realm of possibility for this line, even with Hyman, whom Mike Babcock called on Monday "the best fore-checker in hockey." Despite the call from Leafs Nation for more talent on the left side, Matthews and Nylander kept chugging along with the aid of Hyman, scoring four goals each this preseason.
8. Nashville: Filip Forsberg - Ryan Johansen - Victor Arvidsson
Scoop: Arvidsson, coming off the NHL's most quiet 31-goal, 30-assist season, seems like a smart bet to start the season with Forsberg and Johansen after first-round pick Kevin Fiala auditioned there.
9. Columbus: Artemi Panarin - Alexander Wennberg - Cam Atkinson
Scoop: How will the Bread Man fare away from Kane? That's what Blue Jackets fans are dying to know after last summer's trade for Brandon Saad. The affable Russian collected one goal and four assists in five preseason games.
10. Washington: Andre Burakovsky - Nicklas Backstrom - T.J. Oshie
Scoop: Backstrom is unquestionably the man driving Barry Trotz's bus - and this year is the first he will not start the season with Alex Ovechkin, who helps form a formidable second wave alongside Evgeny Kuznetsov.
11. Chicago: Brandon Saad - Jonathan Toews - Richard Panik
Scoop: Toews made it known to Hawks management after last spring's disappointing sweep just how much he and the team missed Saad. Boom. The bet is Saad's dirty work can bring Toews back to the 0.9 points-per-game he averaged next to him. Chicago's second line with Nick Schmaltz centring Ryan Hartman and Kane would've been ranked a bit lower.
12. Florida: Jonathan Huberdeau - Aleksander Barkov - Evgeni Dadonov
Scoop: Huberdeau and Barkov missed a combined 72 games last season, one of the big reasons the Panthers took two steps back after winning the Atlantic in 2015-16.
13. New York Islanders: Anders Lee - John Tavares - Jordan Eberle
Scoop: Tavares reportedly wanted more support around him and he got some in Eberle with a straight-up swap for Strome. The question is if Eberle's confidence can rebound after last year's shaky playoff run in Edmonton.
14. Calgary: Johnny Gaudreau - Sean Monahan - Micheal Ferland
Scoop: Jaromir Jagr has only been promised a third-line role, but it may not be long before the 45-year-old finds himself in a top line experiment. The mullet ranked 29th in the NHL in shots produced from the inner-slot last season, according to Hockey Sense.
15. Anaheim: Patrick Eaves - Ryan Getzlaf - Corey Perry
Scoop: With a new three-year deal, the Ducks are banking Eaves can break 30 goals again, despite the fact the only other time the 33-year-old hit 20 was back in 2005-06 with Ottawa.
16. St. Louis: Jaden Schwartz - Paul Stastny - Vladimir Tarasenko
Scoop: No player has more even-strength goals (87) than the 25-year-old Tarasenko since the start of the 2014-15 season.
17. Buffalo: Evander Kane - Jack Eichel - Jason Pominville
Scoop: The Sabres are wondering whether they've found a finisher for Eichel in a rejuvenated Pominville. Eichel can clearly score with the best of them, but his assist total could rocket up with any help from his linemates.
18. Philadelphia: Claude Giroux - Sean Couturier - Jakub Voracek
Scoop: The Flyers' captain will begin the season on the left wing, a position he has never played in the NHL. The hope is that Couturier's defensive prowess will free up Giroux to make more magic with Voracek on a line that loves the puck on their stick.
19. Montreal: Max Pacioretty - Jonathan Drouin - Brendan Gallagher
Scoop: For all the talk to start training camp about whether Drouin could play centre, the chatter at the end centred on who would be the unit's right winger. Gallagher brings sandpaper, but needs a bounce-back season after posting a career-low 10 goals.
20. Minnesota: Nino Niederreiter - Eric Staal - Charlie Coyle
Scoop: Niederreiter, 25, has jumped from 37 to 43 to 57 points over the last three seasons in Minnesota, leaving many wondering just how good he can become. Some in the Wild organization believe he's only beginning to scratch the surface.
21. Detroit: Tomas Tatar - Henrik Zetterberg - Gustav Nyquist
Scoop: There is no shortage of talent and creativity on this line. Zetterberg, who turns 37 next week, quietly produced his best season since 2011-12 with 68 points. Will he be able to do it again as the Red Wings setup shop in Little Caesars Arena?
22. San Jose: Jannik Hansen - Joe Thornton - Joe Pavelski
Scoop: The Joe's are adding a Jannik. Kevin Labanc earned a long look on the Sharks' top line, but Hansen ­– who was quiet in San Jose's first-round loss to Edmonton – is expected to start the year there.
23. Ottawa: Zack Smith - Kyle Turris - Mike Hoffman
Scoop: Flip a coin. The Sens' top two lines are near equals, with Bobby Ryan, Derick Brassard and Mark Stone spinning off the Smith-Turris-Hoffman trio to drive offence however long Erik Karlsson remains out. Hoffman (61 points) and Turris (55) were second and third in team scoring last season after Karlsson.
24. Carolina: Sebastian Aho - Victor Rask - Elias Lindholm
Scoop: Bill Peters' attack may the most balanced in the NHL, with the luxury to really call any one of his first three lines the top line. This trio combined for the most points (139) last season of any of Peters' current lines.
25. New York Rangers: Rick Nash - Filip Chytil - Mats Zuccarello
Scoop: Raise your hand if you had Chytil, not five months after being picked No. 21 overall, centring the Blueshirts' top line to open the season. The 6-foot-2 Czech product impressed during camp, netting one goal and two assists in four games, but has work to do to stick for the full campaign. Stay tuned.
26. New Jersey: Taylor Hall - Pavel Zacha - Kyle Palmieri
Scoop: Calder Trophy candidate Nico Hischier had his best preseason performance on a line with steal-of-the-summer Marcus Johansson and Adam Henrique. If re-united, that line could give this top one a run for the money.
27. Los Angeles: Mike Cammalleri - Anze Kopitar - Dustin Brown
Scoop: Cammalleri, 35, is back in La-La-Land for the first time since 2007-08 and is reunited with the only two skaters remaining from that Kings roster a decade ago.
28. Arizona: Max Domi - Derek Stepan - Clayton Keller
Scoop: Only McDavid (10) and Guentzel (nine) collected more points this preseason than Keller (eight), who is one of the early favourites for the Calder Trophy, as he attempts to adjust to life in the desert with fellow newcomer Stepan.
29. Vancouver: Daniel Sedin - Henrik Sedin - Thomas Vanek
Scoop: Brock Boeser could bring some much needed wheels to the Sedins, but that test was short-lived during the preseason. It shouldn't be ruled out as a future possibility, as Boeser trailed off a bit following a hot start to the exhibition campaign.
30. Vegas: James Neal - Vadim Shipachyov - Reilly Smith
Scoop: The 'Real Deal' Neal may not be 100 per cent to start the season, but his spot on the depth chart is pretty well locked in. The wild card is Shipachyov, the 30-year-old Russian transitioning to the NHL for the first time, after finishing two points shy of Ilya Kovalchuk for the team lead in St. Petersburg last season despite playing 10 fewer games.
31. Colorado: Sven Andrighetto - Nathan MacKinnon - Mikko Rantanen
Scoop: This ranking mirrors a lot of preseason standing projections. Rantanen is still learning his way after a 20-goal rookie season, but there are plenty of questions about whether or not Andrighetto can repeat the productive debut he had in an Avalanche sweater late last season.
Contact Frank Seravalli on Twitter: @frank_seravalli​