How the Phaneuf deal got done
TSN's Ian Mendes explains how the two oldest general managers in the National Hockey League met face-to-face Saturday morning in Ottawa to engineer an old-school hockey trade.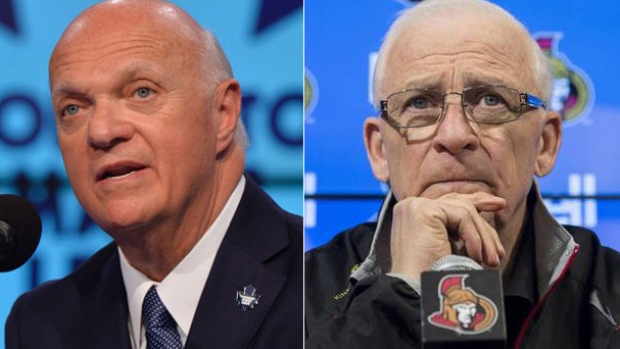 On Saturday morning, Bryan Murray invited Lou Lamoriello into his office at Canadian Tire Centre.
Murray says it's not uncommon for him to have opposing general managers stop by his office to chat when their teams are facing the Ottawa Senators. Just last week, Peter Chiarelli popped by for an extended chat when the Edmonton Oilers were in town. Murray's longtime friend and mentor David Poile always checks in when the Nashville Predators pay a visit.
But this meeting with Lamoriello had a different tone. This wasn't two old friends catching up on each other's lives or reminiscing about their time in the Patrick Division. Instead, they were following up on a lengthy phone conversation they had on Thursday afternoon, which spurred more serious trade talks into Friday.
Over the course of 90 minutes on Saturday morning – with the door to Murray's office closed – the two men hammered out the foundation for the trade that would send shockwaves through the hockey world on Tuesday morning.
There was something nostalgic about the two oldest general managers in the NHL – both aged 73 – meeting face-to-face to engineer an old-school hockey trade.
In the end, they agreed upon a nine-player trade – with the principal pieces being Dion Phaneuf being shipped to Ottawa in a package that included Jared Cowen, Colin Greening and Milan Michalek going to Toronto. The deal was actually completed and agreed upon as early as Sunday evening – depending on who you ask – but there was one major obstacle left to clear: Michalek had to agree to waive his no-trade clause. That process took about 24 hours to complete, as Michalek was caught completely off-guard by the request as his name had never been mentioned in any of the rumour mills. But Michalek agreed to waive the no-trade clause late Monday night after consulting with his family and agent. He officially signed the papers on Tuesday morning and while he was devastated to leave Ottawa, he appears genuinely excited to embrace the challenge of playing in Toronto.
The deal was officially completed on Tuesday morning and Murray asked Lamoriello on the phone if any media outlet had gotten wind of the trade.
"Bryan, you know if there was any leak, it wasn't coming from my side," Lamoriello told Murray.
And so when the Senators sent the press release out at 11:22 a.m. on Tuesday morning, it caught most of the hockey world by surprise.
The Senators actually began quietly kicking the tires on Phaneuf about six weeks ago. It started with an informal conversation with forward Clarke MacArthur, who was eating lunch in the players' lounge at the Canadian Tire Centre. MacArthur had been sidelined with a concussion and was starting to feel better, showing up to the rink on a more regular basis. The senior members of the hockey operations department approached him to get some intel on Phaneuf, since MacArthur had been a teammate of his in Toronto.
MacArthur assured Sens management that Phaneuf would be an excellent fit inside the Ottawa dressing room and would bring a much-needed veteran presence to help stabilize a young team. MacArthur explained that Phaneuf is a polarizing player, but one who can be well received by the right group.
"He comes off as a guy you hate to play against, but he's a guy you'd love to have on your team," MacArthur told TSN.ca. "You can say that about Brad Marchand and I don't know him. I'm sure he's a great teammate, but you want to kill him on the ice. Especially with [Phaneuf] being with the Leafs and with the rivalry we've had, everyone hates him here. But they'll turn to love him really quick."
MacArthur was planning on speaking with Phaneuf by phone at some point on Tuesday. He says he will tell Phaneuf about how the atmosphere in Ottawa is much different than it is in Toronto and how he's personally enjoyed switching sides in the Battle of Ontario.
"It's been great for me – nothing but good times. And I think he will really enjoy how it's laid back here," MacArthur explained. "You play hockey and can go home after and not have to read about it every day all day."
As the Senators narrowed their search for a top-four defenseman they put a significant amount of focus on Phaneuf, who had the attributes they were looking for: a left-handed shot with experience and mobility. They were searching for a regular partner for Cody Ceci, the club's first-round pick from the 2012 NHL Draft. As Murray was holding court in a press conference on Tuesday to announce the trade, Ceci was quietly walking out of the Canadian Tire Centre.
"Obviously, I was a little shocked like everybody else," Ceci said to TSN.ca. "He's a great player and if I'm fortunate enough to play with him that would be awesome. Having a guy like that allows me to get up in the play and make things happen offensively. He's a guy I can definitely trust back there."
The Senators believe that Phaneuf will be able to slot in nicely with Ceci and play second-pairing minutes behind Erik Karlsson and Marc Methot. Karlsson was asked if it would be awkward to welcome the captain of the team's long-standing rival into the dressing room.
"No – I mean we're all professionals here. I hope he's excited to come here," Karlsson said. "He's going to be a good fit on our team and I'm excited to get to know him on a more personal level."
The Senators front office say they don't expect to be overly active in the period leading up to the trade deadline later this month. The belief is they're out on Jonathan Drouin now, feeling that the asking price from Tampa Bay is far too steep. The club was willing to part with a prospect like Tobias Lindberg in order to make the Phaneuf deal happen, but they have zero interest at this time of moving either of their 2015 first-round picks, Thomas Chabot or Colin White, to land Drouin.
But while they're sending out signals they will be quiet, we should remember that nobody saw the Phaneuf blockbuster trade coming. Everything they say needs to be taken with a grain of salt – especially at this time of year.