Hudler scores first two goals of pre-season as Flames shutout Avalanche
Jiri Hudler scored his first two goals of the pre-season Tuesday night to lead the Calgary Flames to a 2-0 victory over the Colorado Avalanche.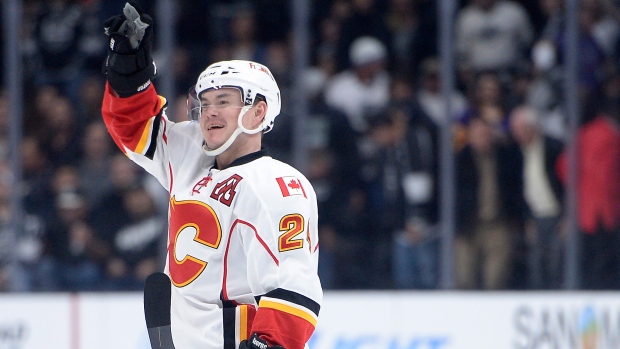 CALGARY - Calgary's Jiri Hudler looks ready for the regular season.
The Flames leading scorer a year ago scored his first two goals of the pre-season Tuesday night to lead the Calgary Flames to a 2-0 victory over the Colorado Avalanche.
"It's good to have two goals before the season starts but it's still pre-season," said Hudler. "It's nice to get that touch and hopefully we're going to carry that into the regular season."
Hudler opened the game lined up beside familiar faces Johnny Gaudreau and Sean Monahan, his linemates from a year ago. It took them just 24 seconds to open the scoring with Hudler neatly finishing off a slick give-and-go with Gaudreau.
In the second, lined up on the wing with Sam Bennett and Michael Frolik, Hudler once again scored on his first shift.
"Jiri Hudler is a smart veteran. They know how to elevate their pace and at the same time get ready for the opening of the season," said Calgary coach Bob Hartley.
Hudler said his team can't wait to open the season against the Vancouver Canucks.
"The whole locker-room is excited about the (first) game on the 7th," said Hudler.
Calgary (4-2-0) has won four straight games. Colorado (1-2-1) next plays Thursday in Anaheim.
The Flames dressed the far more experienced line-up with their top five defencemen (excluding injured TJ Brodie) and projected top two lines all in uniform.
The long list of notable absentees for the Avalanche included forwards Matt Duchene, Jarome Iginla, Alex Tanguay, Gabriel Landeskog and defencemen Erik Johnson and Francois Beauchemin.
"Calgary had a great lineup. They played well, but I'm very happy with our team," said Colorado coach Patrick Roy. "I thought our guys played well, we just couldn't score goals tonight, but I like what I've seen."
The biggest decision for the Flames is the three-way battle going on for two goalie jobs. After rookie Joni Ortio chalked up a 35-save shutout in his last start, Jonas Hiller (15 saves) and Karri Ramo (14 saves) were both perfect on Tuesday.
Calvin Pickard made 30 saves in his first action of the pre-season.
Curtis Glencross, who just signed a professional try-out with Colorado after being released from his PTO with Toronto on the weekend, was in the Avs' lineup.
"It was fun, coming in, not practising with the team or anything, just jumping in there," said Glencross, who was traded by the Flames last March after seven seasons in Calgary. "Meeting the guys at 4:30 p.m. today was a little different. A little weird coming to the rink and coming in the back door over here."
Glencross had contract discussions with Colorado in the summer but they had other priorities to address first. He eventually chose a PTO with Toronto, although he said the same option was open with the Avs.
"I'm excited. The opportunity is there," Glencross said. "We obviously went the other route earlier. We figured the exposure out there in Toronto might be a good thing. But Colorado was the other team. I had a great talk with Patrick Roy this summer."
On a line with John Mitchell and Mikhail Grigorenko, Glencross was involved and was one of the Avs best players. Early in the game in driving to the net, he bowled over giant Flames defenceman Dougie Hamilton.
He says he'll be back in the line-up for Colorado's game Thursday in Anaheim.
Notes: Bennett started the game on left wing but returned to centre for the final 40 minutes, which is where he's spent most of training camp. Micheal Ferland played right wing with Gaudreau and Hudler for the final two periods... Ortio will start Thursday night's game in Winnipeg.