Humboldt Broncos meet their hockey heroes in Vegas
From Connor McDavid to P.K. Subban, the NHL's biggest names paused for selfies and shared stories with members of the Humboldt Broncos in Las Vegas ahead of Wednesday's NHL Awards show before they all make the trip to the entry draft in Dallas on Friday. They soaked up the common bond that ties them all together – the fact that they are all just "hockey guys" at their core, Frank Seravalli writes.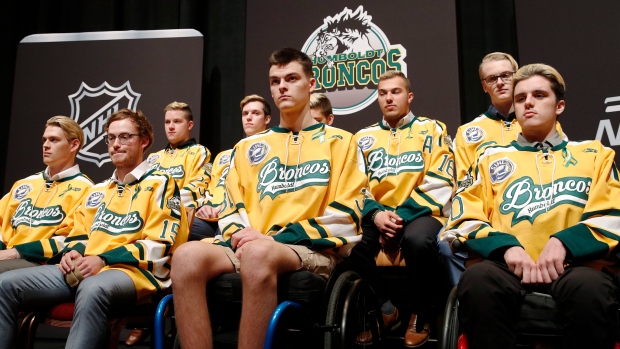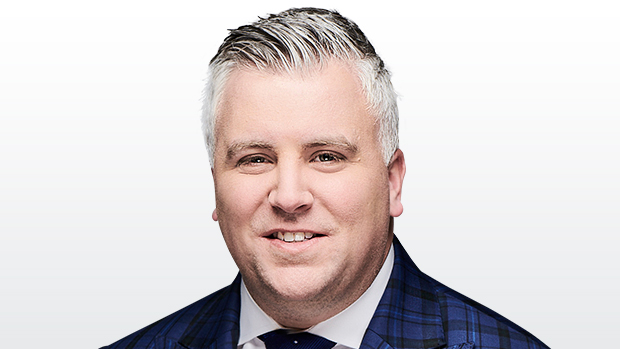 LAS VEGAS — One by one, the biggest names in the NHL ducked into a private room at the Wynn Encore on the Strip to share a word and a moment with the Humboldt Broncos.
From Connor McDavid to P.K. Subban, they paused for selfies and told stories, soaking up the common bond that ties them all together – the fact that they are all just "hockey guys" at their core.
"It's heartwarming," Broncos defenceman Ryan Straschnitzki said, adjusting to his new normal in a wheelchair after being paralyzed in April's accident. "It helps us heal."
The boys were all smiles on Tuesday. The real emotional scene occurred in the Calgary airport on Monday, when 10 of the 13 survivors of the crash were reunited for the first time at the airport there to fly to Vegas for the NHL Awards show held on Wednesday night.
"It's unbelievable just being together again," Broncos winger Kaleb Dahlgren said. "You are with them every day. You miss them. You just want to give them a hug.
"We all have guardian angels somewhere that took care of us."
The rest of the hockey world is trying to take care of Humboldt now. The NHL and NHLPA announced that a group of players – spearheaded by St. Louis Blues forward Brayden Schenn – will descend on Humboldt on Aug. 24 to hold an on-ice skills competition at Elgar Petersen Arena.
That's also the day Washington Capitals forward Chandler Stephenson, a Saskatchewan native, plans to bring the Stanley Cup to Humboldt.
In the meantime, the NHL will pay tribute to the Broncos at the Awards show on Wednesday night at the Hard Rock Hotel and Casino and then bring them along to the Draft in Dallas this weekend.
"It's overwhelming," Dalhgren said. "In a good way."
Watching NHL players skate in Humboldt near the Stanley Cup in August will be a celebration, a positive for the tight-knit town of 5,800 that are Saskatchewan Strong, but there is always the elephant in the room.
That scar that won't go away is what some of the NHL's stars had a difficult time coming to grips with on Tuesday. This is all still fresh.
"You just see it in their faces," Panthers goaltender Roberto Luongo said. "They've been through a lot, they've seen a lot. You just try to make them at ease as much as you can. If you can do that, only for a few moments, you try. You try to put yourself in those shoes but it's impossible to do that."
It's not the same type of tragedy, but Luongo said what he sees the Broncos are going through is not all that different from what he is witnessing in his hometown in Florida after the shootings at Marjorie Stoneman Douglas High School.
The Stoneman Douglas hockey team, which went on to win the Florida state title shortly after the attack, will be honoured on Wednesday night as well.
Luongo knows that like in Parkland, Fla., what happened will never leave Humboldt. His son, Gianni, was in lockdown at a nearby school and hid in a closet for three hours.
"I know a lot of people are moving on from it, but back home it's still a daily thing for us," Luongo said. "We hear it every day. We talk about it every day. Whether it's on TV or you walk into a store, it's all over the place. It will take a long time to get back to where we were. We try to do as much as we can to help. Sometimes it feels like it's not enough."
It helped. For at least a few minutes on Tuesday, and a few hours this week, it was a welcomed diversion for the Broncos. They got to meet their hockey heroes.
"This whole experience, you watch [the Awards] on TV and you always think how cool it would be to be there," Dahlgren said. "But to see it – it brought a tear to our eyes."
It choked up a couple NHL players, as well.
"It's a special group of kids," Subban said. "Obviously with what they went through this year, it touched everybody … even people that don't know anything about hockey can resonate with a story like that.
"I feel like after that story and hearing what happened, everybody kind of held their loved ones a little bit closer. It's important for them to know that the inspiration they provide people runs deep."
The inspiration was palpable as the Broncos shared their progress on-stage wearing their yellow and green sweaters.
Derek Patter announced he plans to return to play for the Broncos next season. Xavier Labelle will graduate high school on-time despite a lengthy stay in hospital. Bryce Fiske plans to play for former NHLer Paul Ranger at the Univ. of Ontario Institute of Technology. Graysen Cameron will coach a midget team back in Red Deer, Alta., while goaltender Jacob Wassermann plans to try sledge hockey despite his paralysis.
The road has not been easy and there are still miles ahead of some. Straschnitzki has been rehabilitating in Philadelphia and will return there after the Draft to continue his quest to regain mobility. Not far removed from hospital, Smith wants to keep playing but is dealing with significant nerve damage in his left hand and arm.
"Three others weren't available [to make the trip]," Dalhgren said. "We do it for them."
They remain strong for the 16 members of the Broncos organization that weren't as lucky and their families. Together again and wearing that proud jersey, Dahlgren said there is not one moment they are taking for granted.
"It's important we get together as much as we can," Smith said. "We can cry together, we can laugh together."
Contact Frank Seravalli on Twitter: @frank_seravalli​